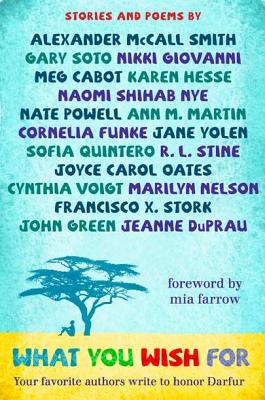 What You Wish For
A Book for Darfur
Hardcover

* Individual store prices may vary.
Description
A stellar collection from Newbery medalists and bestselling authors written to benefit Darfuri refugees

With contributions from some of the best talent writing for children today, What You Wish For is a compelling collection of affecting, inspiring, creepy, and oft-times funny short stories and poems all linked by the universal power of a wish - the abstract things we all wish for - home, family, safety and love.

From the exchange of letters between two girls who have never met but are both struggling with the unexpected curves of life, to the stunning sacrifice one dying girl makes for another, to the mermaid who trades her tail for legs, to the boy who unwittingly steals an imp's house, and to the chilling retelling of Cinderella, What You Wish For brings together a potent international roster of authors of note to remember and celebrate the Darfuri refugees and their incredible story of survival and hope.
G.P. Putnam's Sons Books for Young Readers, 9780399254543, 352pp.
Publication Date: September 15, 2011
About the Author
Francisco Xavier Arguelles was born in 1953 in Monterrey, Mexico. Ruth Arguelles, his mother, was a single mother from a middle class family in Tampico (a city on the Gulf of Mexico). The reason that Francisco was born in Monterrey rather than in Tampico, where Ruth lived, is that her father did not want anyone to know that she was going to have a child out of wedlock. She was sent to Monterrey to live in a convent until the baby was born. The baby was supposed to be given up for adoption, but Ruth changed her mind. After a while, Grandfather Adalberto relented and mother and baby Francisco were allowed to come home.
Six years later Ruth married Charles Stork, a retired man more twenty years her senior. Charles Stork adopted Francisco and gave him his name. Charlie was a kind but strict Dutch man who quickly went about instilling needed discipline in his new son. For his seventh birthday, Charlie gave Francisco a portable typewriter because Francisco announced that he wanted to be a writer. After wandering about Mexico for a few years trying to live on a Social Security pension, Charlie decided to bring the family to the United States where he hoped they would fare better.
The three of them came to El Paso, Texas when Francisco was nine. Charlie, an American citizen was able to obtain the necessary visas for Ruth and Francisco. Francisco was sent to grammar school where he learned English on the go. Unfortunately, no one was willing to give the sixty-five-year-old Charlie a job and so it became even harder for the family to survive in the United States. They lived in a variety of apartments and trailer houses staying in each for as long as possible before getting evicted.
When Francisco was thirteen, Charlie Stork died in an automobile accident. Ruth decided to stay in the United States. She and the boy obtained an apartment in one of the public housing projects of El Paso. Francisco was awarded a scholarship to the local Jesuit High School and soon rose to the top of his class. During his senior year, he received an Honor's Scholarship (full tuition and living expenses) to attend Spring Hill College, a small Jesuit College in Mobile Alabama.
At Spring Hill College, Francisco majored in English Literature and Philosophy and received the college's creative writing award. After college, a Danforth Fellowship (awarded to 40 college seniors out of approximately 5,000 applicants) allowed him to attend graduate school at Harvard University. At Harvard he studied Latin American Literature with people like Octavio Paz, the Mexican Nobel Laureate. However, the emphasis on scholarly research and writing seemed too remote and irrelevant to all that was important. So, after four years of Harvard, Francisco went to Columbia Law School. His plan was to make a living as a lawyer without abandoning his plan to write fiction. Twenty years and twelve or so legal jobs later, Francisco published his first novel.
Francisco Stork is the author of two novels. The Way of the Jaguar was published in 2000 and was the recipient of the Chicano/Latino Literary Prize. It is the story of Ismael Díaz, a Mexican-American man awaiting execution in a Texas prison. Ordered by the Commissioner to write for two hours each day, Díaz tells the story of his demise from prominent real estate attorney in Boston to a desperate search for the love of his youth in the seedy brothels of Mexico.
Behind the Eyes, Francisco's second novel, was published in June 2006. Behind the Eyes is the story of sixteen-year-old Hector Robles, an intelligent Chicano kid who tries very hard, but ultimately to no avail, to stay clear of the violence that surrounds him. Hector ends up in a reform school in San Antonio where he learns to live with courage and hope. Behind the Eyes was based on Francisco's experiences living in the projects of El Paso.
Francisco works as an attorney for a state agency that develops affordable housing. He is married Jill Syverson-Stork. They live in Massachusetts. He has two children who are now adults.

John Green is the author of Looking for Alaska and An Abundance of Katherines. He lives in New York City.
In addition to many prize-winning and bestselling novels, including We Were the Mulvaneys, Black Water, and Because It Is Bitter and Because It Is My Heart (available in Plume editions), Joyce Carol Oates is the author of a number of works of gothic fiction including Haunted: Tales of the Grotesque (Plume), a 1995 World Fantasy Award nominee; and Zombie (Plume), winner of the 1996 Bram Stoker Award for Best Horror Novel, awarded by the Horror Writers' Association. In 1994, Oates received the Bram Stoker Lifetime Achievement Award in Horror Fiction. She is the editor of American Gothic Tales and her latest novel is Broke Heart Blues (Dutton). She lives in Princeton, New Jersey.
Born and raised in New York City, Jane Yolen now lives in Hatfield, Massachusetts. She attended Smith College and received her master's degree in education from the University of Massachusetts. The distinguished author of more than 170 books, Jane Yolen is a person of many talents. When she is not writing, Yolen composes songs, is a professional storyteller on the stage, and is the busy wife of a university professor, the mother of three grown children, and a grandmother.
Active in several organizations, Yolen has been on the Board of Directors of the Society of Children's Book Writers and Illustrators, was president of the Science Fiction Writers of America from 1986 to 1988, is on the editorial board of several magazines, and was a founding member of the Western New England Storytellers Guild, the Western Massachusetts Illustrators Guild, and the Bay State Writers Guild. For twenty years, she ran a monthly writer's workshop for new children's book authors. In 1980, when Yolen was awarded an honorary Doctor of Law degree by Our Lady of the Elms College in Chicopee, Massachusetts, the citation recognized that "throughout her writing career she has remained true to her primary source of inspiration--folk culture." Folklore is the "perfect second skin," writes Yolen. "From under its hide, we can see all the shimmering, shadowy uncertainties of the world." Folklore, she believes, is the universal human language, a language that children instinctively feel in their hearts.
All of Yolen's stories and poems are somehow rooted in her sense of family and self. The Emperor and the Kite, which was a Caldecott Honor Book in 1983 for its intricate papercut illustrations by Ed Young, was based on Yolen's relationship with her late father, who was an international kite-flying champion. Owl Moon, winner of the 1988 Caldecott Medal for John Schoenherr's exquisite watercolors, was inspired by her husband's interest in birding.
Yolen's graceful rhythms and outrageous rhymes have been gathered in numerous collections. She has earned many awards over the years: the Regina Medal, the Kerlan Award, the World Fantasy Award, the Society of Children's Book Writers Award, the Mythopoetic Society's Aslan Award, the Christopher Medal, the Boy's Club Jr. Book Award, the Garden State Children's Book Award, the Daedalus Award, a number of Parents' Choice Magazine Awards, and many more. Her books and stories have been translated into Japanese, French, Spanish, Chinese, German, Swedish, Norwegian, Danish, Afrikaans, !Xhosa, Portuguese, and Braille.
With a versatility that has led her to be called "America's Hans Christian Andersen," Yolen, the child of two writers, is a gifted and natural storyteller. Perhaps the best explanation for her outstanding accomplishments comes from Jane Yolen herself: "I don't care whether the story is real or fantastical. I tell the story that needs to be told."
copyright ? 2000 by Penguin Putnam Books for Young Readers. All rights reserved.
Born in Fresno, California to Mexican American parents, Gary Soto learned the hard work ethic through his share of chores, including mowing lawns, picking grapes, painting house numbers on street curbs, and washing cars. His hard work paid off at California State University at Fresno, from which he graduated with an English degree, and later at the University of California at Irvine, where he earned a Masters of Fine Arts in Creative Writing.
Gary Soto is an acclaimed poet, essayist, and fiction writer. The awards for this multi-talented author are many, ranging from the U.S. Award for International Poetry Forum in 1977 for his first published book of poetry, The Elements of San Joaquin, to a Before Columbus Foundation American Book Award in 1985 for Living Up the Street, his first published work of prose recollections. His short story collection Baseball in April, was named an American Library Association's Best Book for Young Adults. In 1993 Gary Soto received the Andrew Carnegie Medal for Excellence in Children's Video for Pool Party, and in 1995 he was nominated for a National Book Award.
His other credits include fellowships from the Guggenheim Foundation, the National Endowment for the Arts, and the California Arts Council. Gary Soto is also one of the youngest poets to appear in the Norton Anthology of Modern Poetry. Several of his books have been translated into French, Spanish and Italian.
Too Many Tamales was named a Booklist Books for Youth Editors' Choices of 1993. Hazel Rochman of Booklist said, "Gary Soto is an accomplished poet and adult writer, and his children's stories are widely popular. His first entry into the picture book genre is a joyful success."
When he is not writing, Mr. Soto serves as a volunteer English teacher at his church. He also enjoys eating at new restaurants, which he does often with his wife, Carolyn, and their daughter Mariko. Other members of the Soto household include their two cats, Corky and Sharkie. The Soto family resides in Berkeley, California.
copyright ? 2000 by Penguin Putnam Books for Young Readers. All rights reserved.
or
Not Currently Available for Direct Purchase