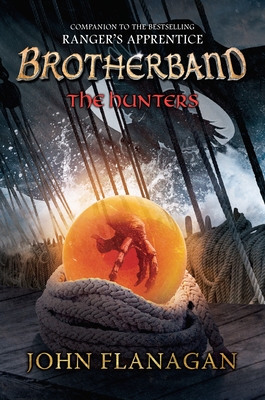 The Hunters (Hardcover)
Philomel Books, 9780399256219, 403pp.
Publication Date: October 30, 2012
Description
From the author of the global phenomenon Ranger's Apprentice Hal and his brotherband crew are hot on the trail of the pirate Zavac and they have one thing only on their minds: Stopping the bloodthirsty thief before he can do more damage. Of course, they also know Zavac has the Andomal, the priceless Skandian artifact stolen when the brotherband let down their guard. The chase leads down mighty rivers, terrifying rapids, to the lawless fortress of Ragusa. If Hal is to succeed, he will need to go beyond his brotherband training. He will need to challenge the pirate one-on-one, knowing only one of them will survive. The epic series from Ranger's Apprentice author John Flanagan continues, delivering pulse-pounding adventure and fun. Perfect for fans of J.R.R. Tolkien's Lord of the Rings, T.H. White's The Sword in the Stone, Christopher Paolini's Eragon series, and George R. R. Martin's Game of Thrones/A Song of Ice and Fire series.
About the Author
John Flanagan grew up in Sydney, Australia, hoping to be a writer. John began writing Ranger's Apprentice for his son, Michael, ten years ago, and is still hard at work on the series and its spinoff, Brotherband Chronicles. He currently lives in the suburb of Manly, Australia, with his wife. In addition to their son, they have two grown daughters and four grandsons.
Praise For The Hunters…
Picking up the story soon after events in The Invaders (2012), this engaging sequel opens aboard the Heron as Hal, his fellow Skandians, and their friend Lydia sail up a river in search of Zavac, the ruthless pirate who has stolen a precious relic from their village. Welcome humor lessens the dramatic tension at times, and the shipmates' individuality and comradeship make their adventures more meaningful. [This] novel provides a satisfying conclusion to the three-book cycle that opened with The Outcasts (2011). [A] vigorous offshoot of the Ranger's Apprentice series.—Booklist
-Booklist
Advertisement