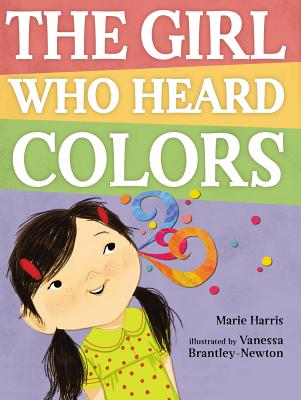 The Girl Who Heard Colors (Hardcover)
Nancy Paulsen Books, 9780399256431, 32pp.
Publication Date: September 26, 2013
* Individual store prices may vary.
Description
This eye-opening picture book introduces readers to their five senses and to synesthesia—a condition in which one sense triggers another. For some people, sounds or tastes have colors. And for others, numbers and letters do. Many famous artists have been synesthetes, including Tori Amos, Duke Ellington, Jimi Hendrix, Lady Gaga, Stevie Wonder, Billy Joel, John Mayer, Mozart, and Degas.


Imagine that when you hear a bell you see silver or when a dog barks you see red. That's what it's like for Jillian—when she hears sounds she sees colors. At first the kids at school make fun of Jillian. Jillian worries about being different until her music teacher shows her that having synesthesia is an amazing thing. This lively, informative picture book makes synesthesia easy to understand and celebrates each person's unique way of experiencing the world.
About the Author
Marie Harris (marieharris.com) is the author of G Is for Granite: A New Hampshire Alphabet and Primary Numbers: A New Hampshire Number Book, as well as four books of poetry. She lives in the woods of Barrington, New Hampshire, where she likes to walk and identify birds and go swimming in the Isinglass River.
 
Vanessa Brantley-Newton (oohlaladesignstudio.blogspot.com) has illustrated several picture books, including One Love by Bob Marley and Let Freedom Sing (which she also wrote). When Vanessa isn't illustrating a book, she is crafting and cooking and singing! She also hears color. When she says "hello," she sees the rainbow, and when children giggle, she sees bright orange and pink! She lives in Charlotte, North Carolina.
Praise For The Girl Who Heard Colors…
"A little girl with synesthesia engages the world with all five senses, plus. . . . The exploration of her unusual perception charms. . . . A brief author's note gives a little bit more information about synesthesia, grounding it in the experiences of children Harris has encountered on school visits. An engaging look at a fascinating difference in perception, for younger readers." — Kirkus Reviews

"Harris's story is addressed both to the small population of children who hear colors and smell words, and to the friends, schoolmates, and teachers who may be puzzled by these experiences. She describes Jillian's mixture of visual and aural sensations simply. . . . Brantley-Newton provides lively, stylish spreads." — Publishers Weekly