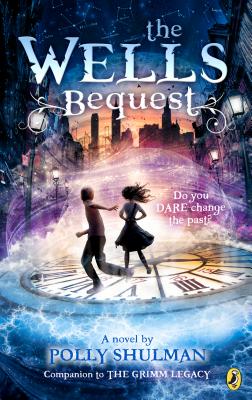 The Wells Bequest
A Companion to The Grimm Legacy
Hardcover

* Individual store prices may vary.
Other Editions of This Title:
Digital Audiobook (6/12/2013)
Paperback (7/10/2014)
Description
Leo never imagined that time travel might really be possible, or that the objects in H. G. Wells' science fiction novels might actually exist. And when a miniature time machine appears in Leo's bedroom, he has no idea who the tiny, beautiful girl is riding it. But in the few moments before it vanishes, returning to wherever—and whenever—it came from, he recognizes the other tiny rider: himself!

His search for the time machine, the girl, and his fate leads him to the New-York Circulating Material Repository, a magical library that lends out objects instead of books. Hidden away in the Repository basement is the Wells Bequest, a secret collection of powerful objects straight out of classic science fiction novels: robots, rockets, submarines, a shrink ray—and one very famous time machine. And when Leo's adventure of a lifetime suddenly turns deadly, he must attempt a journey to 1895 to warn real-life scientist Nikola Tesla about a dangerous invention. A race for time is on!

In this grand time-travel adventure full of paradoxes and humor, Polly Shulman gives readers a taste of how fascinating science can be, deftly blending classic science fiction elements with the contemporary fantasy world readers fell in love with in The Grimm Legacy.
Praise For The Wells Bequest: A Companion to The Grimm Legacy…
* "In this stand-alone companion to The Grimm Legacy, the most extraordinary library in the world makes physical impossibilities possible. . . . Hilarious time-travel dialogue keeps the mood light. . . . In this exhilarating Repository, even the library-cataloguing system is juicy. A clever, sparky adventure made of science fiction, philosophy and humor." — Kirkus Reviews, starred review

"The inside-out plot construction is ably handled, with plenty of book-geek discursions into library and cataloging culture, but the standout feature of this novel is the character of Leo, whose enquiring mind and technical know-how, and whose unique relationship with self-confident Jaya, will draw readers into the science-fiction-made-real landscape." — The Horn Book

"Shulman once again crafts a marvelously engaging story that will have fantasy and sci-fi readers hooked. Tidbits about H.G. Wells and other famous writers are sprinkled throughout and will have readers seeking out their novels. In fact, this is a great tale that explores many aspects of time travel and science fiction without overwhelming readers in meticulous explanation. The adventure, danger, and hints of romance will have readers swiftly turning pages, anxious to discover each new surprise." — School Library Journal

"Following the fantastic events in The Grimm Legacy, the Circulating Materials Repository has plenty more secrets to share, and Leo, a frustrated inventor, is just the person to uncover them. . . . It's Leo and Jaya's adventure and sweet romance, as well as the enigmatic appeal of the repository, that keep the engines humming." — Booklist
Nancy Paulsen Books, 9780399256462, 272pp.
Publication Date: June 13, 2013
About the Author
Polly Shulman has written about edible jellyfish, Egyptian tombs, infinity, blind dates, books, brains, centenarians, circuses, and cinematic versions of Jane Austen novels, for
The New York Times,
Discover,
Newsday,
Salon,
Slate,
Scientific American,
Archaeology,
and
The Village Voice,
among others. She edits news stories about fossils, meteors, the ocean, the weather, and the planets for
Science
magazine. She collects Victorian jewelry made of human hair, puts cayenne pepper in her chocolate cookies, and reads forgotten books with frontispieces.
She is an alumna of Hunter College High School, Hampshire College Summer Studies in Mathematics, and Yale University, where she majored in math. She has never dared to crash a dance, but in tenth grade she did write a proof for math class in the form of a sonnet. She grew up in New York City, where she lives with her husband, Andrew Nahem, and their parakeet, Olive.
or
Not Currently Available for Direct Purchase