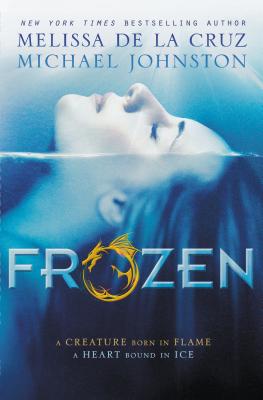 Frozen (Hardcover)
Putnam Publishing Group, 9780399257544, 325pp.
Publication Date: September 17, 2013
* Individual store prices may vary.
or
Not Currently Available for Direct Purchase
Description
As fearless as a futuristic Game of Thrones. MARGARET STOHL, New York Times bestselling co-author of the Beautiful Creatures trilogy
From Melissa de la Cruz and Michael Johnston, the New York Times bestselling authors of the Blue Bloods and Witches of East End series.
Welcome to New Vegas, a city once covered in bling, now blanketed in ice. Like much of the destroyed planet, the place knows only one temperature freezing. But some things never change. The diamond in the ice desert is still a 24-hour hedonistic playground and nothing keeps the crowds away from the casino floors, never mind the rumors about sinister sorcery in its shadows.
At the heart of this city is Natasha Kestal, a young blackjack dealer looking for a way out. Like many, she's heard of a mythical land simply called the Blue. They say it's a paradise, where the sun still shines and the waters are turquoise. More importantly, it's a place where Nat won t be persecuted, even if her darkest secret comes to light.
But passage to the Blue is treacherous, if not impossible, and her only shot is to bet on a ragtag crew of mercenaries led by a cocky runner named Ryan Wesson there. Danger and deceit await on every corner, even as Nat and Wes find themselves inexorably drawn to each other. But can true love survive the lies? Fiery hearts collide in this fantastic tale of the evil men do and the awesome power within us all. This is a remarkable first book in a spellbinding new series about the dawn of a new kind of magic.
About the Author
Melissa de la Cruz is the New York Times, USA Today, Wall Street Journal, Los Angeles Times and Publishers Weekly internationally bestselling author of many critically acclaimed novels. Her Blue Bloods series has sold over three million copies and the Witches of East End seriesbecame an hour-long television drama on the Lifetime network. Michael Johnston is Melissa s husband and heretofore silent partner. He is co-creator of the Blue Bloods and Witches of East End series. Melissa and Michael live with their daughter in Los Angeles and Palm Springs, California."
Praise For Frozen…
Praise for FROZEN:
 
From MARGARET STOHL, New York Times bestselling co-author of the Beautiful Creatures trilogy:
"De la Cruz and Johnston's FROZEN is as fearless as a futuristic Game of Thrones for YA readers – and equally addictive. This epic new take on classic sci-fi and fantasy is equal parts wild and wildly romantic. More dragons please!"
 
 
From ALYSON NOEL, New York Times bestselling author of the Immortals and Soul Seekers series:
"Like Lord of the Rings in reverse, with a dash of Ridley Scott's hard-boiled military fun, this swoon-worthy adventure is an original and thrilling escape that will break your heart and make it soar at the same time."
 
 
From JAMES DASHNER, New York Times bestselling author of Maze Runner:
"FROZEN is the perfect mixture of everything I love in a book. It's hard to find the right words to describe how unique, and how fun, it was to read it. Humor, suspense, twists, and above all, originality. I was lost in the fascinating world of Nat and Wes. Highly recommended."
 
 
FROM SCHOOL LIBRARY JOURNAL:
"Fans of The Hunger Games will no doubt enjoy sinking their teeth into this exciting book."
 
 
FROM KIRKUS REVIEWS:
"De la Cruz and Johnston score a hit. The action soon accelerates and readers will find themselves completely immersed in the authors' dangerous world. Lots of fun."
 
 
FROM BOOKLIST:
"Their imaginative vision of the Remaining States of America (RSA) includes polluted oceans that have swallowed entire coasts, ruthless mercenaries, rigid class systems and magic. A dashing young mercenary guides Nat on a journey filled with gangsters, unethical government officials, and danger from every possible source. (For) the writers' many fans or those hungry for yet another post-apocalyptic future."
 
 
FROM SEVENTEEN.COM:
"The mix of adventure and fantasy will have you addicted!"
 
 
FROM ROMANTIC TIMES:
"A one-sitting read. The world-building in Frozen is absolutely addictive. You'll really feel like you're traveling through this frozen, post-apocalyptic country (with) the setting, the realistic characters and the fast pace."
 
 
FROM NEW YORK JOURNAL OF BOOKS:
"The well-paced action is taut, the characters diverse and finely drawn. And while this is a multiple book series, the ending of this first story is fully satisfying and doesn't leave the reader dangling until the sequel comes out."
 
---------------------------------------------------------------------------------------------------------
 
An essay from Melissa de la Cruz:
 
Our Shared Homeland is Arrakis
The cab driver in San Antonio looks us up and down. With a smirk, he drawls, "You Army?" to my husband. "That how you met?"
 
I laugh, but inside I am furious at the Miss Saigon stereotype, that we had been mistaken for an American G.I. and his Asian bride. I write novels for teenagers, and we are in town for a library convention. "No," my husband, a bookish architect, answers. "We met in New York."
 
Truly, we never thought of ourselves as a "mixed race" couple. There were so many couples of similar diversity within our social circle that we had long ago stopped thinking of ourselves as different from each other. We both attended Columbia (he for graduate school, I as an undergraduate), we both thought the perfect Thursday evening was one spent at the "free admission" night at the Met or the Guggenheim, and most importantly, we both loved science fiction and fantasy novels.
 
As a teenager I devoured all six original "Dune" novels by Frank Herbert, a triumph even among science fiction aficionados, as the books get progressively dense and obscure after the first one. Mike had done the same, and did me one better: he had written a fan letter to the author. He had even received a reply from Random House. It read, "Your author is A) no longer at this publishing house B) unable to return fan mail C) deceased." "Deceased" was circled as Herbert had passed away in 1986, several years before Mike had written him.
 
Whatever differences we had seemed exotic and only made us more interesting to the other. Mike was from a blue-collar family from Kirtland, Ohio, a rural suburb of Cleveland, where his parents sent all four boys through the local public schools and rarely went on vacation. I had grown up in Manila, where my family had lived luxuriously, with a houseful of servants, chauffeurs and three-month-long European holidays. While my teenage years as an immigrant in San Francisco were distinctly more humble, I clung to the memories of my rarified childhood.
 
Mike grew up in a house that never locked its doors. I grew up in a house surrounded by armed guards and barbed wire. Weekends meant helping his dad around the house, whereas I only saw my dad on Sundays before his tennis game. His parents never went out to dinner as his mother cooked every meal. My parents owned several restaurants and even at home, had a private chef. His mother made pies from scratch. My mother taught me to plan catering menus.
 
It didn't seem like it would be a problem when we met. After all, we agreed on all the important things--that Robert Heinlen's "Starship Troopers" was a work of genius, that Isaac Asimov's "Foundation" was the best series ever written, that Piers Anthony's "Xanth" novels went deeper than their shallow light-heartedness. We were fond of both the "Stars Trek" and "Wars." The only point of contention concerned Tolkien's trilogy. I was a staunch resident of Middle-Earth while Mike preferred the "Dragonlance" series, a cheap knockoff in my opinion.
 
Then, we moved to Los Angeles, bought a house, had a baby, and we no longer agreed on anything. I planned to hire a nanny since my mother had done the same. Mike thought it was scandalous and indulgent as no one in his family had ever hired a caretaker for their children. I was adamant about stretching our housing budget to the limit, as my dad the former financier had taught me the most important part of one's financial arsenal was a solid credit line. "There's no such thing as cash, only leverage." But Mike's parents didn't use credit cards and the thought of carrying such a heavy mortgage caused him many sleepless nights. I reveled in hosting massive parties. Mike preferred a quiet house. I liked to spend; he needed to save.
 
Our differences, once so innocuous, became a wedge between us. My parents and sister's family had moved to Los Angeles, and as a dutiful Filipino daughter, I assumed we would spend every weekend with my family. Mike felt claustrophobic at the idea and spent Saturdays sitting sullenly in my parents' living room, his annoyance obvious to everyone but me. We hired my father to sell our apartment. We fired my father after he failed to sell it. Then we hired him again after our new real-estate broker tried to talk us into a fraudulent sale wherein the buyer would fix the price in order to scam money from the lender, and give us a kickback. My father finally sold the apartment, but not before feeling wounded at our disloyalty.
 
It was bruising to realize how truly different we were--in outlook, background, and philosophy. We landed on a therapist's couch two years ago after more than a decade's worth of bickering and resentment. We were convinced we had nothing in common other than our love for our child. Was there anything left to our relationship? There had been so many fights and insults hurled over the years that we could not remember what had drawn us to each other in the first place. We were strangers to each other, firmly entrenched in our separate camps, in the worlds that defined us before we had moved to New York to shed these very identities in the first place.
 
Therapy helped but it was through writing our fantasy novel that we found our common ground once more. It was a surprise to discover it was easy to talk to each other again, as we adopted a shorthand lingo crafted from our shared knowledge of classic science-fiction and fantasy: "That's sort of Bene Gesserit, isn't it? Maybe our wizard should be more like an Aes Sedai?" or "She's less like a Daenerys and more like an Irulan." or "So it's like the spice mélange, except it doesn't fold time and space." We could crack each other up by just uttering the word "KHAN!" at any given moment.
 
From there, we began to agree on other things--that maybe it was okay if we didn't visit my family every weekend, and that it was probably a good idea to put aside some money for retirement. That we were lucky to find such a loving caregiver for our daughter, whose employment in our household allowed us both to work.
 
Some things never change though. He's still trying to get me to read those Dragonlance books. Maybe I should. He might have a point.  —From The Huffington Post
Advertisement