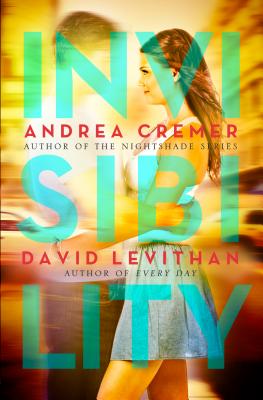 Invisibility
Hardcover

* Individual store prices may vary.
Other Editions of This Title:
Compact Disc (5/7/2013)
Description
"A magical romance between a boy cursed with invisibility and the one girl who can see him, by NewYorkTimes" bestselling authors Andrea Cremer (Nightshade) and David Levithan (E"very Day")
Stephen is used to invisibility. He was born that way. Invisible. Cursed.
Elizabeth sometimes wishes for invisibility. When you re invisible, no one can hurt you. So when her mother decides to move the family to New York City, Elizabeth is thrilled. It's easy to blend in there.
Then Stephen and Elizabeth meet. To Stephen's amazement, she can see him. And to Elizabeth's amazement, she wants him to be able to see her all of her. But as the two become closer, an invisible world gets in their way a world of grudges and misfortunes, spells and curses. And once they re thrust into this world, Elizabeth and Stephen must decide how deep they re going to go because the answer could mean the difference between love and death.

Praise for INVISIBILITY
* " Levithan and Cremer again prove themselves masters of their craft. The inventive, enrapturing story that follows involves spellseekers and a curse-casting grandfather, but Stephen's and Elizabeth's journey is largely about redemption, self-acceptance, and love. Cremer and Levithan make Stephen's invisibility something every reader can relate to, and therein lies the magic." --"Publishers Weekly," starred review
"A must-read for both the realist and the romantic " --"Teen Vogue"
" An] enigmatic mash-up of fantasy and romance set in contemporary real-world Manhattan. The collaboration of Levithan and Cremer creates a seamless narrative." --"Booklist"
Once in a while, along comes a book like this one, written by two great authors, with a fun premise and nice execution, and I don't feel like I need to cover my enjoyment of it with a cough and a sheepish grin. So thanks for that, Andrea Cremer and David Levithan --"ForeverYA"
"Cremer and Levithan craft a tale of love and magic in their first collaborative effort." --"School Library Journal"
"A fast-paced supernatural thriller that will surely leave readers wanting more. A] love child of "Buffy the Vampire Slayer" and Levithan's "Every Day."" --"Kirkus Reviews.
Philomel Books, 9780399257605, 358pp.
Publication Date: May 7, 2013
About the Author
Andrea Cremer and David Levithan met each other in Washington, DC, even though that s not where they live. Andrea was pretty certain she wasn t invisible, but David confirmed that fact by introducing her to some other writers, who were all able to see her.Andrea s novels include "Nightshade, Wolfsbane, Bloodrose, Rift, " and "Rise." You can visit her at www.andreacremer.com and follow her on Twitter @andreacremer. She lives in Minneapolis, quite visibly.Before writing with Andrea, David had never written a novel with a one-word title. His novels include "Every Day, Nick & Norah s Infinite Playlist "(written with Rachel Cohn), and "Will Grayson, Will Grayson "(written with John Green). You can visit David at www.davidlevithan.com and follow his lover s dictionary on Twitter @loversdiction. He lives just outside New York City."
or
Not Currently Available for Direct Purchase