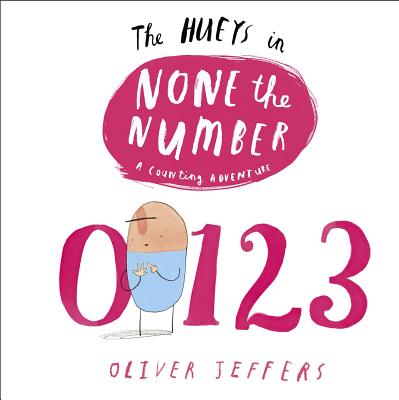 The Hueys in None The Number (Hardcover)
Philomel Books, 9780399257698, 32pp.
Publication Date: July 1, 2014
* Individual store prices may vary.
Description
Learn to count with the #1 New York Times bestselling artist of The Day the Crayons Quit and his hilarious cast of Hueys!
"Is none a number?" you might ask. I'm glad you did. The answer is Yes! For example, how many lumps of cheese do you see next to you? The answer, depending on where you are, is likely "none." Counting with the reader all the way up to ten, the Hueys explain numbers as only they can. Such as: The number 4 is the number of tantrums thrown by Dave every day. 7 is the number of oranges balanced on things. And 9 is the number of seagulls who attacked Frank's French fries. Together they make quite a spectacle. But when you take away all of these fun illustrations in the book? You're left with none!

This funny and accessible counting book from #1 New York Times bestseller Oliver Jeffers (The Day the Crayons Quit; This Moose Belongs to Me) gives the Hueys one more reason to be every young child's best friends.

Praise for NONE THE NUMBER

"Delightfully droll and enlightening . . . . The illustrations, 'made with pencils and a bit of color' on large white pages, are deceptively simple and ridiculously funny."--School Library Journal
About the Author
Oliver Jeffers (www.oliverjeffersworld.com) makes art and tells stories. His books include the #1 bestseller The Day the Crayons Quit; How to Catch a Star; Lost and Found, which was the recipient of the prestigious Nestle Children's Book Prize Gold Award in the U.K. and was later adapted into an award-winning animated film; The Way Back Home; The Incredible Book Eating Boy; The Great Paper Caper; The Heart and the Bottle, which was made into a highly acclaimed iPad application narrated by Helena Bonham Carter; Up and Down, the New York Times bestselling Stuck; The Hueys in the New Sweater, a New York Times Best Illustrated Book of the Year; and This Moose Belongs to Me, a New York Times bestseller. Originally from Belfast, Northern Ireland, Oliver now lives and works in Brooklyn, New York.
Praise For The Hueys in None The Number…
JEFFERS, Oliver. The Hueys in None the Number: A Counting Adventure. illus. by Oliver Jeffers. 32p. (The Hueys: Bk. 3). Philomel. Jul. 2014. K-Gr 3– The Hueys are back to teach readers the value of an often-ignored number. Delightfully droll and enlightening, the unconventional Jeffers reveals the importance of the number zero. To make this point, one of the pill-shaped Hueys counts up to ten, giving examples along the way: "SIX fishermen waiting for the bus./SEVEN oranges I balanced on some things yesterday." And, he makes it clear, when you take away all those items, what do you have left? None. And, none is the same as zero. The illustrations, "made with pencils and a bit of color" on large white pages, are deceptively simple and ridiculously funny. This counting book becomes a "seek and find" when all the not-so-obvious objects that have been enumerated are scattered across two pages. An afterword by the author about "none" appears on the back cover--though it will be unreadable if the dust jacket is left on. Jeffers's persuasive lesson will have readers counting up to 10 using 11 numbers.--School Library Journal
or
Not Currently Available for Direct Purchase