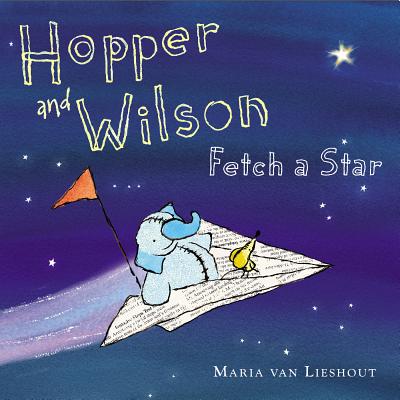 Hopper and Wilson Fetch a Star
Hardcover

* Individual store prices may vary.
Description
Have you ever wanted your very own star?
Wouldn't it be wonderful to have your own star for a nightlight? It is this thought that begins Hopper and Wilson's second adventure. They fill their airplane with lemonade and soar into the night sky. So many stars to choose from One is too pointy. One is too heavy. Another is too bright Taking a break on the moon, the two friends look directly above and spot it the perfect star As Hopper lays down for a nap, Wilson ventures off on his own, to the dark side of the moon. Yet now he is lost How can he find his way back to Hopper?
The perfect star, of course. Wilson spots it in the sky and follows it back to his friend.In another deceptively simple story, Maria van Lieshout shows how sometimes the best part of nature is that it's found only in nature and that everything has its proper place . . . be it stars or even best friends, who always belong together.
Praise For Hopper and Wilson Fetch a Star…
"Hopper and Wilson, two stitched-up, stuffed toys (an elephant and a mouse), sit on their dock with their pet cactus looking at the stars and decide to bring one home for a night light. . . . Children will drift along with the velvety narration, nodding, eager to join the two buddies up there amid the constellations. . . . Soft watercolors ease readers right into their celestial trip, mapping a starry sky through full-bleed saturations of dark blues and plum purples, dotted with twinkling whites and citrus-y yellows. Paper textures surface occasionally when the watercolors thin out, adding varying depths and a cirrus quality to the outer-space atmosphere. A walk to the dark side of the moon brings an acutely frightening moment for both Wilson and any sensitive reader who's been lost. Luckily, the buddies' special star, the one they planned to take home, helps orient the little guy and direct him back to his friend. His tiny, mousy voice, Hopper's huge, comforting hug and all that bruised blackness make their reunion poignant and personal. An amusingly absurd adventure that shines starlight on empathy and friendship."--Kirkus Reviews
Philomel Books, 9780399257728, 40pp.
Publication Date: April 3, 2014
About the Author
Maria van Lieshout was born and raised in Holland. She and her husband, Peter, live in a 100-year-old Victorian in San Francisco with creaky floors, where Maria has her studio and worksfull time on children s books. You can visit Maria at www.MariaVanLieshout.com."
or
Not Currently Available for Direct Purchase