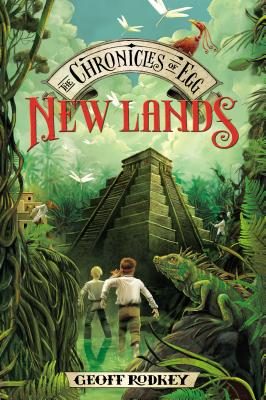 New Lands
Hardcover

* Individual store prices may vary.
Other Editions of This Title:
Paperback (3/6/2014)
MP3 CD (9/8/2015)
MP3 CD (6/13/2013)
MP3 CD (6/13/2013)
Compact Disc (6/13/2013)
Compact Disc (6/13/2013)
MP3 CD (3/6/2014)
Compact Disc (3/6/2014)
Description
This highly anticipated sequel to Rodkey's much-praised debut is funny, heartfelt, and action-packed. Don't miss it
After a narrow escape from Deadweather Island, Egg and his slightly deranged partner Guts head for the remote New Lands. They re in search of the lost Okalu tribe, who hold the key to the mysterious treasure map that Egg can't decipher. But the ruthless Roger Pembroke is hard on Egg's trail, and the New Lands are full of new enemies against which our heroes' only weapons are their brains, their courage...and the two dozen swear words Guts just memorized in the local tongue.
They're going to need help. But who can they trust? Is Kira, the beautiful and heavily armed Okalu refugee, their ally or their enemy? Is Pembroke's daughter Millicent on Egg's side or her father's? Why on earth is the notorious pirate Burn Healy being so "nice" to them?And the biggest question of all: what shocking secret is Egg about to discover in the shadow of an ancient Okalu temple?
Praise For New Lands…
Praise for NEW LANDS (Book Two in the Chronicles of Egg series):
 
 
FROM KIRKUS REVIEWS:
"Egg's narration, fresh and funny as ever, keeps readers engaged with the increasingly complicated plot. Occasionally gruesome, often funny and full of suspense, this one is sure to win Egg some new fans."
 
 
FROM BCCB:
"The plot follows a classic adventure arc but remains nonetheless surprising: the characters never quite behave in expected ways, making unpredictable choices . . . Even though the world is fictional, the portrayal of the Native tribes and their culture and interactions with Egg and Pembroke may make for some interesting comparisons to Robinson Crusoe and Treasure Island."

--------------------------------------------------------------------------------------------------------------------------------------------------------------

Praise for DEADWEATHER AND SUNRISE (Book One in the Chronicles of Egg series):
 
Amazon Best Books of the Year 2012
Chicago Public Library Best of the Best 2012
 
 
"This is a rip-roaring debut… I highly recommend you grab a copy… The best way I can describe it is Lemony Snicket meets Pirates of the Caribbean, with a sprinkling of Tom Sawyer for good measure."
—RICK RIORDAN, New York Times bestselling author of the Percy Jackson series.
 
 
STARRED REVIEW FROM BCCB: 
". . . a high-seas adventure in the grandest tradition, featuring epic maritime battles, elusive hidden treasures, tender romance, and of course, pirates—lots and lots of pirates. The fast-paced swashbuckling will surely satisfy fans of adventure, but it's really Egg's narration that makes this pirate story rise above its counterparts. Wittily observant and self-deprecating, Egg relays the series of absurd events that precede his escape from Deadweather with a fair amount of humor, while his decision to avenge the deaths of his family—despite their mistreatment of him—lends the tale a certain nobility."


FROM THE CHICAGO TRIBUNE:
"What a wonderful hybrid plot: islands, buried treasure, a lad avenging violence against his family, sea voyages, tourist cruises, real pirates, fake pirates for the tourist trade, and leftover pirates, too maimed for sea work. . . . Egg's flat, fatalistic, practical and hilarious narrative tone keeps this wild profusion of plot elements (and island hopping) in balance in this, Book 1, of "The Chronicles of Egg," making a reader look forward to more."
 
 
FROM KIRKUS REVIEWS:
"Self-deprecating and funny, Egg's first-person account is compelling, and the dialogue and vivid setting, as well as the full cast of quirky characters, make it easy to get lost in this adventure."
 
 
FROM PUBLISHERS WEEKLY:
"In this rousing debut novel . . . Egg's struggle to stay alive takes him from one death-defying scenario to the next with breakneck speed … the overall effect is more comedic than terrifying, as Rodkey combines humor and adventure."
 
 
FROM BOOKLIST:
"[O]ur hero's first-person sassiness, smarts, and romantic frustration . . . are absolutely entertaining. Along with some good and gory descriptions (after all, pirates really aren't that nice), this introduction to the Chronicles of Egg series is pure fun."


BLUE SEA BURNING (Book Three in the Chronicles of Egg series) coming in 2014!
Putnam Publishing Group, 9780399257865, 325pp.
Publication Date: May 2, 2013
About the Author
Geoff Rodkey (www.chroniclesofegg.com)is the Emmy-nominated writer of such hit films as"Daddy Day Care," "RV," and the Disney Channel's"Good Luck Charlie, It'sChristmas." He grew up in Freeport, Illinois and began his writing career on his high school newspaper.His early writing credits include the educational video game"Where In the World Is Carmen Sandiego?"andthe non-educational MTV series"Beavis and Butthead." Geoff currently lives in New York City with his wife and three sons. They do not have any pets, mostly because the whole experience with the goldfish was just too upsetting."
or
Not Currently Available for Direct Purchase