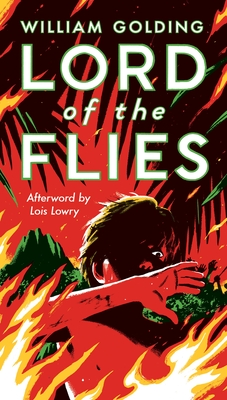 Lord of the Flies (Paperback)
Penguin Books, 9780399501487, 224pp.
Publication Date: December 16, 2003
Other Editions of This Title:
Digital Audiobook (11/25/2002)
Paperback (11/15/2016)
Prebound (7/1/1959)
Paperback (10/1/1999)
Hardcover (5/7/2013)
Paperback (9/1/1987)
Paperback (8/1/1997)
Paperback (11/1/2011)
Prebound (12/16/2003)
CD-Audio (10/11/2005)
Paperback (4/5/1999)
Paperback, Chinese (8/1/2006)
Pre-Recorded Audio Player (8/25/2006)
Paperback (8/2/2018)
Prebound (8/1/1997)
Paperback (6/3/2002)
Paperback (1/1/1973)
* Individual store prices may vary.
Description
Golding's iconic 1954 novel, now with a new foreword by Lois Lowry, remains one of the greatest books ever written for young adults and an unforgettable classic for readers of any age.
 
This edition includes a new Suggestions for Further Reading by Jennifer Buehler.

At the dawn of the next world war, a plane crashes on an uncharted island, stranding a group of schoolboys. At first, with no adult supervision, their freedom is something to celebrate. This far from civilization they can do anything they want. Anything. But as order collapses, as strange howls echo in the night, as terror begins its reign, the hope of adventure seems as far removed from reality as the hope of being rescued.
About the Author
William Golding was born in Cornwall, England, in 1911 and educated at Oxford University. His first book, Poems, was published in 1935. Following a stint in the Royal Navy during World War II, Golding wrote Lord of the Flies while teaching school. It was the first of several works, including the novels Pincher Martin, Free Fall, and The Inheritors and a play, The Brass Butterfly, which led to his being awarded the Nobel Prize for Literature in 1983.
 
Lois Lowry is the two-time Newbery Award–winning author of Number the Stars,The Giver Quartet, and numerous other books for young adults.
 
Jennifer Buehler is an associate professor of educational studies at Saint Louis University and President of The Assembly on Literature for Adolescents of the National Council of Teachers of English.
Praise For Lord of the Flies…
"Lord of the Flies is one of my favorite books. I still read it every couple of years." 
—Suzanne Collins, author of The Hunger Games trilogy

"I finished the last half of Lord of the Flies in a single afternoon, my eyes wide, my heart pounding, not thinking, just inhaling....My rule of thumb as a writer and reader—largely formed by Lord of the Flies—is feel it first, think about it later." 
—Stephen King

"This brilliant work is a frightening parody on man's return [in a few weeks] to that state of darkness from which it took him thousands of years to emerge. Fully to succeed, a fantasy must approach very close to reality. Lord of the Flies does. It must also be superbly written. It is." 
—The New York Times Book Review