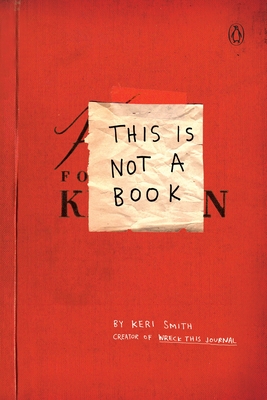 This Is Not a Book (Paperback)
Perigee Books, 9780399535215, 221pp.
Publication Date: September 1, 2009
Description
From the internationally bestselling creator ofWreck This Journal, acurious, engaging, and creative rethinking of all the different things a book can be.
In this uniquely skewed look at the purpose and function of a book, Keri Smith offers an illustrated guide that challenges readers to creatively examine all the different ways This Is Not a Book can be used. With intriguing prompts, readers will discover that the book can be:
A secret message tear out a page, write a note on it for a stranger, and leave it in a public place.
A recording device have everyone you contact today write their name in the book.
An instrument create as many sounds as you can using the book, like flipping the pages fast or slapping the cover.
This Is Not a Bookforces you to ask, If it's not a book, what is it then? with a kaleidoscope of possible answers.
About the Author
Keri Smith is a bestselling author, illustrator, and thinker. Her books include Wreck This Journal, The Wander Society, This is Not a Book, How to Be an Explorer of the World, Mess, Finish This Book, The Pocket Scavenger, Wreck This Journal Everywhere, Everything Is Connected, and The Imaginary World of... as well as Wreck This App, This is Not an App, and the Pocket Scavenger app. She enjoys spending time with her husband, experimental musician Jefferson Pitcher, and two children.
Advertisement