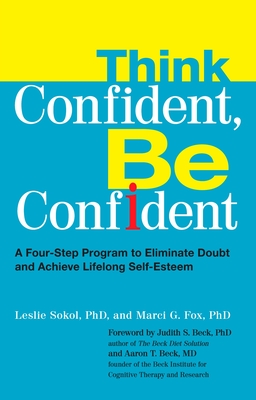 Think Confident, Be Confident (Paperback)
A Four-Step Program to Eliminate Doubt and Achieve Lifelong Self-Esteem
TarcherPerigee, 9780399535291, 240pp.
Publication Date: October 6, 2009
Other Editions of This Title:
Paperback (9/1/2016)
* Individual store prices may vary.
Description
A practical four-step cognitive therapy program for overcoming self-doubt and fear?from leading experts in the field.

Long-time associates of the Beck Institute, Drs. Sokol and Fox share their practical, four-step cognitive therapy program for overcoming self-doubt and fear, building confidence, and maximizing potential in all areas of life. Their unique program enables the reader to identify and examine those areas where self-doubt gets triggered and interferes with their potential. As the self-doubt becomes more externalized, readers are shown step-by-step how to determine if their fear is valid, and if not, how to overcome it. Readers will learn how to develop confidence and to base their actions on a new, more positive belief structure, resulting in a true and lasting form of solid self-esteem and confidence.
About the Author
Leslie Sokol, PhD, is director of education and one of the principal instructors with the internationally acclaimed Beck Institute for Cognitive Therapy and Research in Philadelphia. She has taught cognitive therapy to professional and paraprofessional groups, nationally and internationally, on such topics as: depression, anxiety, personality disorders, stress management, psychosis, substance abuse, and couples' problems. In addition to her roles at the Beck Institute, she maintains a private practice in a primary care setting in the Philadelphia area. In her role as chairman of behavioral science in the Family Practice Department at Mercy Suburban Hospital, she taught psychiatry to family medicine residents for 22 years. She continues to serve as the staff psychologist in the cardiac and physical rehabilitation departments.Dr. Sokol is a distinguished founding fellow of the Academy of Cognitive Therapy and a past president. Currently she serves as treasurer and chairman of its Credentials Committee. In these roles, she was intricately involved in the provision and development of training protocols to insure competency in cognitive therapy, and in the testing and utilization of tools to evaluate this competency. To further her mission of spreading accurate knowledge of cognitive therapy worldwide, she was representative at large for the IACP (International Association of Cognitive Psychotherapy).

Marci Fox, PhD, a licensed psychologist, has been in private practice for almost 20 years and specializes in cognitive behavioral therapy with teens and adults. She has worked with the Beck Institute for Cognitive Behavior Therapy in Philadelphia for almost the same amount of time. As an Academy of Cognitive Therapy certified trainer/consultant and adjunct faculty member at the Beck Institute, she trains individuals in cognitive therapy both nationally and internationally. She is actively involved in training thousands of mental health professionals nationally to increase their competency in cognitive behavior therapy.Dr. Fox graduated with honors in psychology from Tulane University. Upon graduation, she received a master of science and doctorate in clinical psychology at the University of Miami. After a year as a medical psychology intern at Duke University Medical Center, she did a first-year postdoctoral fellowship at the Center for Cognitive Therapy at the University of Pennsylvania and a second-year postdoctoral fellowship at the Beck Institute for Cognitive Therapy and Research. She worked at the Beck Institute as a senior associate for five years before moving into private practice and continues to play an active role at the Beck Institute for Cognitive Behavior Therapy in their Extramural Training program, and now maintains a private practice in Boca Raton, Florida.
Praise For Think Confident, Be Confident: A Four-Step Program to Eliminate Doubt and Achieve Lifelong Self-Esteem…
"Think Confident, Be Confident offers a unique, interactive four-step program. The authors have used their considerable clinical experience and expertise to develop practical, effective, problem-solving strategies...This book is an invaluable guide both to consumers and the professionals who treat them. It will reduce unwarranted self-doubt, increase self-confidence, and-most important-allow individuals to achieve their goals."
--Judith S. Beck, PhD and Aaron T. Beck, MD
Director and President, Beck Institute for Cognitive Therapy and Research Clinical Professor of Psychology in Psychiatry and University Professor Emeritus of Psychiatry at University of Pennsylvania

"In Think Confident, Be Confident, Drs. Sokol & Fox, two experienced and top-notch clinicians, give the reader an unfailingly encouraging, optimistic message: 'You CAN become a more confident person. You CAN reduce the role that self-doubt plays in your life. You WILL learn how to think and act in ways that will improve your life, starting today.' The book's caring, upbeat message, combined with its many exercises derived from evidence-based cognitive therapy, will provide readers with valuable new psychological skills that endure."
--Cory F. Newman, Ph.D., ABPP
Director, Center for Cognitive Therapy

"Think Confident, Be Confident by Leslie Sokol and Marci Fox is a clear- thinking, helpful guide to put your self-doubts behind you so you can get ahead with your life. Filled with practical and easy-to-follow techniques, you will find yourself changing old patterns of thinking to feel like new again."
--Robert L. Leahy, Ph.D.
Author of Anxiety Free: Unravel your fears before they unravel you

"Drs. Sokol and Fox draw upon the science of cognitive therapy to help lift readers out of doubt. Think Confident, Be Confident shows you how to use moments of self-doubt as fertile ground to develop lasting self-confidence. Doubt you can do it? Think again."
--Dennis Greenberger, Ph.D and Christine A. Padesky, Ph.D.
Authors of Mind Over Mood

"Drs. Sokol and Fox provide a clear path from doubt to confidence, based on tried and true cognitive strategies that have been used for decades to transform negative thinking into realistic thinking. Think Confident, Be Confident is well-written and the approach taken is straightforward and practical. This book will provide much needed relief to those who struggle with unnecessary doubt!"
--Martin M. Antony, Ph.D., ABPP
Author of The Anti-Anxiety Workbook

"Although doubt can have several positive forms (rational skepticism; "reasonable doubt" in criminal cases), doubt can also undermine self-esteem, cripple effective decision-making, and in the extreme lead to anxiety and/ or depression. Think Confident, Be Confident discusses the clinical aspects of doubt. Written by world-leading experts in Cognitive Therapy, but at an easily accessible level by practitioners, this book is a definitive source for assessment and intervention with doubt. My prediction is that Think Confident, Be Confident will serve as the sourcebook in this area, and is recommended to anyone who works with patients who experience pathological or clinical doubt."
--Keith S. Dobson, Ph.D.
President, Academy of Cognitive Therapy