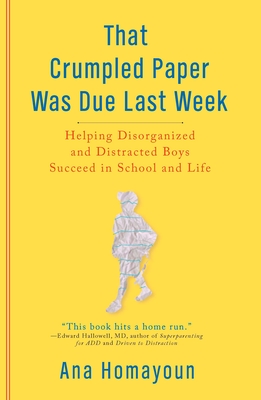 That Crumpled Paper Was Due Last Week
Helping Disorganized and Distracted Boys Succeed in School and Life
Paperback

* Individual store prices may vary.
Other Editions of This Title:
MP3 CD (4/7/2020)
Compact Disc (4/7/2020)
Compact Disc (4/7/2020)
Description
At last, the solution for getting disorganized boys back on track.

Missed assignments. Lack of focus and enthusiasm. Falling grades. For too many boys and their frustrated parents, these are the facts of life. But they don't have to be.

Top academic couselor Ana Homayoun has helped turn even the most disorganized, scattered, and unfocused boys into successful young people who consistently meet their personal and academic challenges. She does this by getting back to basics- -starting with a simple fact: Most boys needs to be taught how to get organized, how to study, and-- most important--how to visualize, embrace and meet their own goals.

With an accessible and no-nonsense approach, Homayoun shows how to:

?Identify their son's disorganizational style
?Help him set academic and personal goals he cares about
?Design and establish the right "tools of the trade"
?Complete assignments without pulling all-nighters
?Help him tune out social pressure and fend off anxiety
Much more than a study guide, this insightful, user-friendly book provides a roadmap for the success too many boys have trouble finding--in school and in life.
Praise For That Crumpled Paper Was Due Last Week: Helping Disorganized and Distracted Boys Succeed in School and Life…
"That Crumpled Paper Was Due Last Week provides an innovative and practical approach to helping boys find success. Ana Homayoun presents straightforward, easily implementable solutions that will help transform the lives of boys and parents. A wonderful read!"
-Michael Gurian, author of The Wonder of Boys and The Minds of Boys

"Ana Homayoun gets it! Combining an extraordinary feel for what boys face in schools these days with an enormously shrewd, practical sets of tips on how to get organized and excel, this book hits a home run. All parents and teachers as well as students (yes, I think girls could find it useful, too!) will find that this book makes school less of a struggle and more of a pleasure. Brief, to-the- point, and clear, this book is an invaluable, unique tool."
-Edward Hallowell, M.D., author of Super Parenting for ADD and Driven to Distraction

"Filled with practical advice for the parents of disorganized boys (and that's an awful lot of young boys), Ana Homayoun's That Crumpled Paper Was Due Last Week teaches us how to help our sons navigate through a school environment that is less than kind to distracted and disorganized young men."
-Madeline Levine, Ph.D., Author of The Price of Privlege

"Homayoun, an educational consultant, has seen plenty of boys who score high on standardized tests but earn poor grades. Often the reason is that boys are not as good as girls at multitasking, a crucial skill that requires organization. She reports complaints from parents of boys chronically losing homework, forgetting tests, and not turning in assignments. She cites research on differences in how girls and boys learn, and examines them in the context of the distractions of technology, from video games to the Internet. Homayoun also looks at contributing factors, from sleep deprivation to overly involved parents. She helps parents to identify the particular style of their son's disorganization--procrastinator, scatterbrain, slacker, underachiever--and how to tailor a program that will help him. Among the suggestions: goal setting, self-competition, breaking down tasks into steps, scheduling to avoid stress and manage extracurricular activities, and using an assortment of tools, including binders and planners. Helpful advice for parents struggling with disorganized boys--or girls."
-Vanessa Bush, Booklist December 2009
TarcherPerigee, 9780399535598, 304pp.
Publication Date: January 5, 2010
About the Author
Ana Homayoun is a nationally recognized counselor and consultant specializing in strategies for junior-high and high-school students. The founder and president of Green Ivy Educational Consulting and the author of That Crumpled Paper Was Due Last Week, she is a frequent writer and lecturer on adolescent issues.
or
Not Currently Available for Direct Purchase