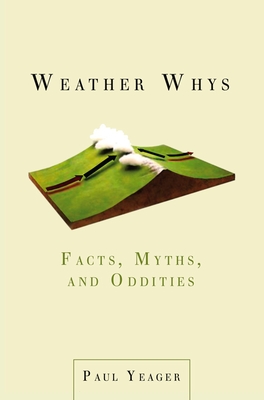 Weather Whys
Facts, Myths, and Oddities
Paperback

* Individual store prices may vary.
Description
The myths, history, wives-tales, oddities, and wonders of a subject that comes up every day: the weather.

Weather enthusiasts (or just the weather-curious) will discover surprising facts, myths, and oddities in this fascinating book of useful (and sometimes useless) information. With his expertise as a meteorologist and editor, Paul Yeager takes readers on a journey through the curious world of weather, revealing myths and misconceptions, sharing weird phenomena, and explaining how weather has affected history. Readers will discover a host of fascinating weather facts, including:

?Which city is actually the windiest

?How the temperature affects tire pressure

?Why humidity makes hair go limp or frizzy

?Why a coming storm causes sore joints

?Why watering a garden after it rains is a good idea
Praise For Weather Whys: Facts, Myths, and Oddities…
"If you're an armchair weather expert, a weather junkie or simply enjoy the intricacies of the world's most turned-to conversation topic, look no further than Weather Whys: Fact, Myths, and Oddities by meteorologist and editor Paul Yeager. In this slender volume, Yeager sets out to give readers a basic appreciation for storms, winds, freezing rain, puffy clouds and the like, by first giving readers a breakdown of just what these things are. Hail, for instance, happens when supercooled water freezes on dust particles that are then pushed back into clouds via updraft, over and over again, accumulating more water, and more size, until they finally crash onto our heads and cars.

Like a science teacher who clearly enjoys his subject and has a knack for explaining it, Yeager's easy-to-digest writing comes with a lot of requisite enthusiasm. Lightning doesn't get enough respect, he writes-and did you know that the "temperature of a lightning bolt is estimated to be as much as 54,000oF (five times the temperature of the sun)"? The book is packed with fascinating facts like these. Yeager reveals that "it's always cooler after a thunderstorm"; that seeking shelter under a highway overpass during a tornado is a really bad idea (the speed of the wind will increase); that "snow-eating wind" allows snow to vanish rather than melt and a whole lot of sports-and-weather phenomena like the fact that high humidity "allows a baseball to travel farther, increasing the likelihood of home runs." With gems like these, Weather Whys is already a candidate for bathroom book of the year."
-Emagazine.com
TarcherPerigee, 9780399535703, 224pp.
Publication Date: March 2, 2010
About the Author
Paul Yeager is the managing editor of Accuweather.com and a freelance writer. As a child, he was annoyed when reading, writing, and arithmetic were referred to as the "Three R's," and he hasn't changed a bit over the years. He lives in Altoona, PA.
or
Not Currently Available for Direct Purchase