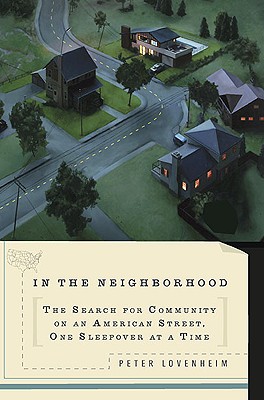 In The Neighborhood
The Search for Community on an American Street, One Sleepover at a Time
Hardcover

* Individual store prices may vary.
Other Editions of This Title:
Paperback (4/5/2011)
Description
Read Peter Lovenheim's posts on the Penguin Blog.
Based on a popular "New York Times" Op-Ed piece, this is the quirky, heartfelt account of one man's quest to meet his neighbors-and find a sense of community.
Journalist and author Peter Lovenheim has lived on the same street in suburban Rochester, NY, most of his life. But it was only after a brutal murder-suicide rocked the community that he was struck by a fact of modern life in this comfortable enclave: no one knew anyone else.
Thus begins Peter's search to meet and get to know his neighbors. An inquisitive person, he does more than just introduce himself. He asks, ever so politely, if he can sleep over.
In this smart, engaging, and deeply felt book, Lovenheim takes readers inside the homes, minds, and hearts of his neighbors and asks a thought-provoking question: do neighborhoods matter-and is something lost when we live among strangers?
Praise For In The Neighborhood: The Search for Community on an American Street, One Sleepover at a Time…
"After a tragic murder-suicide in his neighborhood, Lovenheim feels compelled to learn if closer relationships among neighbors might have saved a woman from death. The cultural study that follows is as much about sociology as it is about simple friendship as Lovenheim wonders why people can live side-by-side and know literally nothing about each other. He engages in long conversations both with those he has known (at least casually) for years and others he has never met. A retired doctor, harried realtor, workaholic consultant, pathologist, radiologist fighting cancer, dog walkers, and others allow him into their homes and, at least a little bit, their hearts. He meets families and pets and witness daily routines, asking repeatedly just what it is that makes a place a home, and a street more than merely an address. He reaches out and finds others also searching for connection and longing for what used to be. Lovenheim advances ideas about isolation in the modern world, and why a welcoming front porch is needed now more than ever."
-Colleen Mondor, Booklist
Perigee Trade, 9780399535710, 256pp.
Publication Date: April 6, 2010
About the Author
Peter Lovenheim is a journalist whose articles and essays have appeared in the "New York Times, USA Today, New York" magazine, and other publications. He teaches writing at Rochester Institute of Technology and is also the author of "Portrait of a Burger as a Young Calf," a firsthand attempt to understand the food chain, and other books. He lives in Brighton, New York, a suburb of Rochester.
or
Not Currently Available for Direct Purchase