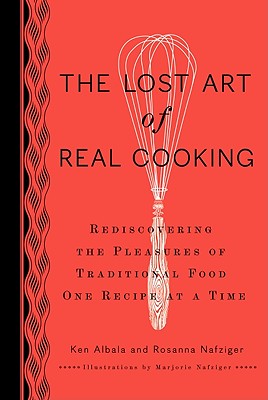 The Lost Art of Real Cooking (Hardcover)
Rediscovering the Pleasures of Traditional Food One Recipe at a Time
Perigee Books, 9780399535888, 233pp.
Publication Date: July 6, 2010
* Individual store prices may vary.
Description
Read Ken Albala and Rosanna Nafziger's blogs and view their pictures on the Penguin Community.
It's time to take back the kitchen. It's time to unlock the pantry and break free from the shackles of ready-made, industrial food. It's time to cook supper.
"The Lost Art of Real Cooking" heralds a new old-fashioned approach to food-laborious and inconvenient, yet extraordinarily rewarding and worth bragging about. From jam, yogurt, and fresh pasta to salami, smoked meat, and strudel, Ken Albala and Rosanna Nafziger arm you with the knowledge and skills that let you connect on a deeper level with what goes into your body.
Ken and Rosanna celebrate the patience it takes to make your own sauerkraut and pickles. They divulge the mysteries of capturing wild sourdoughs and culturing butter, the beauty of rendering lard, making cheese, and brewing beer, all without the fancy toys that take away from the adventure of truly "experiencing" your food.
These foods were once made by the family, in the home, rather than a factory. And they can still be made in the smallest kitchens without expensive equipment, capturing flavors that speak of place and personality. What you won't find here is a collection of rigid rules for the perfect meal. Ken and Rosanna offer a wealth of recipes, history, and techniques that start with the basics and evolve into dishes that are entirely your own.
About the Author
Ken Albala is professor of history at the University of the Pacific in Stockton, California, where he teaches courses on the Renaissance and Reformation, Food History, and the History of Medicine. He is the author of many books on food, including "Eating Right in the Renaissance, Food in Early Modern Europe, Cooking in Europe 1250 1650, The Banquet: Dining in the Great Courts of Late Renaissance Europe, Beans: A History" (winner of the 2008 International Association of Culinary Professionals Jane Grigson Award), "Pancake," and the forthcoming "World Cuisines" written with the Culinary Institute of America. He is also the editor of three food series for Greenwood Press with 27 volumes in print and is now editing a four-volume "Food Cultures of the World Encyclopedia." Albala has been the book reviews editor of "Food Culture and Society" for the past six years and is now co-editor of the journal. He is currently researching a history of theological controversies surrounding fasting in the Reformation Era and editing two collected volumes of essays, one on the Renaissance, the other on food and faith.

Rosanna Nafziger grew up on a mountain in West Virginia. She spent her girlhood working in the orchard, planting beans, and selling pies at the farmers' market. Now she translates the traditions of her Appalachian Mennonite upbringing to the urban kitchen on her blog, Paprikahead.com. A chef, nanny, and editor, she lives in San Francisco. This is her first book."
Praise For The Lost Art of Real Cooking: Rediscovering the Pleasures of Traditional Food One Recipe at a Time…
"Almost all the recipes on offer here, from pickles to pastry, are doable in the humblest of kitchens..."
-The Wall Street Journal
or
Not Currently Available for Direct Purchase