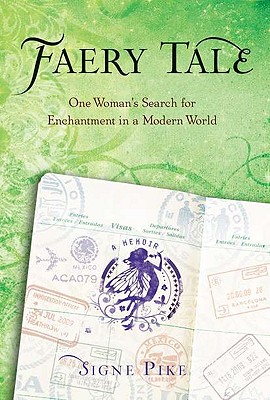 Faery Tale (Hardcover)
One Woman's Search for Enchantment in a Modern World
Perigee Trade, 9780399536175, 320pp.
Publication Date: November 2, 2010
Other Editions of This Title:
Paperback (11/1/2011)
Paperback (6/1/2011)
* Individual store prices may vary.
Description
In search of something to believe in once more, Signe Pike left behind a career in Manhattan to undertake a magical journey-literally. In a sweeping tour through Mexico, England, Ireland, Scotland, and beyond, she takes readers to dark glens and abandoned forests, ancient sacred sites, and local pubs, seeking people who might still believe in the elusive beings we call faeries. As Pike attempts to connect with the spirit world-and reconnect with her sense of wonder and purpose-she comes to view both herself and the world around her in a profoundly new light.
Captivating, full of heart, and unabashedly whimsical, "Faery Tale" is more than a memoir-it's the story of rekindling that spark of belief that makes even the most skeptical among us feel like a child again.
About the Author
Signe Pike is an editor and writer living in Charleston, South Carolina.
Praise For Faery Tale: One Woman's Search for Enchantment in a Modern World…
"Faery Tale is enchanting. I don't believe in tiny magical creatures, but I do believe in a good story, and Signe Pike has given us one of those."
-A.J. Jacobs, New York Times bestselling author of The Year of Living Biblically

"Pike writes of her various encounters with faery-believers and faery lands... in a winning voice that roams freely from melancholy to mirth, incredulity to bright surprise."
-Kirkus Reviews

"Faery Tale is more than just a refreshing romp among waterfalls, searching for that shining, hidden race of spirit-people. It's Signe Pike's answer to a grief-sick heart. Whether you use the words faith or faeries, God or magic, Pike's thirst for belief is both moving and inspiring. She has a wild willingness to reach through her grief and abandon herself to life's adventures, and I felt so lucky to be along on her journey. Reading this book is like remembering that elusive magic of childhood. Pike went looking for enchantment; well she found it, and she left its light and gracious footprints across every page of this delightful book."
-Jeanine Cummins, bestselling author of A Rip in Heaven and The Outside Boy

"Finding happiness is an adventure that everyone should take, and Faery Tale inspires you to go on that journey."
-Lucy Danziger, Editor-in-Chief of SELF Magazine and author of New York Times bestseller The Nine Rooms of Happiness

"It's hard to decide what's more enchanting, Signe Pike's writing or the magical world she uncovers. This is a book for hopeful skeptics and believers alike. Proceed with caution, because Faery Tale may cast a spell that transforms the way you see the world forever."
- Jillian Lauren, New York Times bestselling author of Some Girls: My Life in a Harem

"I really didn't want to be entranced. I didn't want to be enticed into yet another world of strange fantasy beings. But with Signe Pike's Faery Tale-I was. Honestly. Thank you, Signe, for making us all more aware of the hidden dimensions of our earthly existence-for 'helping people believe in magic again'-and for showing us how such spirit-world magic can transform the perceptions of our own lives."
-David Yeadon, author of At the Edge of Ireland

"A beautiful book, wide open and shimmering, full of enchantment, pain, and sweetness. And Signe Pike is warm, open, funny, thoughtful, vulnerable, wise- reading her is like sitting over tea or around a fire with your best girlfriend, listening to her wildest tales."
-Carolyn Turgeon, author of Godmother: The Secret Cinderella Story "There's passion, excitement, and playfulness in Signe Pike's adventures as she plays with time and space and people . . . and words. If you allow yourself to hear what she hears and see what she sees, some of that magic will seep into your today."
-Rita Golden Gelman, author of Tales of a Female Nomad and Female Nomad and Friends

"Anyone who's ever seen something curious out of the corner of their eye, heard the million whispers of trees, or checked under their bed looking for more than dust bunnies will thrill to Signe Pike's Faery Tale."
-Cathy Alter, author of Up for Renewal: What Magazines Taught Me about Love, Loss, and Starting Over

"Youthful and sparkling with lots of pizzazz sums up Signe Pike's book Faery Tale. For questers of faeries and just plain magic in the world, you will have a most enjoyable read."
-Tanis Helliwell, author of Pilgrimage with the Leprechauns and Summer with the Leprechauns

"Magical and beguiling, tender and heartbreaking, Faery Tale is the work of a fiercely talented new writer."
-Michael Taeckens, author of Love is a Four-Letter Word

"Sweet, unsettling, and wise, Faery Tale tells the enchanting story of one woman's quest to make peace with the unseen. Signe Pike is searching for faeries, of course, but along the way she comes to terms with the ghost of her father, the steadfastness of her patient, adoring husband, and her own enormous heart. Faery Tale is a book for anyone who yearns to understand the invisible, by which I mean everything that turns out to be right in front of our noses."
-Jennifer Finney Boylan, author of She's Not There and Falcon Quinn and the Black Mirror

"Do fairies exist? There is a certain innocence in the belief that they do, and a certain magic in that innocence. With considerable humor and flair, Signe Pike asks us to return to the awe and innocence we knew as children. It's a worthwhile journey."
-Sharman Apt Russell, author of Standing in the Light: My Life as a Pantheist
or
Not Currently Available for Direct Purchase