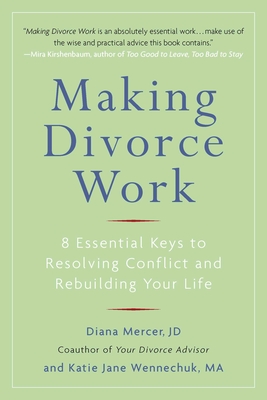 Making Divorce Work
8 Essential Keys to Resolving Conflict and Rebuilding Your Life
Paperback

* Individual store prices may vary.
Description
Eight essential keys to resolving conflict and rebuilding your life.
This unique and empowering guide gives divorcing couples the skills to manage their divorce successfully, handle the legal and emotional issues harmoniously, and redefine and preserve the positive elements of their relationship. Informed by eight mediation concepts developed and used by the authors in their practice, the process outlined in this book will allow divorcing couples to deal rationally with the issues rather than allowing fear, anger, and grief to dictate their actions.
Making Divorce Work
leads couples to experience divorce as a celebration of the end of a relationship that served them well and provides the tools to deal with virtually every aspect of divorce-from money and custody to grieving and pain-to be proud of the way they handled their divorce and to start their new lives from a better place.
Watch a Video
Praise For Making Divorce Work: 8 Essential Keys to Resolving Conflict and Rebuilding Your Life…
"This most positive offering comes from family law mediator Mercer and certified divorce mediator Wennechuk, who claim that the way one proceeds with a divorce, whether amicably or acrimoniously, will directly influence the quality of life afterward....Anyone considering or getting a divorce would benefit from reading this book."
-Library Journal

"Making Divorce Works translates Diana and Katie's unique mediation model into skills anyone can use and that will revolutionize the way people get divorced."
-Len Jacoby, founder, Jacoby & Meyers Law Offices

"Imagine a world in which instead of ruining your life your divorce could help you redefine your goals for yourself and your family. Making Divorce Work shows you how to make this happen in eight simple steps."
-Nell Merlino, author, Stepping Out of Line, CEO and Founder, Count Me In for Women's Economic Independence

"... chock full of simple, everyday, practical steps that can ease our way through a minefield so we come out not just with our sanity intact, but actually far more conscious as individuals. Its countless insights show how a breakup-whether we want it or wish to God it weren't happening-can end up actually advancing our wellbeing."
-David Robert Ord, author of Your Forgotten Self and Lessons in Loving

"...the book that every person facing a divorce must have. Many divorce books can be read---this book must be studied. The authors not only intuitively and insightfully understand what people going through divorce need and how they feel, they also offer self-help tools such as writing a Divorce Mission Statement to help readers prepare for success through this life challenging event."
-Forrest (Woody) Mosten, author of Collaborative Divorce Handbook and Complete Guide to Mediation.

"...brings consciousness, clarity, practical applicable wisdom, and common sense insight into what is undeniably one of the most heart- wrenching experiences any human being may have to face. ...a practical, creative, and healing tool to support not only those moving through this experience, but also those wishing to be of greater support when their loved ones are faced with such an extreme life change."
-Michael Brown, author of The Presence Process and Alchemy of the Heart
TarcherPerigee, 9780399536236, 272pp.
Publication Date: December 7, 2010
About the Author
Diana Mercer is the founder of Peace Talks Mediation Services in Los Angeles, California. Mercer has been featured in
Consumer Reports
, the
Wall Street Journal
,
Consumer Reports Money Adviser
, and the
Ladies' Home Journal
. She has been published in the
Los Angeles Daily Journal
, as well as the American Bar Association's ABA Journal, the ABA's ADR Journal, and the
Los Angeles Times
. She has written numerous articles on divorce and child custody for continuing legal education programs.
A graduate of Indiana University School of Law, where she received the American Jurisprudence Award for Excellence, Mercer is a member of the Mortar Board Honor Society for service and academics.
Mercer is the co-author of Your Divorce Advisor: A Lawyer and a Psychologist Guide You Through the Legal and Emotional Landscape of Divorce with Marsha Kline Pruett, Ph.D.
Katie Jane Wennechuk is a certified divorce mediator. As a marketing professional, Wennechuk has enjoyed a successful career in business development for a variety of industries.
Book Videos
or
Not Currently Available for Direct Purchase