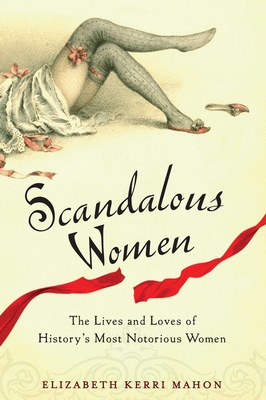 Scandalous Women
The Lives and Loves of History's Most Notorious Women
Paperback

* Individual store prices may vary.
Description
Throughout history women have caused wars, defied the rules, and brought men to their knees. The famous and the infamous, queens, divorcées, actresses, and outlaws have created a ruckus during their lifetimes-turning heads while making waves. Scandalous Women tells the stories of the risk takers who have flouted convention, beaten the odds, and determined the course of world events.

*When Cleopatra (69 BC-30 BC) wasn't bathing in asses' milk, the last pharaoh of the Ptolemaic dynasty ruled Egypt and forged an important political alliance with Rome against her enemies-until her dalliance with Marc Antony turned the empire against her.
*Emilie du Châtelet (1706-1748), a mathematician, physicist, author, and paramour of one of the greatest minds in France, Voltaire, shocked society with her unorthodox lifestyle and intellectual prowess-and became a leader in the study of theoretical physics in France at a time when the sciences were ruled by men.
*Long before Rosa Parks refused to give up her seat on the bus, Ida B. Wells-Barnett (1862-1928) fought to end discrimination and the terrible crime of lynching and helped found the NAACP, but became known as a difficult woman for her refusal to compromise and was largely lost in the annals of history.
*Gertrude Bell (1868-1926) had a passion for archaeology and languages, and left her privileged world behind to become one of the foremost chroniclers of British imperialism in the Middle East, and one of the architects of the modern nation of Iraq.
Praise For Scandalous Women: The Lives and Loves of History's Most Notorious Women…
While many of the facts surrounding these lives are familiar, Mahon weaves page-turner narratives from her passion and affection for these spectacular but often misrepresented women.---Bookpage

Elizabeth Kerri Mahon's Scandalous Women is an invaluable resource of women's studies, pulling back the curtain of embellishment (often woven by the woman being studied herself) to reveal the stark (sometimes literally!) truth behind some of the greatest women of history -- from ancient pillars like Cleopatra and Boudica to more contemporary glass-ceiling shatterers like Amelia Earhart and Gertrude Bell. Perhaps the best I can say is that Elizabeth Kerri Mahon's work is a magnet for the mind, an education for the misinformed, and scandalously delicious. Very recommended.---The Trades

There are sexual shenanigans here, to be sure, but also plenty of wonderful portraits of women responsible for major events in history – whether directly or through the men who, thinking themselves the controllers, were in fact the ones being controlled.---InfoDad

Overall, history lite—a very readable flyby of some notables in women's history.
---Bethany Latham, Historical Novel Society

I was entranced by Scandalous Women from page one, and it didn't let lose its hold on me until I had reached the end . . . If you are looking for entertainment as well as facts that will turn many of your preconceived notions inside out, then this is the book for you. Ms. Mahon has done a wonderful job telling the stories of important women throughout history.
---Book Wenches
TarcherPerigee, 9780399536458, 320pp.
Publication Date: March 1, 2011
About the Author
Elizabeth Kerri Mahon is from New York. An avid reader of history books, Kerri Mahon was inspired to learn about the women who made it. She is the creator of the blog Scandalous Women, http://scandalouswoman.blogspot.com, launched in the fall of 2007. Scandalous Women was named one of the 100 Most Awesome Blogs for History Junkies by Best Colleges.com. Elizabeth is a member of the Historical Novel Society, The Victorian Society of America, RWA, and RWA NYC.