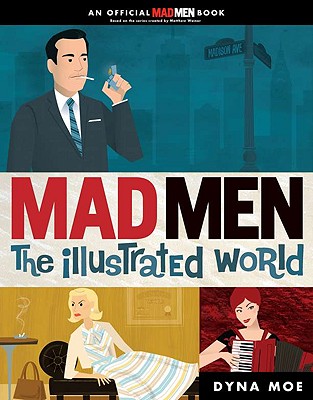 Mad Men (Paperback)
The Illustrated World
Perigee Books, 9780399536571, 82pp.
Publication Date: October 6, 2010
Other Editions of This Title:
Paperback (11/1/2010)
* Individual store prices may vary.
Description
As swingin' as the 1960s-an officially licensed tie-in to the wildly popular hit television series "Mad Men"
By turns fun, sophisticated, and celebratory, this is an eye-popping and inventive companion to the hit show "Mad Men," as well as a salute to the era of cocktails and "Camelot." Inspired by the artistic styles that defined 1960s advertising, Dyna Moe creates a candy-colored record of the time, exploring such topics as:
? Theoffice culture, including secretary etiquette and hangover workarounds
? The cocktail craze, with Sally Draper's cocktail menu
? Pastimes and fads, such as Pete and Trudy's dancing lessons and Bert Cooper's art
? '60s icons from Jackie to Marilyn
? Boardroom and bedroom shenanigans
? The burgeoning suburban lifestyle
? Fabulous fashion, including hairstyle how-tos and bonus paper dolls of Joan.
Praise For Mad Men: The Illustrated World…
"A campy comic companion volume to AMC's hippest show.... The whole venture is cool, but it's hard to top the curvy Joan Harris paper cutout dolls."
-USA Today

"Charming..."
-Los Angeles Times

"Fans pining over the end of the AMC series' spectacular fourth season can be consoled with this funny, spot-on cartoon guide to Don Draper's world."
-Miami Herald

"Playful and slightly irreverent, this official companion to the series would be welcomed by anybody mad about Mad Men."
-Austin Chronicle

"Great for the coffee table."
-abcnews.com

"If you Mad Menned yourself (and if you don't know what we mean, then you didn't), you'll recognize the gorgeous illustrations by Dyna Moe, now turned into a book celebrating all things Draper & Co. Perfect to ease your withdrawal symptoms now that the season is over."
-nbcnews.com

"Know someone who's already counting down the days until the next season of Mad Men? Keep him preoccupied with this interactive coffee table book, which is filled with little-known facts about the show, artwork from advertising's heyday, and (our favorite part) ingredients for making the perfect Manhattan."
-Kaboodle.com

"[A] hilarious and beautifully illustrated book that gives you a view of the '60s as seen through the eyes of the characters of Mad Men. If you're at all a fan of the show or even just a fan of the look of the show, this book is waiting for you. We can't recommend it enough. It'll get you through those cold, dark months before the start of Season 5."
-Tom&Lorenzo

"Dyna Moe, the artist behind the Mad Men Yourself game on AMC's Website, takes you inside the world of the show with a guide to the cocktails, fads and culture of the era, all lavishly illustrated. Liver disease and misogyny never looked so fun!"
-Television Without Pity

"Apart from having all the seasons on DVD, I can't think of anything a devoted Mad Men fan might want more than the new "Mad Men: The Illustrated World" book by the artist and comedian Dyna Moe."
-NewsObserver.com

"A tongue-in-cheek guide to the 1960's... an illustrated collection of stories, featuring hilarious "tips" for navigating oneself through the times. Since we've had it here in the Parlour apartment, we've also had to stop it from magically disappearing into visitor's bags."
-Parlour
or
Not Currently Available for Direct Purchase