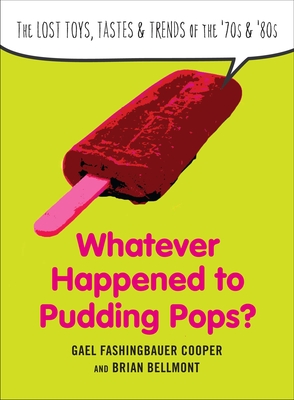 Whatever Happened to Pudding Pops?
The Lost Toys, Tastes, and Trends of the 70s and 80s
Paperback

* Individual store prices may vary.
Description
If you owe a couple cavities to Marathon candy bars, learned your adverbs from Schoolhouse Rock!, and can still imitate the slo-mo bionic running sound of The Six Million Dollar Man, this book is for you.

Whatever Happened to Pudding Pops? takes you back in time to the tastes, smells, and sounds of childhood in the '70s and '80s, when the Mystery Date board game didn't seem sexist, and exploding Pop Rocks was the epitome of candy science.

But what happened to the toys, tastes, and trends of our youth? Some vanished totally, like Freakies cereal. Some stayed around, but faded from the spotlight, like Sea-Monkeys and Shrinky Dinks. Some were yanked from the market, revised, and reintroduced...but you'll have to read the book to find out which ones.

So flip up the collar of that polo shirt and revisit with us the glory and the shame of those goofy decades only a native could love.
Praise For Whatever Happened to Pudding Pops?: The Lost Toys, Tastes, and Trends of the 70s and 80s…
"A great nostalgia-inducing gift for fellow members of Generation X."
—Richmond (VA) Times-Dispatch

"With entries like 'John Hughes Movies,' 'Judy Blume Books,' 'Love's Baby Soft' and 'Pen Pals,' it's hard not to go into a state of nostalgic euphoria while reading Whatever Happened to Pudding Pops?"
—The Weekender, Wilkes-Barre, PA

"Gael Fashingbauer Cooper and Brian Bellmont are two people who obviously lived through and loved the '70s and '80s. They're funny and sharp, and their passion for pop jumps off the page."
—Whitney Matheson, USA Today Pop Candy

"A pop culture flashback"
—Jen Chaney, The Washington Post

"I was reading this book the other night and just howling at some of these entries."
—Rachel Martin, "All Things Considered," National Public Radio

"For those of us who think we're beyond the reach of pop culture, think again. It's hilarious to be reminded of how we were defined as a generation. I couldn't put Whatever Happened to Pudding Pops? down and I couldn't stop laughing. As we used to say, 'Wow, what a trip.'"
— Pamela Sue Martin, author and actress, "The Hardy Boys/Nancy Drew Mysteries"

"This book is one that I never knew I needed, but I soon realized that it's the book I've always wanted...if you're a pop-culture junkie, want to take a time machine back to your past, or just like reading humorous books, pick this one up for sure."
—Monique Jones, MoniqueBlog

"Some pages had me nodding my head in agreement while some pages were like one big blast of memories since forgotten. It's a total blast to read!"
—Culture Brats

"This thing is a box full of squeals of delight alternating with wistful oooohs of nostalgia."
—Lisa Parsons, The Hippo

"..anyone whose childhood included hours leafing through the Sears Christmas Wish Book and playing lawn darts should enjoy the book."
—Damian Penny, BlogCritics.com

"Every single page will remind you of something from your childhood. Sea Monkeys! That's Incredible! Lik-M-Aid! What a fun way to revisit all of that stuff."
—Sundrymourning.com
TarcherPerigee, 9780399536717, 240pp.
Publication Date: June 7, 2011
About the Author
Gael Fashingbauer Cooper is a journalist and author of the nationally recognized pop culture blog Pop Culture Junk Mail. Her published works include Whatever Happened to Pudding Pops? and The Totally Sweet '90s. A native of the Twin Cities region, Fashingbauer Cooper now resides in Seattle with her family.

Previously a television reporter and producer, Brian Bellmont now runs a public relations agency. His published works include Whatever Happened to Pudding Pops? and The Totally Sweet '90s. He has interviewed various pop culture icons including Adam West, Davy Jones, and Loni Anderson. Bellmont resides in the Twin Cities region with his family.
or
Not Currently Available for Direct Purchase