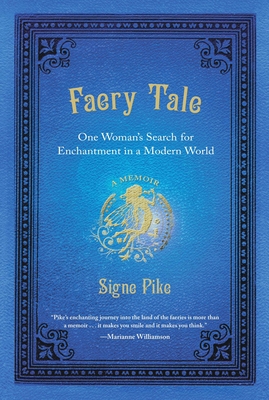 Faery Tale (Paperback)
One Woman's Search for Enchantment in a Modern World
TarcherPerigee, 9780399537004, 320pp.
Publication Date: November 1, 2011
Other Editions of This Title:
Hardcover (11/2/2010)
Paperback (6/1/2011)
* Individual store prices may vary.
Description
One of Kirkus Reviews' Best Books of 2010
A skeptic's search for magic, one faery at a time.
In search of something to believe in again, Signe Pike left behind a career in Manhattan to undertake a magical journey-literally. In a sweeping tour through England, Ireland, Scotland, and beyond, she takes readers to dark glens and abandoned forests, ancient sacred sites, and local pubs, seeking those who might still believe in the mysterious beings we've relegated to the dusty corners of our childhood imaginations: faeries. But as Signe attempts to connect with the spirit world, she'll come to view herself and the world around her in a profoundly new way.
Engaging and full of heart, Faery Tale is more than a memoir-it's the story of rekindling that spark of belief that makes even the most skeptical among us feel like a kid again.
About the Author
Signe Pike is an editor and writer living in Charleston, South Carolina.
Praise For Faery Tale: One Woman's Search for Enchantment in a Modern World…
"Pike's enchanting journey into the land of the faeries is more than a memoir; it's an earnest search for what is real in a world that is filled with illusion, and what is true in a world that is filled with falsehood. It makes you smile, and it makes you think...." —
Marianne Williamson
"
Faery Tale
is enchanting."
- A. J. Jacobs,
New York Times
bestselling author of
The Year of Living Biblically
—
A. J. Jacobs, New York Times bestselling author of The Year of Livin


"Pike's wit, wisdom, and wide-eyed view of the world will help you to develop your own sense of traveler's whimsy." — Women's Adventure Magazine


"Faery Tale has given people so much-permission to explore, to question, and most of all to believe-not just in faeries, but in themselves, in each other, and in the rest of the world, both seen and unseen. We absolutely love this book."
—
Brian and Wendy Froud, authors of The Heart of the Faerie Oracle and ot
"A sparkling memoir of make-believe and real life. ... [Pike's] discoveries are heartwarming and spellbinding. With a distinctive voice and elegant prose,
Faery Tale
captures the hopefulness of childhood and the magic of believing." —
Harper's Bazaar
"Pike writes of her various encounters with faery-believers and faery lands... in a winning voice that roams freely from melancholy to mirth, incredulity to bright surprise." —
Kirkus Reviews
"Pike went looking for enchantment; well she found it, and she left its light and gracious footprints across every page of this delightful book." —
Jeanine Cummins, bestselling author of A Rip in Heaven and The Outs


"Finding happiness is an adventure that everyone should take, and Faery Tale inspires you to go on that journey."
- Lucy Danziger, Editor-in-Chief of SELF Magazine and author of New York Times bestseller of The Nine Rooms of Happiness

"It's hard to decide what's more enchanting, Signe Pike's writing or the magical world she uncovers. This is a book for hopeful skeptics and believers alike. Proceed with caution, because Faery Tale may cast a spell that transforms the way you see the world forever." — Jillian Lauren, New York Times bestselling author of Some Girls: My
or
Not Currently Available for Direct Purchase