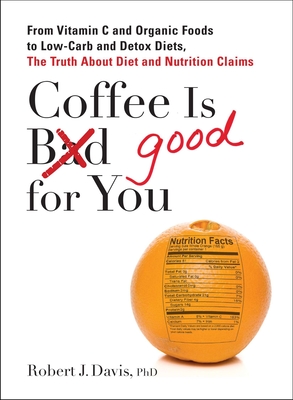 Coffee is Good for You
From Vitamin C and Organic Foods to Low-Carb and Detox Diets, the Truth about Di et and Nutrition Claims
Paperback

* Individual store prices may vary.
Description
Though food is supposed to be one of life's simple pleasures, few things cause more angst and confusion. Every day we are bombarded with come-ons for the latest diet, promises for "clinically proven" miracle ingredients, and warnings about contaminants in our favorite foods. It's enough to give anybody indigestion.
Packed with useful-and surprising-information, Coffee Is Good for You cuts through the clutter to reveal what's believable and what's not in a fun and easily digestible way.
You'll find out:

Locally grown produce isn't necessarily more healthful than fruits and vegetables from across the globe
Alcohol does cause breast cancer
You don't need eight glasses of water a day for good health
Milk isn't necessary for strong bones
Oatmeal really can lower cholesterol
Sea salt isn't more healthful than regular salt
Low-fat cookies may be worse for you than high-fat cheese
Praise For Coffee is Good for You: From Vitamin C and Organic Foods to Low-Carb and Detox Diets, the Truth about Di et and Nutrition Claims…
"Davis, an award-winning health journalist, sorts it all out for us in this slender, handy guide. Whether it's aspartame, high-fructose corn syrup, or gluten, Davis relies on only the best evidence to separate fact from half-truth and fiction...Davis includes a wealth of reliable references, and ends with 'Ten Tips for Deciphering Diet and Nutrition Claims,' a chapter worth the price of the book." — Booklist

"Coffee Is Good for You will educate you, entertain you, and at times it'll even make you laugh. A must-read for anyone who's ever wondered whether or not to believe the hype." — Lisa "Hungry Girl" Lillien

"Robert Davis deftly blends wit, wisdom, keen insights, and a voice of unfailing reason. I will be recommending this great resource to everyone I know." — Dr. David Katz, Director, Yale University Prevention Research Center

"Wow, that was easy to understand! Robert Davis does it again with his light hearted and sensible translation of complicated nutrition science. Who knew reading about nutrition research could be so much fun?" — Carolyn O'Neil MS RD, Co-author, The Dish on Eating Healthy

"This book is a gem." — Dr. Nancy Snyderman, NBC News Chief Medical Editor

"This nifty little handbook will appeal to a broad audience." — Library Journal
TarcherPerigee, 9780399537257, 240pp.
Publication Date: January 3, 2012
About the Author
Robert J. Davis, Ph.D., is an award-winning health journalist whose work has appeared on CNN, PBS, WebMD, and in the Wall Street Journal. He is founder and editor in chief of Everwell.com and the author of The Healthy Skeptic. He also teaches at Emory University's Rollins School of Public Health.
or
Not Currently Available for Direct Purchase