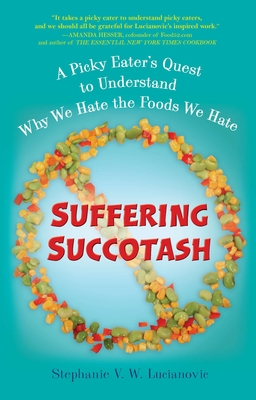 Suffering Succotash
A Picky Eater's Quest to Understand Why We Hate the Foods We Hate
Paperback

* Individual store prices may vary.
Description
As a child Stephanie Lucianovic lived for years on grilled cheese and created an elaborate system for disposing of revolting food involving bookshelves, holiday centerpieces, and, later, boyfriends. She agonized not over meeting her future in-laws, but over the peaches they served her. As an adult, this picky eater found herself in the most unlikely of circumstances: a graduate of culinary school who became a cheesemonger and then a food writer. Along the way, she realized just how common her plight was. It wasn't surprising to discover that picky eating is an issue for millions of kids, but who knew there are even support groups for adults who can't overcome it? Yet remarkably little is known about the science of picky eating, and cultural and historical questions abound. Are picky eaters destined to ascend to a higher plane of existence, and what happens when picky eaters fall in love or go to restaurants? How can you tell if you're a "supertaster"? How does the gag reflex affect pickiness (and what secrets do sword swallowers impart to help overcome it)?

Suffering Succotash is a wide-angle look into the world of picky eating, told by a writer who's been in the culinary trenches. With wit and charm, through visits to laboratories specializing in genetic analysis, attempts to infiltrate the inner workings of a "feeding" clinic, and interviews with fellow picky eaters and adventurous foodies young and old, Stephanie explores her own food phobias and gets to the bottom of what repulses us about certain foods, what it really means to be a picky eater, and what we can do about it.
Praise For Suffering Succotash: A Picky Eater's Quest to Understand Why We Hate the Foods We Hate…
"Using humor, gusto, and her sensitive if skeptical palate to great effect, Stephanie Lucianovic explains the mechanics of picky eating. She shows us why we like some foods and not others, and illuminates the mysteries of our sense of taste. It takes a picky eater to understand picky eaters, and we should all be grateful for Lucianovic's inspired work."—Amanda Hesser, co-founder of FOOD52.com and author of The Essential New York Times Cookbook

"As a diner who will gladly eat the eyeballs off a shrimp, but who recoils in horror at the site of a raisin in an oatmeal cookie, I adored Suffering Succotash. Stephanie Lucianovic's charming and hilarious exploration of why we hate the foods we hate is packed to the gills with research on everything from sword-swallowers to supertasters and yet reads like a guilty pleasure. I couldn't put it down."—Suzanne Morrison, author of Yoga Bitch

"Lucianovic proves that hanging out with a picky eater doesn't have to be torture--do not judge the picky eater, just laugh as she learns to enjoy cruciferous vegetables."—Beth Lisick, author of Helping Me Help Myself and co-creator of Porchlight Storytelling Series

"Hilarious and honest, Suffering Succotash is a fascinating read if you've ever gagged on your greens (or know someone who has)."—Heather Cocks and Jessica Morgan, authors of Spoiled and founders of GoFugYourself.com

"These other strands, and the seamless (and often hilarious) manner in which Lucianovic connects them to the scientific questions and answers, make Suffering Succotash the perfect popular science book for a reader that doesn't think he or she wants to read a popular science book."—ScienticAmerican.com

"Stephanie Lucianovic, a culinary school graduate, ex-cheesemonger, and food writer, understands the picky eater's pain."—BonAppetit.com

"It's a funny and fascinating ride through the world of taste-bud analysis and the biggest bugaboo of picky eaters -- 'texture violations.'"—San Jose Mercury News

"[F]or a non-picky eater like me, reading Suffering Succotash is a necessary, if guilt-inducing wake-up call...Fortunately, Stephanie delivers the news with such aplomb and humor that I didn't wind up self-flagellating with a garland of raisins for too long."—KQED Bay Area Bites
TarcherPerigee, 9780399537509, 240pp.
Publication Date: July 3, 2012
About the Author
Stephanie V.W. Lucianovic is a freelance writer and editor in the San Francisco Bay Area. A former book editor and graduate of the Cambridge School of Culinary Arts in Massachusetts, Stephanie also was the Top Chef recapper for the popular site Television Without Pity, helped develop a line of cookbooks for Williams-Sonoma, and worked in the prep kitchen of a Jacques Pépin cooking show. She is the author of CocktailSmarts and VampireSmarts, an MSNBC.com contributor, and was featured in Best Food Writing 2005.Stephanie lives with her mathematician husband and hirsute baby in Menlo Park. Follow her online at www.grubreport.com and @grubreport on Twitter.
or
Not Currently Available for Direct Purchase