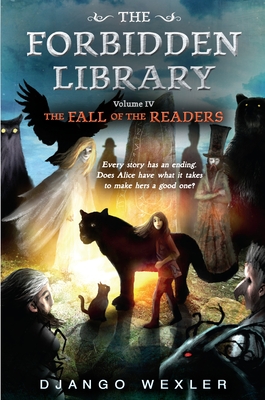 The Fall of the Readers (Hardcover)
The Forbidden Library: Volume 4
Kathy Dawson Books, 9780399539206, 368pp.
Publication Date: December 5, 2017
Other Editions of This Title:
Digital Audiobook (12/4/2017)
* Individual store prices may vary.
Description
In this thrilling conclusion to Alice's adventures in The Forbidden Library she must lead her band of friends, magical beings, and creatures against the collected might of the Old Readers—perfect for fans of Story Thieves, Inkheart, Coraline, and Harry Potter.

When Alice defeated her uncle Geryon and declared war on the totalitarian ways of the Old Readers, she knew she would have a hard fight ahead. What she didn't anticipate was the ruthlessness of the Old Reader—who can control magic and enter worlds through books. All the creatures she promised to liberate and protect are being threatened, and slowly all of Alice's defenses are being worn away. So when Ending (the giant cat-like creature who guards the magical labyrinth in Geryon's library) hints at a dangerous final solution, Alice jumps at the chance, no matter the cost to her life. She and her friends—a fire sprite, Ashes the cat, and the other apprentice Readers she met during her previous adventures—go on a quest to free the one creature possibly strong enough to overturn the Old Readers once and for all.

But before it's all over, Alice will be betrayed, her true identity will be revealed, and she'll have to be willing to give up the person she loves the most.
 
This is beautifully written, classic, bold historical fantasy—brave, bloody, action-packed and adventurous—with a girl at the center.
About the Author
Django Wexler is a self-proclaimed computer/fantasy/sci-fi geek. He graduated from Carnegie Mellon University with degrees in creative writing and computer science, worked in artificial intelligence research and as a programmer/writer for Microsoft, and is now a full-time fantasy writer. Django is the author of The Shadow Campaigns, an epic fantasy series for adults published by Roc (an imprint of Penguin), and The Forbidden Library, a classic fantasy series for young readers published by Kathy Dawson Books (an imprint of Penguin Young Readers Group).
Praise For The Fall of the Readers: The Forbidden Library: Volume 4…
"Three cheers for a female protagonist who demonstrates strong leadership skills without losing the prospect of love or friendship."—Kirkus


Praise for The Palace of Glass:
"Readers will appreciate following an astute heroine whose ultimate ambition . . . [is] to remake the entire cruel and corrupt world around her. A busy continuing saga filled with fantastical drama and feisty finagling."—Kirkus

"The world of the Forbidden Library continues to deepen, adding new magical creatures, new relationships, and new adversaries to an already solid fantasy franchise founded on an appealing heroine, a deft plot, and gripping adventure sequences."—Horn Book

"Centers on serious lessons about power and corruption but doesn't skimp on fast and furious battles or small moments of humor. Alice remains a spirited, kind heroine with a noble goal and interesting, loyal characters to support her. More adventures are to come in this enjoyable fantasy series."—Booklist Online


Praise for The Mad Apprentice:
"Wexler is an able builder of magical worlds and creatures, with labyrinths, an enchanted library, and a feisty, swashbuckling heroine at the center. A story rich in action and allegory—fantasy fans will want to hang on for what comes next."—Kirkus

"Full of action and adventure, this tale will enthrall fans of the first novel."—School Library Journal

"With an original concept, a brave and spirited heroine, and tantalizing incipient relationships among the apprentices (including Alice's hot-and-cold friendship with Isaac, who tricked her in the first volume), Wexler's series grows stronger by the book."—Horn Book


Praise for The Forbidden Library:
"Working in the grand tradition of children's fantasy, Wexler's off to a promising start."—Kirkus

"A charming, adventuresome fantasy from a promising new author."—Booklist

"Reminiscent of Cornelia Funke's Inkheart and Neil Gaiman's Coraline."—School Library Journal