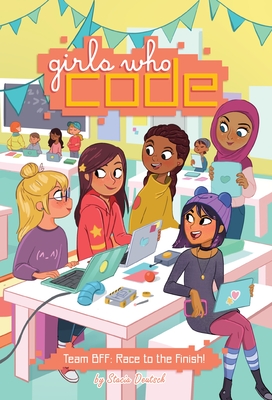 Team BFF
Race to the Finish! #2 (Girls Who Code #2)
Hardcover

* Individual store prices may vary.
Other Editions of This Title:
Digital Audiobook (10/30/2017)
Description
Perfect for fans of The Babysitters Club and anyone interested in computer science, this book by New York Times bestselling author Stacia Deustch is published in partnership with the organization Girls Who Code!

Sophia and her coding club BFFs have the best time together. Sure, they work on coding projects, but mostly they gossip about crushes, eat cookies, and do totally silly impersonations. Now they're about to participate in their first hackathon--a full day of coding and meeting other coders—so it's time to step up their game!
 
Just when Sophia and her friends think their hackathon project is ready for the big time, a change of plans threatens to tear their group apart. Will they have each other's backs, or are they destined for an epic fail? They know that coding is all about teamwork and problem-solving—maybe friendship is, too!
Praise For Team BFF: Race to the Finish! #2 (Girls Who Code #2)…
Praise for Girls Who Code #1: The Friendship Code:

"THE 'BABY-SITTERS CLUB' FOR THE INTERNET AGE." –GLAMOUR.COM

"Between the integrated logic and the consciously diverse cast, A WONDERFUL SERIES LAUNCH." –Kirkus Reviews

"AN INTRIGUING CODING MYSTERY."—Scholastic Teacher

"THE BABY-SITTERS CLUB FOR GEN Z!" –Parents  

"[A] chatty, INFORMATION-PACKED reference guide peppered with real examples of women in technology." –The Austin American-Statesman

"[A] FRESH SERIES STARTER…Readers will appreciate the characters' diversity of interests and their love of coding…. A complex topic made ACCESSIBLE; recommended for elementary and middle school libraries and for collections that serve ¬budding coders." –School Library Journal

"In addition to the computer science concepts, the book DEMONSTRATES DIFFERENT REASONS GIRLS MAY BECOME INTERESTED IN CODING, as well as connecting it to other hobbies such as fashion, sports, and acting. The story also CAPTURES REALISTIC FRIENDSHIP ISSUES." –School Library Connection

"The series SHOWS GIRLS THAT ANYONE CAN CODE; it's for anyone who sees a problem and has an idea about how to solve it." –Colorado Kids

"[A] fast read about a sixth-grade girl who can't wait to get started at her new coding club at school and works with her friends to solve a mystery. The story has A DIVERSE GROUP OF CHARACTERS and includes real-life struggles, such as an uncle battling cancer and a mother getting divorced. PARENTS WHO WANT TO INTRODUCE THEIR KIDS TO CODING/COMPUTER SCIENCE MIGHT ENJOY READING THIS, TOO." –Common Sense Media
Penguin Workshop, 9780399542527, 144pp.
Publication Date: October 31, 2017
About the Author
Stacia Deutsch is the author of more than fifty children's books, including the award-winning chapter book series Blast to the Past. She also wrote the tween novel Mean Ghouls, as well as books for the Nancy Drew, Clue Crew, and The Boxcar Children series. Stacia has been on the New York Times Bestseller list for the novelizations of the Cloudy with a Chance of Meatballs and The Smurfs movies. Visit her website at: www.StaciaDeutsch.com