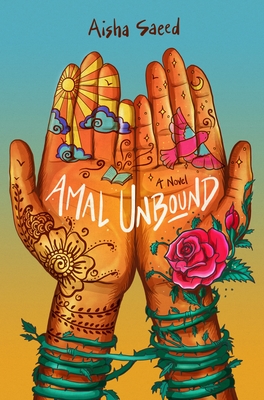 Amal Unbound
Hardcover

* Individual store prices may vary.
Other Editions of This Title:
Digital Audiobook (5/7/2018)
Paperback (1/7/2020)
Library Binding, Large Print (12/11/2019)
Paperback, Large Print (12/11/2019)
Paperback, Chinese (2/18/2020)
Description
"Saeed's timely and stirring middle-grade debut is a celebration of resistance and justice."--Kirkus Reviews, starred review

The compelling story of a girl's fight to regain her life and dreams after being forced into indentured servitude.

Life is quiet and ordinary in Amal's Pakistani village, but she had no complaints, and besides, she's busy pursuing her dream of becoming a teacher one day. Her dreams are temporarily dashed when--as the eldest daughter--she must stay home from school to take care of her siblings. Amal is upset, but she doesn't lose hope and finds ways to continue learning. Then the unimaginable happens--after an accidental run-in with the son of her village's corrupt landlord, Amal must work as his family's servant to pay off her own family's debt.

Life at the opulent Khan estate is full of heartbreak and struggle for Amal--especially when she inadvertently makes an enemy of a girl named Nabila. Most troubling, though, is Amal's growing awareness of the Khans' nefarious dealings. When it becomes clear just how far they will go to protect their interests, Amal realizes she will have to find a way to work with others if they are ever to exact change in a cruel status quo, and if Amal is ever to achieve her dreams.
Praise For Amal Unbound…
* "Saeed (Written in the Stars) infuses this true-to-life story of unjust power dynamics in a poor Pakistani village with a palpable sense of dread regarding the fate of the inquisitive, industrious, poetry-loving titular character. . . . Amal's experience navigating an unfamiliar social hierarchy in the landlord's lavish estate exposes her to pervasive gender inequities and unfair labor practices. . . . Saeed's eloquent, suspenseful, eye-opening tale offers a window into the contemporary practice of indentured servitude and makes a compelling case for the power of girls' education to transform systemic injustice."—Publishers Weekly, starred review

* "A Pakistani girl's dreams of an education dissolve when she is forced into indentured servitude. . . . Amal narrates, her passion for learning, love for her family, and despair at her circumstance evoked with sympathy and clarity, as is the setting. Inspired by Malala Yousafzai and countless unknown girls like her, Saeed's timely and stirring middle-grade debut is a celebration of resistance and justice."—Kirkus Reviews, starred review

* "Saeed's middle grade debut shares an empowering message about the importance of family, literacy, and cultural ties. The rich storytelling, nuanced characterization of an all-Pakistani cast, complex and layered look at the socioeconomics of the region, and richly described setting make this ultimately hopeful contemporary tale a good alternative to Gloria Whelan's Homeless Bird and Patricia McCormick's Sold. A strong choice for all middle grade shelves, especially where readers are seeking stories about young girls in non-Western countries overcoming adversity."—School Library Journal, starred review

* "This beautifully crafted and moving story will encourage middle grade readers to ponder such issues as indentured servitude, class, and resistance. Saeed's well-developed narrative will evoke empathy for all those around the world like Amal, who are not guaranteed freedom or education. An inspired read for all, particularly for those who have followed Malala Yousafzai's story or enjoyed Deborah Ellis' The Breadwinner or Tara Sullivan's The Bitter Side of Sweet."—School Library Connection, starred review

"Readers will find that a little perseverance and a heart filled with hope can eventually surmount a harsh reality. Saeed fills her prose with lush descriptions of Pakistani life, while still managing to connect with readers whose surroundings and experiences will be starkly different. Hand to any reader who struggles with definitive gender roles, norms, and expectations held in place by societal structures."—Booklist

"This simple yet lyrical novel paints an evocative picture of life in a small village in modern-day Pakistan, especially the limits placed on girls and women. . . . It may serve as a read-alike or a gateway to stories such as Yousafzai's autobiography, I Am Malala; The Lines We Cross by Randa Abdel-Fattah; and Saeed's debut novel, Written in the Stars."—The Voice of Youth Advocates

"Amal's narration is straightforward and direct, and her despair at losing her dreams is palpable, as is her unflagging determination to get them back. . . . There's clear commentary on the marginalized lives of girls and women in Pakistan . . . and the fight for her education is already fraught even before she is taken from her home. An author's note discusses the issues of indentured servitude, particularly among girls."—The Bulletin of the Center for Children's Books

"This heart-wrenching yet hopeful contemporary novel about class, gender, and literacy features a narrator who takes great risks in the name of justice and self-determination. . . . Short chapters and unadorned prose make the story accessible and direct, with Amal's emotions, perspective, and strength anchoring the narrative. An author's note asserts that Amal represents real women and girls who fight injustice across the globe, often without recognition."—Horn Book
Nancy Paulsen Books, 9780399544682, 240pp.
Publication Date: May 8, 2018
About the Author
Aisha Saeed also wrote Written in the Stars, and is a Pakistani-American writer, teacher, and attorney. She has been featured on MTV, the Huffington Post, NBC and the BBC, and her writings have appeared in publications including the journal ALAN and the Orlando Sentinel. As one of the founding members of the much talked about We Need Diverse Books Campaign, she is helping change the conversation about diverse books. Aisha lives in Atlanta, Georgia, with her husband and sons.