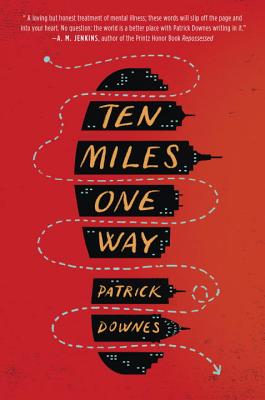 Ten Miles One Way (Hardcover)
Philomel Books, 9780399544996, 208pp.
Publication Date: March 21, 2017
* Individual store prices may vary.
Description
The powerful story of a mind at the edge of unraveling, held together by love and acceptance.

Nest and Q walk through the city. Nest speaks and Q listens. Mile by mile, Nest tells Q about her life, her family, her past . . . and her Chimaera, the beast that preys on her mind and causes her to lose herself. Q knows only that his love for Nest runs deeper than the demon that plagues her thoughts, that he loves her in spite of—or perhaps because of—the personal battle she fights every day.

A beautifully-written, haunting story.

Praise for Ten Miles One Way:

"A loving but honest treatment of mental illness, these words will sing off the page and into your heart. No question: the world is a better place with Patrick Downes writing in it."—A. M. Jenkins, author of the Printz Honor Book Repossessed

* "Downes subtly plumbs the depths of mental illness within the broader context of relationship and self-awareness....An intricate, unusual love story for readers attuned to compassion."—Kirkus Reviews, starred review

"Through bewitching prose, idiosyncratic detail, and the presentation of a mind simultaneously on the edge of epiphany and exhaustion, breakthrough and breakdown, Downes crafts a tender portrayal of both mental illness and love itself. Part romance, part poetry, and part monologue, perceptive teens will devour this one."—Booklist

"This is a dark, affecting tale about the mind of a bipolar adolescent attempting to run from her own thoughts, and her boyfriend, who listens, learns, and loves her throughout everything. Many readers will connect with this raw, powerful portrait of a young person living with mental illness. Recommended for most YA collections."—School Library Journal

"What's most interesting is that underneath the journey and the mental illness and even the harrowing crash, this is at the core a love story, one that isn't always pretty or even healthy but is absolutely memorable."—BCCB

"Downes doesn't cloak the depth of Nest's suffering nor offer false promises about love's ability to rescue or redeem."—Publishers Weekly

Praise for Fell of Dark:

* "A stunning debut novel that offers sophisticated readers a glimpse into the psychological disintegration of two distinct characters."—Kirkus Reviews, starred review
 
* "[W]hether in an image or in a confused, despairing reaction to an incomprehensible world . . . Downes's vision will connect into an epiphany."—Publishers Weekly, starred review
 
* "Readers willing to sink into the depths of two unstrung teens and their frantic individual struggles to understand the cruelties and redemptions of the universe will be rewarded by this disarming, thought-provoking, and entrancing story."—Booklist, starred review
 
"Here is a book built of darkness and gleam, of raw emotion and shattering poetry, of harrowing compulsions and zero compromise. Patrick Downes possesses blazing, beautiful, terrifying talent. His characters walk the shadows. His language bursts like sky."—Beth Kephart, National Book Award nominee
 
"Luminous and pure. A masterwork of astonishing authority and beauty."—Julie Berry, author of All the Truth That's in Me
About the Author
Originally from New York City, Patrick Downes splits his time between the United States and Canada. His first book, Fell of Dark, received multiple starred reviews and was named to the New York Public Library's 2015 Best Books for Teens list and to Publishers Weekly's Best Summer Books of 2015 list. Patrick writes for all ages.
Praise For Ten Miles One Way…
Praise for Ten Miles One Way:

"A loving but honest treatment of mental illness, these words will sing off the page and into your heart. No question: the world is a better place with Patrick Downes writing in it."—A. M. Jenkins, author of the Printz Honor Book Repossessed

* "Downes subtly plumbs the depths of mental illness within the broader context of relationship and self-awareness....An intricate, unusual love story for readers attuned to compassion."—Kirkus Reviews, starred review

"Through bewitching prose, idiosyncratic detail, and the presentation of a mind simultaneously on the edge of epiphany and exhaustion, breakthrough and breakdown, Downes crafts a tender portrayal of both mental illness and love itself. Part romance, part poetry, and part monologue, perceptive teens will devour this one."—Booklist

"This is a dark, affecting tale about the mind of a bipolar adolescent attempting to run from her own thoughts, and her boyfriend, who listens, learns, and loves her throughout everything. Many readers will connect with this raw, powerful portrait of a young person living with mental illness. Recommended for most YA collections."—School Library Journal

"What's most interesting is that underneath the journey and the mental illness and even the harrowing crash, this is at the core a love story, one that isn't always pretty or even healthy but is absolutely memorable."—BCCB

"Downes doesn't cloak the depth of Nest's suffering nor offer false promises about love's ability to rescue or redeem."—Publishers Weekly

Praise for Fell of Dark:

* "A stunning debut novel that offers sophisticated readers a glimpse into the psychological disintegration of two distinct characters."—Kirkus Reviews, starred review
 
* "[W]hether in an image or in a confused, despairing reaction to an incomprehensible world . . . Downes's vision will connect into an epiphany."—Publishers Weekly, starred review
 
* "Readers willing to sink into the depths of two unstrung teens and their frantic individual struggles to understand the cruelties and redemptions of the universe will be rewarded by this disarming, thought-provoking, and entrancing story."—Booklist, starred review
 
"Here is a book built of darkness and gleam, of raw emotion and shattering poetry, of harrowing compulsions and zero compromise. Patrick Downes possesses blazing, beautiful, terrifying talent. His characters walk the shadows. His language bursts like sky."—Beth Kephart, National Book Award nominee
 
"Luminous and pure. A masterwork of astonishing authority and beauty."—Julie Berry, author of All the Truth That's in Me
or
Not Currently Available for Direct Purchase