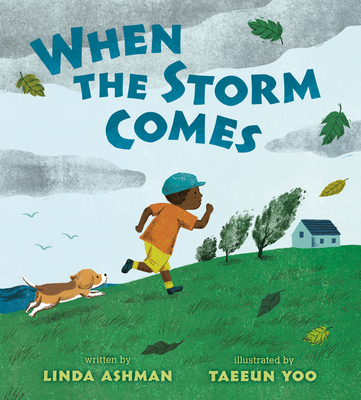 When the Storm Comes
Hardcover

* Individual store prices may vary.
Other Editions of This Title:
Hardcover, Korean (8/25/2020)
Description
A storm and its sunny aftermath come to life through gorgeous art and lyrical text.

What do you do when the clouds roll in,
When the wind chimes clang and the weather vanes spin?

When stormy skies threaten, people stock up on supplies, bring in their outside toys, and check the news for updates. And during the storm, if the power goes out, they can play games and tell stories by candlelight. But what do animals do? They watch and listen, look for a cozy den or some other sheltered spot, and hunker down to wait. After the storm, while the people are cleaning up their yards, making repairs, and checking on the neighbors, the animals emerge from their hiding places and shake off the rain. And everyone is happy to be out in the sunshine again, grateful for better weather and the company of friends.
Praise For When the Storm Comes…
"Weathering storms is best done together. . . . The humans portrayed comprise a diverse, multiracial cast while the animals include family pets, whales, rabbits, birds, and bees. Yoo's friendly illustrations have a soft visual texture, and while the palette darkens considerably at the height of the storm and some characters register alarm at the thunder and lightning, the art overall creates a cozy, safe feeling. Yes, Ashman's rhythmic couplets are about a literal thunderstorm bearing down upon a coastal community, but it could well be read metaphorically as it depicts the strength found in facing challenges together. Picture perfect whatever the weather."—Kirkus Reviews

"The author of many picture books, Ashman once again shows her sure hand in writing rhymed verse that flows well and provides a satisfying narrative. Yoo's colorful, expressive illustrations, created with pencil and digital elements, dramatize the storm's power as well as its effects on people and animals. A fine read-aloud choice with many visual details to observe and discuss."—Booklist

"There's a storm approaching, in this rhyming narrative, and people and animals are preparing. . . . Ashman's poetry is gentle yet precisely metered, and the treatment of storms at sea as well as land and the focus on both animals and humans bring additional perspective to the exploration. Digital and pencil art has the grainy texture of prints and the blocky flavor of collage; the setting is a small coastal town with a New England flair, perfect for the shifts between shore and ocean and picturesque in white clapboard houses and green hills. Use this in a weather unit, or share it to soothe the nervous as storms roll in."—The Bulletin for the Center of Children's Books

"This engaging picture book describes the reactions of the denizens, human and otherwise, of a small seaside community as a storm approaches, rages, and abates. . . . Digital and pencil illustrations begin with a subdued palette, darken to deep purples and grays midstorm, then switch to cheerful hues in its aftermath. The scenes range from cozy to dramatic especially on a striking double-page spread of the storm at its height, lightning flashing and forking. The lilting, lively verse is unfailingly appealing. . . . The same animals and humans recur, allowing viewers to keep track of their favorites throughout the book."—The Horn Book

"As a large storm approaches, a diverse group of animals and people prepare and take shelter. They stay safe and secure and enjoy good company while the rain and winds rage outside. . . . Yoo's digital and pencil illustrations convey the storm's sights and sounds. Everyone can be affected by this overwhelming force of nature, and only by working together can they come out unharmed. This poetic picture book prepares children for storm season with its helpful formula and assurances."—School Library Journal


Nancy Paulsen Books, 9780399546099, 32pp.
Publication Date: May 26, 2020
About the Author
Linda Ashman (lindaashman.com) has written over twenty-five picture books, which have garnered awards including New York Times Notable Children's Book, IRA/CBC Children's Choices Selection, Bank Street Best Book, Booklist Editors' Choice, Parenting Best Book, and Child Best Book. As a children's poet, she's been compared to Ogden Nash, Mary Ann Hoberman, Douglas Florian, and Jack Prelutsky. She was born in New York and grew up in New Jersey, and has worked as a real estate market analyst and in urban planning. She lives in Chapel Hill, North Carolina, with her husband, son, and two dogs.

Taeeun Yoo (taeeunyoo.com) received an Ezra Jack Keats Award for Only a Witch Can Fly (by Alison McGhee), which was also named a New York Times Best Illustrated Children's Book of the Year. She has illustrated several other picture books, including Tua and the Elephant (by R. P. Harris) and You Are a Lion! And Other Fun Yoga Poses, which she also wrote. Taeeun lives in Seoul, Republic of Korea.