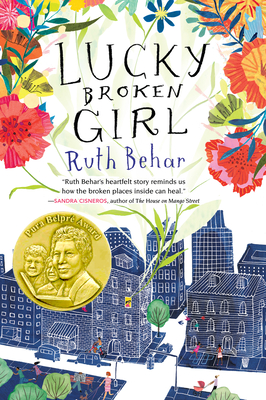 Lucky Broken Girl
Hardcover

* Individual store prices may vary.
Other Editions of This Title:
Digital Audiobook (4/10/2017)
Description
Winner of the 2018 Pura Belpre Award!

"A book for anyone mending from childhood wounds."—Sandra Cisneros, author of The House on Mango Street
 
In this unforgettable multicultural coming-of-age narrative—based on the author's childhood in the 1960s—a young Cuban-Jewish immigrant girl is adjusting to her new life in New York City when her American dream is suddenly derailed. Ruthie's plight will intrigue readers, and her powerful story of strength and resilience, full of color, light, and poignancy, will stay with them for a long time.
 
Ruthie Mizrahi and her family recently emigrated from Castro's Cuba to New York City. Just when she's finally beginning to gain confidence in her mastery of English—and enjoying her reign as her neighborhood's hopscotch queen—a horrific car accident leaves her in a body cast and confined her to her bed for a long recovery. As Ruthie's world shrinks because of her inability to move, her powers of observation and her heart grow larger and she comes to understand how fragile life is, how vulnerable we all are as human beings, and how friends, neighbors, and the power of the arts can sweeten even the worst of times.
Praise For Lucky Broken Girl…
"Lucky Broken Girl takes us into a world that is at once deeply familiar and astonishingly new—the world of young people negotiating English as a second language, of families being forced from their homelands, of bodies learning to move (and not move), and of friendships across cultural divides. But most of all, it is the world of Ruthie, an unforgettable character whom I grew to love and cheer for."—Jacqueline Woodson, author of Brown Girl Dreaming

"Reading Lucky Broken Girl feels like meeting a courageous new friend who will be with you forever. Ruth Behar succeeds at infusing her tale of heartbreak and suffering with a glorious celebration of forgiveness and hope."—Margarita Engle, author of The Surrender Tree
 
"A powerful story of fortitude and courage that will remain in the hearts of young readers."—Marjorie Agosín, author of I Lived on Butterfly Hill
 
"In the shadow of tragedy, little Ruthie finds the light of love and optimism. Although it indeed takes a village to raise a child, her story of resilience and triumph reminds us that sometimes it takes a child like Ruthie to raise a village. An engaging and magical read for children and adults alike."—Richard Blanco, author of The Prince of Los Cocuyos: A Miami Childhood
 
* "A cultural anthropologist and poet, the author based the book on her own childhood experiences, so it's unsurprising that Ruthie's story rings true. The language is lyrical and rich, the intersectionality—ethnicity, religion, class, gender—insightful, and the story remarkably engaging. . . . A poignant and relevant retelling of a child immigrant's struggle to recover from an accident and feel at home in America."—Kirkus Reviews, starred review

"Behar's first middle grade novel, a fictionalized telling of her own childhood experiences in the 1960s, is a sweet and thoughtful read, slowly but strongly paced, and filled with a wealth of detail that makes the characters live. Both poetic and straightforward, this title will appeal to young readers with its respect for their experiences and its warm portrayal of a diverse community. In addition to Ruthie's realistic and personal voice, the novel's strength is in its complex portrayal of the immigrant experience, with overlapping stories of who goes and who comes and the paths they travel. Recommended and relatable. Hand this to fans of Rita Williams-Garcia and those who loved The Secret Garden."—School Library Journal

"Strongly sketched novel. . . . Readers will get a powerful sense of the historical setting through Ruthie's narration, but the novel is perhaps defined even more by her family's status as immigrants and by its memorable multicultural cast. . . . Behar successfully juggles several engaging plot threads, and Ruthie's complicated relationship with her mother, given the demands of her care, is especially compelling."—Publishers Weekly

"From facing feelings about the boys who caused her accident, to finding herself in painting and writing, to learning that she isn't 'slow' just because English isn't her first language, Ruthie faces everything with an impressive inner strength. Fans of character-driven middle-grade novels, particularly those looking for diverse books, should be easily charmed by Behar's story, which is inspired by her own childhood as a Cuban immigrant in 1960s New York and her first-hand experience of surviving a car crash and spending a year in a full-body cast (an author's note offers some illuminating details)."—Booklist

"[Ruthie] smoothly integrates the layered immigration stories of her grandmother, Ramu's family, her Mexican neighbor, and her own family, giving her story a pleasing accessibility that complements and expands impressions young readers may have of immigration, urban life, and coming back after tragedy."—The Bulletin of the Center for Children's Books

"A touching story about friendships and losses, forgiveness and fear, vulnerability and determination, prayer and patience. . . . An exceptionally diverse case of characters and perspectives. . . . Teens will likely find the many lessons Ruthie learns to be valuable and often insightful."—Voice of Youth Advocates

"An unflinchingly honest first-person narrative . . . (an appended note provides more context and encourages readers to 'speak up. Tell your story'). Effectively scattered Spanish phrases lend authenticity, while period references evoke the 1960s setting."—The Horn Book

* "[Ruthie's] world is so tangible that readers will feel they're sitting on the stoop of the Mizrahis' apartment building. But even these details pale beside the emotional clarity of Ruthie's voice. In particular, her prayers at the end of most chapters recall the candid petitions of Judy Blume's Margaret. Equal parts heartbroken and hopeful, Ruthie is a middle grade heroine for the ages. . . . Emotionally true and unexpectedly funny."—Shelf Awareness, starred review
Nancy Paulsen Books, 9780399546440, 256pp.
Publication Date: April 11, 2017
About the Author
Ruth Behar (www.ruthbehar.com), an acclaimed author of fiction and nonfiction, received the 2018 Pura Belpré Author Award for Lucky Broken Girl, her first book for young readers. She was born in Havana, Cuba, grew up in New York City, and has also lived in Spain and Mexico. An anthropology professor at the University of Michigan, she is the author of The Vulnerable Observer: Anthropology That Breaks Your Heart, An Island Called Home: Returning to Jewish Cuba, and Traveling Heavy: A Memoir in between Journeys, and other books about her travels, as well as a bilingual book of poetry, Everything I Kept/Todo lo que guardé. Her honors include a MacArthur Fellows "Genius" Award, a John Simon Guggenheim Fellowship, and a Distinguished Alumna Award from Wesleyan University. She lives in Ann Arbor, Michigan, and travels frequently to Miami and Havana.