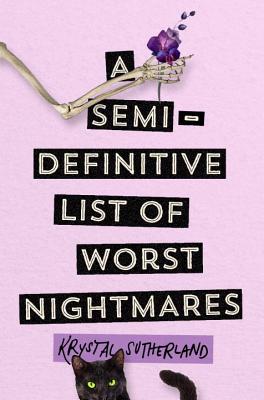 A Semi-Definitive List of Worst Nightmares
Hardcover

* Individual store prices may vary.
Other Editions of This Title:
Digital Audiobook (9/4/2017)
Paperback (9/4/2018)
Description
From the author of Our Chemical Hearts comes the hilarious, reality-bending tale of two outsiders facing their greatest fears about life and love—one debilitating phobia at a time.
 
Ever since Esther Solar's grandfather was cursed by Death, everyone in her family has been doomed to suffer one great fear in their lifetime. Esther's father is agoraphobic and hasn't left the basement in six years, her twin brother can't be in the dark without a light on, and her mother is terrified of bad luck.
 
The Solars are consumed by their fears and, according to the legend of the curse, destined to die from them.
 
Esther doesn't know what her great fear is yet (nor does she want to), a feat achieved by avoiding pretty much everything. Elevators, small spaces and crowds are all off-limits. So are haircuts, spiders, dolls, mirrors and three dozen other phobias she keeps a record of in her semi-definitive list of worst nightmares.
 
Then Esther is pickpocketed by Jonah Smallwood, an old elementary school classmate. Along with her phone, money and a fruit roll-up she'd been saving, Jonah also steals her list of fears. Despite the theft, Esther and Jonah become friends, and he sets a challenge for them: in an effort to break the curse that has crippled her family, they will meet every Sunday of senior year to work their way through the list, facing one terrifying fear at a time, including one that Esther hadn't counted on: love.
Praise For A Semi-Definitive List of Worst Nightmares…
Praise for A Semi-Definitive List of Worst Nightmares:
An Amazon Editor's Favorite YA Book for Fall 2017 
An Amazon September Best of the Month Pick — YA/Teens
A Hello Giggles Best of September Pick
A Bustle Best of September YA Pick
A 2017 B&N Best Young Adult Book


"[A] bewitching book . . . Sutherland's fertile imagination makes this book a deep dive into the intricacies of family, friends, and personal history. . . . A fresh and compelling look at mental illness."—Kirkus Reviews

"[A] darkly ironic tale about an offbeat dysfunctional family."—Publishers Weekly 

"Rainbow Rowell devotees, John Green junkies, and fans of This Song Will Save Your Life by Leila Sales will find a lot to love here."—School Library Journal 

"[I]mmediately hooks readers . . . Libraries should purchase this for readers looking for something quite out of the ordinary."—VOYA 

"Dark, magical, and humorous, this is a quirky and cohesive novel about fear, depression, and obsession with death."—Booklist 

"[A] magical take on mental illness that feels very real."—Bustle

Praise for Our Chemical Hearts:

Indies Introduce Summer 2016 Pick
Autumn 2016 Kids' Indie Next List – "Inspired Recommendations for Kids from Indie Booksellers"

"The most romantic read of the season is an arguably anti-YA story… It's the complex chemistry between Henry and Grace that touches the heart and doesn't let go."—USA Today

"The author pulls no punches… emotionally engaging."—Kirkus Reviews

"Eloquently conveying the complexity of love and grief, debut novelist Sutherland creates a story filled with intriguing and memorable characters."—Publishers Weekly 

"This much-buzzed-about debut captures the messy, awkward, all-consuming emotions of a teen's first love."—Entertainment Weekly, Fall Books Preview

"Emotionally complex, funny, filled with well-realized and diverse characters and realistic motivations, Sutherland's debut will stick with readers."—Booklist

"This magnificent debut from 26-year-old Australian author Krystal Sutherland tracks the unlikely romance of Henry Page and Grace Town, two very different teens chosen to edit their high school paper together…You could probably learn a thing or two from [Henry's] and Grace's emotional odyssey."—Teen Vogue, "October's Best New YA Books"

 "This book delves far deeper than the typical high school romance, and its savvy wordplay and Henry's self-deprecating charm will win over fans of Stephen Chbosky's The Perks of Being a Wallflower and John Green's The Fault in Our Stars."—School Library Journal

"Henry is surrounded by well-drawn friends and family, and Grace is a fascinating cipher, in a book that's anything but a predictable romance."—B&N Teen, "Most Anticipated October YA Books"

"I'm sorry to have to do this to you, but the love story of Henry and Grace is going to kick you in the emotional gut."—Bustle, "Best New YA Novels Coming in October"

"Perhaps one of the most entertaining features of the novel is the irreverent and funny teen banter that masks their deeper feelings. Best of all, though, is the engaging story that unfolds at just the right pace, drawing the reader in as the stakes get higher and decisions must be made."—VOYA

"Henry's first language is clever, angst-driven wit, and this pair is as sharp and quippy as John Green's Hazel and Gus … Fans of romance driven by stylized narration are the audience for this."—BCCB
G.P. Putnam's Sons Books for Young Readers, 9780399546594, 368pp.
Publication Date: September 5, 2017
About the Author
Krystal Sutherland was born and raised in Townsville, Australia—an inhospitable land where crocodiles, snakes, and jellyfish are always on the prowl. She grew up living directly across the road from the local library and spent almost every day after school (and weekends, too) having adventures between the pages of books (mainly because it was too dangerous to go outside).

She moved to Sydney for college (and safety), where she cut her writing teeth as the editor of the student magazine at the University of New South Wales. She kept gathering tales as an exchange student in Hong Kong and as a foreign correspondent in Amsterdam. Her first book, Our Chemical Hearts, was released in 2016, and was published in over twenty countries.

Her three greatest fears are heights, dark caves . . . and (perhaps worst of all) frogs.
or
Not Currently Available for Direct Purchase