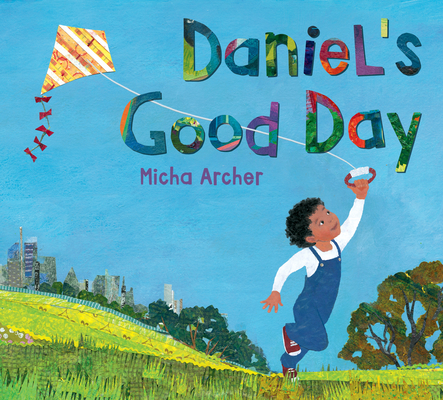 Daniel's Good Day
Hardcover

* Individual store prices may vary.
Other Editions of This Title:
Hardcover, Japanese (6/14/2022)
Hardcover, Korean (4/8/2020)
Hardcover, Chinese (5/1/2020)
Description
Daniel finds the poetry in the everyday activities of his own neighborhood, in this gorgeous companion to Ezra Jack Keats Award winner Daniel Finds a Poem.

The people in Daniel's neighborhood always say, "Have a good day!" But what exactly is a good day? Daniel is determined to find out, and as he strolls through his neighborhood, he finds a wonderful world full of answers as varied as his neighbors. For Emma, a good day means a strong wind for kite flying. For the bus driver, a good day means pleases and thank-yous. A good day is bees for the gardener, birthdays for the baker, and wagging tails for the mail carrier. And, for Daniel's grandma, a good day is a hug from Daniel! And when Daniel puts all these good days together, they make a lovely poem full of his neighbors' favorite things.

Micha Archer's vivid collages bring to life one special day, and her inviting text celebrates a vibrant community and an appreciation for the many simple things that give us joy.
Praise For Daniel's Good Day…
* "The tale of a kid who loves his neighborhood as much as Mr. Rogers loved his. . . . Daniel seems to know nearly everyone in the diverse neighborhood. . . . Readers can appreciate the level of detail Archer includes in her colorful, meticulously composed, collage illustrations. . . . This visually stunning book also embraces nontraditional gender roles, illustrates diversity within families, and advocates for the importance of giving children a level of independence and also welcoming them into the family circle after their adventures. A gorgeous picture book that invites young readers to make their own neighborhoods places where good days abound."—Kirkus Reviews, starred review

* "Archer shows readers that, with a little prodding by her inquisitive protagonist from Daniel Finds a Poem, the most ordinary of greetings can mean much more than small talk. . . . As Daniel polls his neighbors—"What makes a good day for you?"—he discovers something important and distinctive about each of them. . . . The story comes to a full and reassuring circle. . . . Archer's oil-and-collage vignettes portray a diverse community in the midst of a lush, blooming spring, and impressive detail makes a flowering garden and a neighborhood newsstand riveting."—Publishers Weekly, starred review

* "Lovely, intricate artwork invites close inspection as the oil paints and the tissue and patterned paper collages combine to create colorful scenes with minute details. Each illustration . . . appears to be painstakingly composed. . . . Every color in the rainbow is used to create bright, happy pictures that draw the eye closer. The idyllic city neighborhood is a joy to visit with its bakery, newsstand, park, and the warm camaraderie among the folks who live there. A book that begs to be pored over and shared.—School Library Journal, starred review

"Archer's detailed collage illustrations, with their vivid colors and depth, draw readers into the vibrant scenes. . . . The sense of community is palpable and uplifting; Daniel is an enviably independent and cheerful child; and the portrait of his close-knit brown-skinned family is positive and welcome."—Horn Book

Nancy Paulsen Books, 9780399546723, 32pp.
Publication Date: May 14, 2019
About the Author
Micha Archer wrote and illustrated Ezra Jack Keats Award winner Daniel Finds a Poem, and has also illustrated several picture books, including Girl Running (by Annette Bay Pimentel). Micha works in oil and collage on paper she creates with homemade stamps and layered tissue paper. She came from a long line of artists and teachers and taught for many years in a kindergarten. Raising two kids and teaching are where she cultivated her love for picture books and realized their importance as teaching tools. Micha lives in western Massachusetts in the house she and her husband built, surrounded by gardens and forests to roam in.