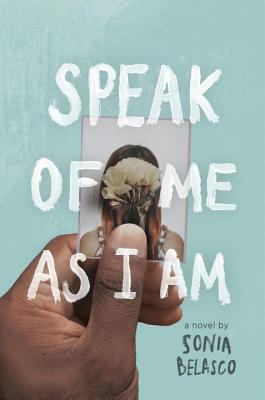 Speak of Me As I Am (Hardcover)
Philomel Books, 9780399546761, 272pp.
Publication Date: April 4, 2017
* Individual store prices may vary.
Description
A moving story of grief, honesty, and the healing power of art — the ties that bind us together, even when those we love are gone.

Melanie and Damon are both living in the shadow of loss. For Melanie, it's the loss of her larger-than-life artist mother, taken by cancer well before her time. For Damon, it's the loss of his best friend, Carlos, who took his own life.
 
As they struggle to fill the empty spaces their loved ones left behind, fate conspires to bring them together. Damon takes pictures with Carlos's camera to try to understand his choices, and Melanie begins painting as a way of feeling closer to her mother. But when the two join their school's production of Othello, the play they both hoped would be a distraction becomes a test of who they truly are, both together and on their own. And more than anything else, they discover that it just might be possible to live their lives without completely letting go of their sadness.

Praise for Speak of Me As I Am:

"Debut author Belasco adeptly captures the tribulations of high school life while also celebrating art's ability to help clarify and contextualize its joys and sorrows. . . . The novel's most intriguing character . . . is grief itself, which the author illuminates, examines, and dissects with a surgeon's precision and the gentle touch of an artist. A stirring account of the trials of adolescence." —Kirkus Reviews
 
"This book will undoubtedly be compared to Rainbow Rowell's Eleanor & Park. . . . Teens seeking a quieter but no less moving story will find this book a perfect read." —Booklist

"Never maudlin, always authentic, the portrayal of their struggles to deal with grief and with love will resonate with many teens." —VOYA

"A good purchase for realistic fiction collections and for readers looking for books about survivor's guilt and healing." —School Library Journal 

"Belasco's novel sends a powerful message about the complicated nature of grief. . . . This powerful, emotional work should be earmarked to be a favorite with teen readers." —BookPage
About the Author
Sonia Belasco (thestrangestofplaces.tumblr.com) has spent much of her professional life working with teenagers as a mentor, tutor, and therapist, and she is often inspired by their passion, creativity, and strength. She will watch almost any TV show about high school and has seen every contemporary movie that involves dance battles or superheroes. She is a native of Washington, DC, and currently lives in Philadelphia, where she is trying to acquire a taste for cheesesteak. You can follow her on Twitter @SoniaBelasco.
Praise For Speak of Me As I Am…
Praise for Speak of Me As I Am:

"Debut author Belasco adeptly captures the tribulations of high school life while also celebrating art's ability to help clarify and contextualize its joys and sorrows. . . . The novel's most intriguing character . . . is grief itself, which the author illuminates, examines, and dissects with a surgeon's precision and the gentle touch of an artist. A stirring account of the trials of adolescence." —Kirkus Reviews

"This book will undoubtedly be compared to Rainbow Rowell's Eleanor & Park. . . . Teens seeking a quieter but no less moving story will find this book a perfect read." —Booklist

"Never maudlin, always authentic, the portrayal of their struggles to deal with grief and with love will resonate with many teens." —VOYA

"A good purchase for realistic fiction collections and for readers looking for books about survivor's guilt and healing." —School Library Journal 

"Belasco's novel sends a powerful message about the complicated nature of grief. . . . This powerful, emotional work should be earmarked to be a favorite with teen readers." —BookPage