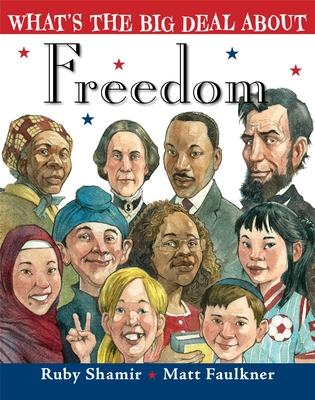 What's the Big Deal About Freedom (Hardcover)
Philomel Books, 9780399547287, 32pp.
Publication Date: May 2, 2017
Other Editions of This Title:
Hardcover (2/11/2020)
Paperback (2/11/2020)
* Individual store prices may vary.
Description
From the Constitution to civil rights, from women's rights to the four freedoms, this kid-friendly picture book filled with fun facts and historical trivia shows how America got the nickname "land of the free."

It's a "free country"! Why? Because in America we're free speak our minds, choose our leaders and set the rules. Since way back when Thomas Jefferson wrote the Declaration of Independence, Americans have stood up for freedom again and again – but it wasn't always easy!
 
Did you know that Henry "Box" Brown escaped slavery by shipping himself north in a box? Or that Susan B. Anthony was arrested when she tried to vote? Did you know that even young kids protested for the right to go to school?
 
This entertaining, fact-filled book celebrates how, with every generation, more and more Americans won the right to be free.  Find out how they did it and why standing up for the "land of the free" is such a big deal!

Perfect for fans of The One and Only Declaration of Independence, John, Paul, George & Ben, and Shh! We're Writing the Constitution – and a great way to talk about America, its values, and the rights we all enjoy.

Praise for What's the Big Deal About Freedom:

"Bolstering the upbeat tone of the writing while emphasizing the racial and religious diversity of Americans, the lively watercolor-and-pencil illustrations are consistently engaging and occasionally endearing. A hopeful, idealistic portrayal of freedom in America." --Booklist

"An effective place for children to begin learning about the concept of freedom." --School Library Journal
About the Author
Ruby Shamir (www.rubyshamir.com) worked at the White House for three and a half years, two of which she served in the First Lady's office, and she also led Hillary Rodham Clinton's New York Senate office. Now she works as a writer and literary researcher in the Bronx, New York, where she lives with her husband and three children. She is also the author of What's the Big Deal about First Ladies. Follow Ruby on Twitter @ruby_shamir.

Matt Faulkner (www.mattfaulkner.com) is an award-winning children's book author and illustrator with forty books to his credit. He is married to author and children's librarian Kris Remenar, and they live with their two children and two cats in the lower right-hand corner of Michigan. Follow Matt on Twitter @mattfaulkner1.
Praise For What's the Big Deal About Freedom…
Praise for What's the Big Deal About Freedom:

"Bolstering the upbeat tone of the writing while emphasizing the racial and religious diversity of Americans, the lively watercolor-and-pencil illustrations are consistently engaging and occasionally endearing. A hopeful, idealistic portrayal of freedom in America." --Booklist

"An effective place for children to begin learning about the concept of freedom." --School Library Journal