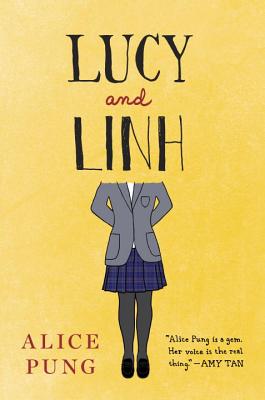 Lucy and Linh (Hardcover)
Knopf Books for Young Readers, 9780399550485, 352pp.
Publication Date: September 6, 2016
Other Editions of This Title:
Paperback (5/3/2018)
Paperback (4/3/2018)
Compact Disc (9/6/2016)
MP3 CD (9/6/2016)
Compact Disc (9/6/2016)
Hardcover (9/6/2016)
* Individual store prices may vary.
Description
From an author Amy Tan calls "a gem," this is a witty, highly acclaimed novel that's "part Mean Girls, part Lord of the Flies" (The Bulletin, Starred review) about navigating life in private school while remaining true to yourself.
 
Lucy is a bit of a pushover, but she's ambitious and smart, and she has just received the opportunity of a lifetime: a scholarship to a prestigious school, and a ticket out of her broken-down suburb. Though she's worried she will stick out like badly cut bangs among the razor-straight students, she is soon welcomed into the Cabinet, the supremely popular trio who wield influence over classmates and teachers alike. 
 
Linh is blunt, strong-willed, and fearless—everything Lucy once loved about herself. She is also Lucy's last solid link to her life before private school, but she is growing tired of being eclipsed by the glamour of the Cabinet.
 
As Lucy floats further away from the world she once knew, her connection to Linh—and to her old life—threatens to snap. Sharp and honest, Alice Pung's novel examines what it means to grow into the person you want to be without leaving yourself behind.
 
 
An NPR Best Book of the Year
A Kirkus Reviews Best Book of the Year
A YALSA Best Fiction for Young Adults selection
A Texas Tayhas Reading List Selection
A Bank Street College of Education and Children's Book Committee Best Children's Books of the Year with Distinguished Outstanding Merit


"A bracing, enthralling gut-punch and an essential read for teens, teachers, and parents alike." —Kirkus Reviews, Starred review

"This daring work with an authentic protagonist teaches important lessons about being yourself while navigating through life."—School Library Journal, Starred review

"Lucy's struggle to find her place and sense of self will have a wide appeal for teen readers and is a welcome addition to the prep-school canon."—Booklist, Starred review

"Lyrical, enchanting prose from a narrator with perception so acute she cannot help but share it immerses readers into the very heart of every scene. This is highly recommended for classrooms and libraries [and] a superb choice for book discussion groups and world young adult literature survey courses."--VOYA, Starred review

"Part Mean Girls, part Lord of the Flies, and part Special Topics in Calamity Physics, this well-observed and unsentimental novel taps into what is primal within privileged adolescent girls."—The Bulletin, Starred review

"Lucy's narration pulls readers alongside her uncertain navigation of two worlds, and we can't help but cheer in solidarity as Lucy recognizes assimilation masquerading as inclusion, refuses to back down, and instead embraces who she is."—Horn Book Magazine

"In a novel filled with strong visual images, Pung draws a sharp contrast between authenticity and deception, integrity and manipulation. Against the vividly painted backdrops of two very different communities, she traces Lucy's struggle to form a new identity without compromising the values she holds closest to her heart."—Publishers Weekly
About the Author
Alice Pung is the author of the bestselling memoirs Unpolished Gem, which was published by Penguin in the United States and has been published in several translations, and the award-winning Her Father's Daughter. She is also the editor of the anthology Growing Up Asian in Australia and the author of the Marly books in the Our Australian Girl series. Learn more about Alice and her books at AlicePung.net.
Praise For Lucy and Linh…
"Lucy's voice is highly literary, her observations keen, and her self-awareness sometimes actively painful. A bracing, enthralling gut-punch and an essential read for teens, teachers, and parents alike."—Kirkus Reviews starred review

"In prose deft and clear-eyed, Pung captures Lucy's two worlds, with unflinching depictions of parental relationships, poverty, and elitism, as well as her emotional journey to incorporating all of her personality. Part Mean Girls, part Lord of the Flies, and part Special Topics in Calamity Physics, this well-observed and unsentimental novel taps into what is primal within privileged adolescent girls."—The Bulletin of the Center for Children's Books starred review, July/August 2016

"This daring work with an authentic protagonist teaches important lessons about being yourself while navigating through life. A strong purchase that will captivate teens and adults alike."—School Library Journal starred review

"Lucy's struggle to find her place and sense of self will have a wide appeal for teen readers and is a welcome addition to the prep-school canon." —Booklist starred review

"Lyrical, enchanting prose from a narrator with perception so acute she cannot help but share it immerses readers into the very heart of every scene. This is highly recommended for classrooms and libraries."—VOYA starred review

"Lucy's narration pulls readers alongside her uncertain navigation of two worlds, and we can't help but cheer in solidarity as Lucy recognizes assimilation masquerading as inclusion, refuses to back down, and instead embraces who she is." —The Horn Book Magazine

"In a novel filled with strong visual images, Pung draws a sharp contrast between authenticity and deception, integrity and manipulation. Against the vividly painted backdrops of two very different communities, she traces Lucy's struggle to form a new identity without compromising the values she holds closest to her heart." —Publishers Weekly