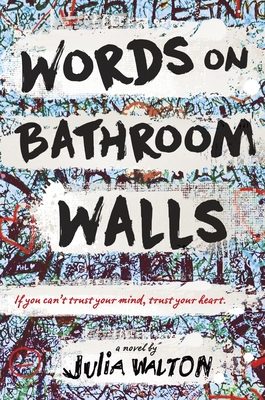 Words on Bathroom Walls (Hardcover)
Random House Books for Young Readers, 9780399550881, 304pp.
Publication Date: July 4, 2017
Description
Fans of More Happy Than Not, The Perks of Being a Wallflower, and It's Kind of a Funny Story will cheer for Adam as he struggles with schizophrenia in this brilliantly honest and unexpectedly funny debut. Adam has just been diagnosed with schizophrenia. He sees and hears people who aren't there: Rebecca, a beautiful girl who understands him; the Mob Boss, who harasses him; and Jason, the naked guy who's unfailingly polite. It should be easy to separate the real from the not real, but Adam can't. Still, there's hope. As Adam starts fresh at a new school, he begins a drug trial that helps him ignore his visions. Suddenly everything seems possible, even love. When he meets Maya, a fiercely intelligent girl, he desperately wants to be the great guy that she thinks he is. But then the miracle drug begins to fail, and Adam will do anything to keep Maya from discovering his secret. AN ALA-YALSA BEST BOOK FOR YOUNG ADULTS "Echoing the premise and structure of Flowers for Algernon, this frank and inspiring novel shows how a teen's life changes after he is given an experimental medication to treat symptoms of schizophrenia."
--Publishers Weekly, STARRED REVIEW "A brutal, beautiful book that sits right beside The Perks of Being a Wallflower and I'll Give You the Sun."
--Jennifer Longo, author of Up to This Pointe "This book reminds me of A Monster Calls. I saved the final twenty pages for the next day because I didn't want Adam's story to end."
--Peter Brown Hoffmeister, author of This Is the Part Where You Laugh "Walton has crafted a character with unparalleled likability, a boy whose endearing, witty, introspective commentary allows readers to get inside the head of a person with a debilitating mental illness. . . . Highly recommended."
--SLJ

"I loved it more than anything I've ever read. I LOVE THIS BOOK AND EVERYONE EVER SHOULD READ IT BECAUSE IT IS AMAZING AND BEAUTIFUL AND PUTS YOUR PROBLEMS IN PERSPECTIVE "
--Camille P., 12

About the Author
JULIA WALTON received her MFA in creative writing from Chapman University. When she's not reading or baking cookies, she's indulging in her profound love of Swedish Fish, mechanical pencils, and hobbit-sized breakfasts. Julia lives in Huntington Beach, California, with her husband and daughter. Follow her on Twitter at @Jwaltonwrites.
Advertisement