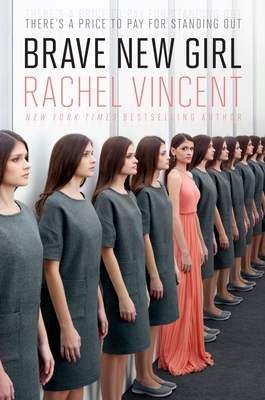 Brave New Girl (Hardcover)
Delacorte Press, 9780399552458, 272pp.
Publication Date: May 9, 2017
Description
"Thrilling and dangerous, with an ending that will leave you gasping " --SUZANNE YOUNG, New York Times bestselling author of the series THE PROGRAM

In a world where everyone is the same, one girl is the unthinkable: unique. A high-stakes fast-paced series launch from New York Times bestselling author Rachel Vincent.

We have brown hair. Brown eyes. Fair skin.
We are healthy and strong and smart.
But only one of us has ever had a secret.

Dahlia 16 sees her face in every crowd. She's nothing special--just one of five thousand girls created from a single genome to work for the greater good of the city. Meeting Trigger 17 changes everything. He thinks she's interesting. Beautiful. Unique. Which means he must be flawed. When Dahlia can't stop thinking about him--when she can't resist looking for him, even though that means breaking the rules--she realizes she's flawed, too. But if she's flawed, then so are all her identicals. And any genome found to be flawed will be recalled.
Destroyed. Getting caught with Trigger would seal not only Dahlia's fate, but that of all five thousand girls who share her face. But what if Trigger is right? What if Dahlia is different? Suddenly the girl who always follows the rules is breaking them, one by one by one. . . . **
Praise for Rachel Vincent's The Stars Never Rise

"This high-stakes, romantic thriller had me hooked from the very first page " --Kimberly Derting, author of the Taking trilogy
"Un-put-down-able." --Kirkus Reviews
"A hugely fun and entertaining read." --SLJ
"Vincent (the Soul Screamers series) carves out an intriguing niche in the post-apocalyptic landscape . . . plenty of reasons for readers to look forward to the next installment." --PW
"The gritty world is compellingly presented . . . much to consider." --The Bulletin
"A devil of a thriller." --Booklist
About the Author
Rachel Vincent is the New York Times bestselling author of numerous novels for teens, including Brave New Girl, The Stars Never Rise, The Flame Never Dies, and 100 Hours. She lives with her family in Oklahoma. Visit RachelVincent.com. Follow Rachel Vincent on Facebook, Instagram, and Twitter.
Advertisement