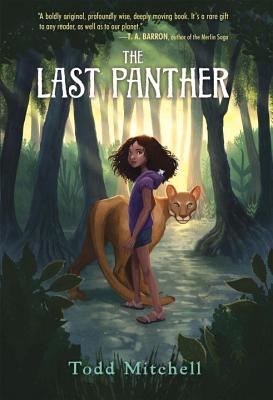 The Last Panther (Hardcover)
Delacorte Books for Young Readers, 9780399555589, 256pp.
Publication Date: August 22, 2017
Other Editions of This Title:
Paperback (7/23/2019)
Hardcover (8/22/2017)
* Individual store prices may vary.
Description
For animal lovers and fans of The One and Only Ivan and Hoot, this is the uplifting story of a girl who discovers a family of panthers that were thought to be extinct, and her journey to save the species.
 
Eleven-year-old Kiri has a secret: wild things call to her. More than anyone else, she's always had a special connection to animals.
 
But when Kiri has an encounter with the last known Florida panther, her life is quickly turned on end. Caught between her conservationist father, who wants to send the panther to a zoo, and the village poachers, who want to sell it to feed their families, Kiri must embark on a journey that will take her deep into the wilderness.
 
There has to be some way to save the panther, and for her dad and the villagers to understand each other. If Kiri can't figure out what it is, she'll lose far more than the panthers—she'll lose the only home she's ever known, and the only family she has left.

2018 Green Earth Book Award Honor
2018 Colorado Book Award Winner
CAL Book Award Winner
Green Prize for Sustainable Literature Award Winner
A Bank Street "Best Children's Book of the Year" 
A National Geographic Giant Traveling Map of Florida Selection

"A powerful tale of a future to be avoided." —Kirkus Reviews

"An eerie cautionary tale about the dangers of not protecting the environment, tackles an important theme in a compelling way...a fantastical tale with roots in real-world issues." —Booklist

"Earnest, heartfelt, and passionate, this book will likely inspire new environmentalists." —Bulletin

"A boldly original, profoundly wise, deeply moving book. It's a rare gift to any reader, as well as to our planet."
—T. A. Barron, best-selling author of the Merlin Saga
About the Author
TODD MITCHELL is the author of a few other books for middle-grade and teen readers, including The Traitor King, The Secret to Lying, and Backwards. Currently, he teaches creative writing in Fort Collins, Colorado, where he lives with his wife, two wily daughters, and one very smart dog. You can visit him (and arrange to bring him out to your school) at ToddMitchellBooks.com and on Twitter at @TMitchellBooks.
Praise For The Last Panther…
2018 Green Earth Book Award Honor
2018 Colorado Book Award Winner
CAL Book Award Winner
Green Prize for Sustainable Literature Award Winner

"A powerful tale of a future to be avoided." —Kirkus Reviews

"The action and mystical encounters make the book difficult to put down...an important addition on a timely subject." —SLJ

"An eerie cautionary tale about the dangers of not protecting the environment, tackles an important theme in a compelling way...a fantastical tale with roots in real-world issues." —Booklist

"Earnest, heartfelt, and passionate, this book will likely inspire new environmentalists." —Bulletin

"BRILLIANT! That's the first word in my mind about this boldly original, profoundly wise, deeply moving book. It's a rare gift to any reader, as well as to our planet." —T. A. Barron, best-selling author of the Merlin Saga

"The Last Panther is poignant and lush—steeped in the mystical, while set in a future snared by devastation. Mitchell offers readers a spirited young heroine caught between two very different worlds." —Ingrid Law, Newbery Honor-winning author of Savvy

"This is a book whose every piece is beautiful and fascinating. As the last piece slides into place, readers will step back and see a portrait of a richly imagined (and imperiled) world that will forever change the way we look at our own." —Eliot Schrefer, two-time National Book Award Finalist, author of Threatened and Endangered 

"The Last Panther has the timeless feel of a classic, yet with a timely message woven into its tapestry of myth and quest. I will be urging everyone I know to read this book. Not only is it the essential story of our time—and perhaps our future—but it's also a moving and tender tale of love, connection, and community." —Laura Resau, Américas Award winning author of Star in the Forest

"Anyone, animal lover or not, will enjoy this book...a heartwarming story about friendship, bravery, and standing up for what you believe in." —LitPick.com