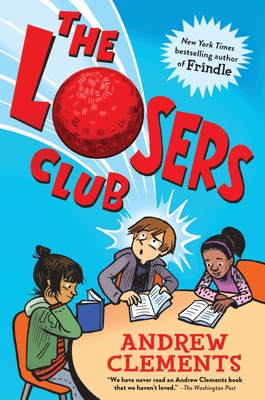 The Losers Club (Hardcover)
Random House Books for Young Readers, 9780399557552, 240pp.
Publication Date: August 1, 2017
Description
The beloved New York Times bestselling author of the modern classic Frindle celebrates books and the joy of reading with a new school story to love Sixth grader Alec can't put a good book down. So when Principal Vance lays down the law--pay attention in class, or else--Alec takes action. He can't lose all his reading time, so he starts a club. A club he intends to be the only member of. After all, reading isn't a team sport, and no one would want to join something called the Losers Club, right? But as more and more kids find their way to Alec's club--including his ex-friend turned bully and the girl Alec is maybe starting to like--Alec notices something. Real life might be messier than his favorite books, but it's just as interesting. With The Losers Club, Andrew Clements brings us a new school story that's a love letter to books and to reading and that reminds us that sometimes the best stories are the ones that happen off the page--our own Praise for The Losers Club
* "Clements's latest is engaging and funny. A laugh-out-loud first purchase for all middle grade collections, and a solid read-aloud choice for classrooms"--School Library Journal, Starred Review "I LOVED this book...Five stars. I cannot wait to talk about this when we head back to school next year. I think my fifth graders are going to love it."--Colby Sharp, teacher, blogger, and co-founder of the Nerdy Bookclub ""Clements is out to celebrate reading in all its obsessiveness, and...tosses in shout-outs to a passel of other writers. The Losers Club] gives fried bookworms everywhere the satisfaction of knowing that friends may desert them (if only temporarily) but books never will. "--The New York Times "Clements once again effectively taps into the challenges of middle school social politics and mapping out one's identity. This empathetic coming-of-age journey makes it clear how limiting and pointless labels can be."--Publishers Weekly

"Best-selling author of beloved school stories, Clements (Frindle, 1998) celebrates readers, inclusion, and
the joy of discovering new books. Refreshing and empowering."--Booklist

"Clements' text is an homage to the power of books, but it also reminds booklovers old and new that real life experiences--in all of their messiness--can be as exhilarating as those described in the cherished stories of beloved books,"--The Bulletin Praise for Andrew Clements
"Clements is a genius." --The New York Times "We have never read an Andrew Clements book that we haven't loved." --The Washington Post
About the Author
Andrew Clements is the New York Times bestselling author of the beloved modern classic Frindle, which has sold over six million copies, won nineteen state awards (and been nominated for thirty-eight!), and been translated into more than a dozen languages around the world. Called the "master of school stories" by Kirkus Reviews, Andrew is now the author of over eighty acclaimed books for kids. He lives in Maine with his wife, Becky. They have four grown sons and two rascally cats. Visit Andrew online at andrewclements.com.
Advertisement