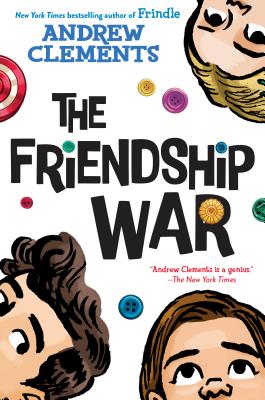 The Friendship War (Hardcover)
Random House Books for Young Readers, 9780399557590, 208pp.
Publication Date: January 8, 2019
Other Editions of This Title:
Digital Audiobook (1/7/2019)
Paperback (1/7/2020)
Library Binding (1/8/2019)
Pre-Recorded Audio Player (1/8/2019)
* Individual store prices may vary.
Description
Stickers, Silly Bandz, Rainbow Looms, fidget spinners . . . buttons?! A brand-new school story about friendship and fads from the bestselling author of Frindle.

This is war. Okay--that's too dramatic.
But no matter what this is called, so far I'm winning.
And it feels wonderful.

Grace and Ellie have been best friends since second grade. Ellie's always right in the center of everything--and Grace is usually happy to be Ellie's sidekick. But what happens when everything changes? This time it's Grace who suddenly has everyone's attention when she accidentally starts a new fad at school. It's a fad that has first her class, then her grade, and then the entire school collecting and trading and even fighting over . . . buttons?! A fad that might also get her in major trouble and could even be the end of Grace and Ellie's friendship. Because Ellie's not used to being one-upped by anybody. There's only one thing for Grace to do. With the help of Hank--the biggest button collector in the sixth grade--she will have to figure out a way to end the fad once and for all. But once a fad starts, can it be stopped?

Andrew Clements, the beloved author of Frindle, returns with a deliciously entertaining and deeply satisfying story that will resonate with anyone who's ever been in a classroom . . . or been a kid. A fad is a tough thing to kill, but then again, so is a friendship.

"On-point."--Publishers Weekly

"A girl accidentally starts a school fad, causing a rift with her best friend, in this latest novel from
Clements. The funny, science-loving Grace is an endearing narrator--just the right person to document the strange but creative ways her classmates' button obsession flourishes. A fun, charming story about fads and the friendships that
outlast them."--Booklist



Praise for Andrew Clements!
"Clements is a genius." --The New York Times

"We have never read an Andrew Clements book that we haven't loved." --The Washington Post
About the Author
ANDREW CLEMENTS is the New York Times bestselling author of the beloved modern classic Frindle, which has sold over six million copies, won nineteen state awards (and been nominated for thirty-eight!), and been translated into over a dozen languages. Andrew began writing while a public school teacher outside of Chicago. He has watched many fads come and go, from the yo-yo to the fidget spinner, and once even a paper palm tree fad that swept his classroom--and was later described in a book. Called the "master of school stories" by Kirkus Reviews, Andrew is now the author of over eighty acclaimed books for kids, including, most recently, The Losers Club, which School Library Journal called "engaging and funny" in a starred review. Andrew lives in Maine with his wife, Becky. They have four grown sons and two rascally cats. Visit Andrew online at AndrewClements.com.