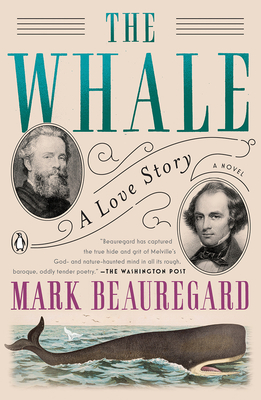 The Whale
A Love Story: A Novel
Paperback

* Individual store prices may vary.
Description
A rich and captivating novel set amid the witty, high-spirited literary society of 1850s New England, offering a new window on Herman Melville's emotionally charged relationship with Nathaniel Hawthorne and how it transformed his masterpiece, Moby-Dick
 
In the summer of 1850, Herman Melville finds himself hounded by creditors and afraid his writing career might be coming to an end—his last three novels have been commercial failures and the critics have turned against him. In despair, Melville takes his family for a vacation to his cousin's farm in the Berkshires, where he meets Nathaniel Hawthorne at a picnic—and his life turns upside down.
 
The Whale chronicles the fervent love affair that grows out of that serendipitous afternoon. Already in debt, Melville recklessly borrows money to purchase a local farm in order to remain near Hawthorne, his newfound muse. The two develop a deep connection marked by tensions and estrangements, and feelings both shared and suppressed.
 
Melville dedicated Moby-Dick to Hawthorne, and Mark Beauregard's novel fills in the story behind that dedication with historical accuracy and exquisite emotional precision, reflecting his nuanced reading of the real letters and journals of Melville, Hawthorne, Oliver Wendell Holmes, and others. An exuberant tale of longing and passion, The Whale captures not only a transformative relationship—long the subject of speculation—between two of our most enduring authors, but also their exhilarating moment in history, when a community of high-spirited and ambitious writers was creating truly American literature for the first time.
Praise For The Whale: A Love Story: A Novel…
"The Whale is fiction, of course, although the author is careful to depart as little as possible from the historical record, but the accuracy of the premise is of less interest than Beauregard's immense skill in rendering Melville's inner voice—an impressive feat of authorly ventriloquism. Beauregard has captured the true hide and grit of that God- and nature-haunted 19th-century mind in all its rough, baroque, oddly tender poetry."
—The Washington Post

"Did Herman Melville write Moby-Dick because he was driven by a passion for Nathaniel Hawthorne, to whom he dedicated the novel? . . . Some Melville scholars long have wondered whether two of American literature's founding fathers had more than a close friendship and admiration for one another. . . . In The Whale, desire for Hawthorne sparks the midcentury creative fervor that produced Melville's maritime saga."
—The Wall Street Journal

"With scholarly precision, Beauregard assembles a world and constellation of characters out of painstaking and minute details. . . . The author shows a deft hand in unifying a compelling plot line with primary source material."
—Harvard Review

"Beauregard's skill as a novelist is such that he describes the intellectual, emotional, and physical attraction between two nineteenth-century men in a way that's both moving and convincing. The Whale demonstrates that sometimes the only way to reach the truth of the human heart, as when voices from the past have been silenced or lost, is through the storyteller's imagination."
—Gay & Lesbian Review

"Half history, half imagination, this intimate look into the household and heart of Herman Melville is a quick, compulsive read. Beauregard's Melville, still filled with hope and preoccupied with longing, is just in the process of wrestling his white whale onto the page. We meet him here with much pleasure, some amusement, and a great deal of pity. And are so happy not to be married to him."
—Karen Joy Fowler, author of The Jane Austen Book Club and We Are All Completely Beside Ourselves

"Vivid and beautifully written, smart, and achingly sensual, this novel is at once a passionate love story and a gripping portrait of an artist wrestling with himself on the cusp of his greatest achievement. A potent and transporting read."
—Madeline Miller, author of The Song of Achilles

"A brilliantly conceived, sparklingly written, carefully researched, and moving account of the surprising relationship between Hawthorne and Melville, as well as a credible and poignant story of the sufferings, sorrows, flights of fancy, and plain hard work that went into the writing of a great book: Moby Dick."
—Sheila Kohler, author of Becoming Jane Eyre

"Mark Beauregard has written an engaging novel about one of the vivid episodes in the saga of American literature. I've always been drawn to the idea of Melville in the Berkshires, with his friend Hawthorne just down the road, and the way their combustive interactions led to the writing of the greatest American novel, Moby Dick. I read this novel with deep absorption. A first-class piece of fiction."
—Jay Parini, author of The Passages of H. M.

"A fascinating exercise in fictional projection, The Whale imagines what has been lost to the impossible past—the veiled emotional details of the relationship between Melville and Hawthorne. The result is a lively, intriguing, and surprisingly amusing romp through the intimate gaps of literary history."
—Philip Hoare, author of Leviathan or, the Whale and The Sea Inside

"A touching, stirring, tragic love story, wonderfully researched and compellingly told. The Whale succeeds as all the best historical fiction does, by giving readers fresh new insights about important events and persuading them that if things didn't happen exactly this way, they should have."
—Ron Hansen, author of The Assassination of Jesse James by the Coward Robert Ford
 
"Herman Melville once wrote that 'it is better to fail in originality, than to succeed in imitation.' But Mark Beauregard's quirky and exciting novel manages to be both utterly original and a delightful imitation. On the one hand, it's a funny and philosophical fan fiction that incorporates real letters and journal entries from Melville and other leading literary figures of the mid-nineteenth century. On the other, it's an exuberant new work from an innovative voice."
—Miles Harvey, author of The Island of Lost Maps 

"Full of nuance and passion and an incredible amount of research, The Whale swirls around the relationship between Melville and Hawthorne, without losing its factual footing or sacrificing any storied intrigue."
—Refinery29

"Beauregard's careful research, rich details, and inspired writing depict a relationship between Melville and Hawthorne that is both historically conceivable as well as believable. Fans of the two literary giants will enjoy the book, as Beauregard takes readers into the personal lives of these men and makes them come alive beyond their own literary works."
—Historical Novel Society

"In Beauregard's fittingly emotive account, Melville is preoccupied and fervent, and Hawthorne is changeable, by turns sensitive and cool. Set against a literary community that helped define American letters of the time, this high-spirited story evokes a singular relationship and the complexity of Moby-Dick."
—Shelf Awareness

"Absorbing . . . Drawing from Melville's letters, Beauregard offers up not only an inventive, fictional take on the deeply felt relationship between the two writers but also a sharp examination of the very real struggles Melville faced creatively and financially. For lovers of biography-driven historical fiction and American literary classics."
—Booklist (starred review)

"Beauregard explores the awakening of the American literary scene via the complicated psyches of two of its stars while brilliantly depicting the uncertainty, joy, and terror of discovering a soul mate. . . . A luminous narrative and a compelling psychological drama."
—Library Journal

"Beauregard sustains a fine tension with the turbulent friendship. . . . The real treat here is watching how a distraught, impecunious romantic finds a way to set aside all distractions in pursuit of his artistic grail. . . . Rich in historical detail, this novel explores its themes of creativity and friendship with an unusual intensity."
—Kirkus Reviews

"In the summer of 1850, Herman Melville met Nathaniel Hawthorne at a Massachusetts picnic, and the lives of both men were changed forever. . . . Readers will come to reconsider what they know about the two authors, and those who approach with an open mind may find their views on the writings of Melville and Hawthorne permanently changed."
—Publishers Weekly 

"Clever and engaging . . . Beauregard presents Hawthorne as Melville's own white whale, the object of his obsession."
—BookPage
Penguin Books, 9780399562358, 288pp.
Publication Date: June 26, 2018
About the Author
Mark Beauregard has been a journalist, magazine editor, and, most recently, manager of nonprofit arts and community organizations. He has lived in many places throughout the United States and in Europe and currently resides in Tucson, Arizona.
or
Not Currently Available for Direct Purchase