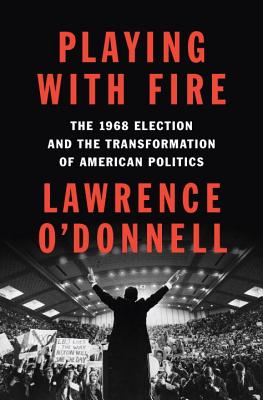 Playing with Fire
The 1968 Election and the Transformation of American Politics
Hardcover

* Individual store prices may vary.
Other Editions of This Title:
Digital Audiobook (11/6/2017)
Paperback (11/6/2018)
Paperback, Large Print (11/7/2017)
CD-Audio (11/7/2017)
Description
From the host of MSNBC's The Last Word with Lawrence O'Donnell, an important and enthralling new account of the presidential election that changed everything, the race that created American politics as we know it today

The 1968 U.S. Presidential election was the young Lawrence O'Donnell's political awakening, and in the decades since it has remained one of his abiding fascinations.  For years he has deployed one of America's shrewdest political minds to understanding its dynamics, not just because it is fascinating in itself, but because in it is contained the essence of what makes America different, and how we got to where we are now. Playing With Fire represents O'Donnell's master class in American electioneering, embedded in the epic human drama of a system, and a country, coming apart at the seams in real time.

Nothing went according to the script. LBJ was confident he'd dispatch with Nixon, the GOP frontrunner; Johnson's greatest fear and real nemesis was RFK. But Kennedy and his team, despite their loathing of the president, weren't prepared to challenge their own party's incumbent. Then, out of nowhere, Eugene McCarthy shocked everyone with his disloyalty and threw his hat in the ring to run against the president and the Vietnam War. A revolution seemed to be taking place, and LBJ, humiliated and bitter, began to look mortal. Then RFK leapt in, LBJ dropped out, and all hell broke loose. Two assassinations and a week of bloody riots in Chicago around the Democratic Convention later, and the old Democratic Party was a smoldering ruin, and, in the last triumph of old machine politics, Hubert Humphrey stood alone in the wreckage.

Suddenly Nixon was the frontrunner, having masterfully maintained a smooth façade behind which he feverishly held his party's right and left wings in the fold, through a succession of ruthless maneuvers to see off George Romney, Nelson Rockefeller, Ronald Reagan, and the great outside threat to his new Southern Strategy, the arch-segregationist George Wallace.  But then, amazingly, Humphrey began to close, and so, in late October, Nixon pulled off one of the greatest dirty tricks in American political history, an act that may well meet the statutory definition of treason.  The tone was set for Watergate and all else that was to follow, all the way through to today.

Playing With Fire is the perfect holiday gift!
Praise For Playing with Fire: The 1968 Election and the Transformation of American Politics…
"In this delightful combination of vivid storytelling and sharp political insight, Lawrence O'Donnell brings to life the most fascinating election of modern times. His book is filled with memorable anecdotes and colorful characters, from Roger Ailes and Richard Nixon to Bobby Kennedy and Lyndon Johnson. But beneath the rollicking tale is a truly profound historical truth: how the Sixties still reverberates in our nation's soul." —Walter Isaacson

"But O'Donnell, a former aide to Democratic Sen. Daniel Patrick Moynihan, understands politics and its impact. He writes with an assurance and steady sense of pace that makes much of this seem new." —Ray Locker, USA Today 

"I love the way Lawrence thinks, I love the way he writes. Playing with Fire is him at his best -- this is a thriller-like, propulsive tour through 1968, told by a man who is in love with American politics and who knows how all the dots connect.  Brilliant and totally engrossing." ―Rachel Maddow

"From the anguish of the Vietnam War to the dazzling minds and feverish ambitions of the 1968 presidential election, Playing with Fire not only tells the story of one extraordinary year in American politics, it brings back to vivid, riveting life the men and women who changed the course of history." ―Candice Millard, Author of Hero of the Empire

"A breathtaking, "buckle your seatbelt" ride through what might be the most dramatic and brutally consequential presidential election in modern U.S. history. Lawrence O'Donnell leaves no detail and no key historical player unexamined as he maps out the often treacherous route to America becoming its modern political self. Playing with Fire is a brilliant and necessary read for everyone who cares about politics, and loves history." ―Joy-Ann Reid

"If ever there was a bygone presidential campaign crying out for the Game Change treatment, it's the one that convulsed America in 1968—and Lawrence O'Donnell delivers the goods in Playing With Fire. Wars at home and abroad, secret plots and assassinations, riots in the streets and punches thrown on the convention floor, poets and protestors, movie stars and Kennedys, hippies, Yippies, and Black Panthers: 1968 had it all and then some. And now it has a chronicler in O'Donnell who brings coherence to the chaos, rendering the story with the crackle and flow of a dynamite Hollywood screenplay." ―John Heilemann

"An excellent account of the 1968 presidential race, a political season of spoilers, outsiders, and broken machines eerily like our own time . . . [A] sharp, nuanced account . . . A careful, circumstantial study that compares favorably to Theodore H. White's presidents series and that politics junkies will find irresistible." — Kirkus Reviews (starred)

"Asmoothly written history of the 1968 campaign..., he tells the story exceedingly well. Appropriately, there is nothing dull about this book, just as there was nothing dull about this specific election or period in American history...O'Donnell writes accessibly for all readers, creating a beneficial work for anyone interested in modern political history." — Library Journal

"O'Donnell capably sets the historical context...O'Donnell's breezy style, an outgrowth of his broadcasting persona, makes the chaos decipherable...Satisfying popular history." — Booklist

"[An]...in-depth examination...a unique thesis on what drove the year's events...a unique thesis on what drove the year's events." — Publishers Weekly
Penguin Press, 9780399563140, 496pp.
Publication Date: November 7, 2017
About the Author
Lawrence O'Donnell is the host of The Last Word on MSNBC. Formerly an Emmy Award-winning executive producer and writer for "The West Wing," O'Donnell also served as senior advisor to Sen. Daniel Patrick Moynihan (D-NY), chief of staff to the Senate Committee on the Environment and Public Works and the Senate Finance Committee. He is the author of Deadly Force and his writing has appeared in The New York Times, Washington Post, Los Angeles Times and elsewhere. Born in Boston, O'Donnell graduated from Harvard College.
or
Not Currently Available for Direct Purchase