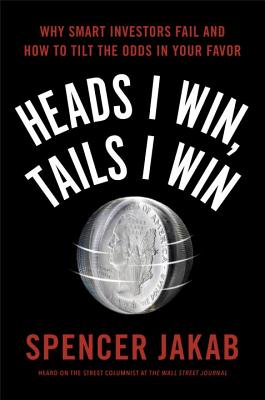 Heads I Win, Tails I Win
Why Smart Investors Fail and How to Tilt the Odds in Your Favor
Hardcover

* Individual store prices may vary.
Other Editions of This Title:
Compact Disc (8/1/2016)
Description
INVESTING IS ONE OF THE FEW AREAS IN LIFE WHERE EVEN VERY SMART PEOPLE LET HOPE TRIUMPH OVER EXPERIENCE
 
According to Wall Street Journal investing colum­nist Spencer Jakab, most of us have no idea how much money we're leaving on the table—or that the average saver doesn't come anywhere close to earning the "average" returns touted in those glossy brochures. We're handicapped not only by psychological biases and a fear of missing out, but by an industry with multimillion-dollar marketing budgets and an eye on its own bottom line, not yours.
 
Unless you're very handy, you probably don't know how to fix your own car or give a family member a decent haircut. But most Americans are expected to be part-time fund managers. With a steady, livable pension check becoming a rarity, we've been entrusted with our own finances and, for the most part, failed miserably.
 
Since leaving his job as a top-rated stock ana­lyst to become an investing columnist, Jakab has watched his readers—and his family, friends, and colleagues—make the same mistakes again and again. He set out to evaluate the typical advice people get, from the clearly risky to the seemingly safe, to figure out where it all goes wrong and how they could do much better.
Blending entertaining stories with some sur­prising research, Jakab explains
 
·How a typical saver could have a retirement nest egg twice as large by being cheap and lazy.
·Why investors who put their savings with a high-performing mutual fund manager end up worse off than if they'd picked one who has struggled.
·The best way to cash in on your hunch that a recession is looming.
·How people who check their brokerage accounts frequently end up falling behind the market.
·Who isn't nearly as good at investing as the media would have you think.
 
He also explains why you should never trust a World Cup–predicting octopus, why you shouldn't invest in companies with an X or a Z in their names, and what to do if a time traveler offers you eco­nomic news from the future.
 
Whatever your level of expertise, Heads I Win, Tails I Win can help you vastly improve your odds of investment success.
Praise For Heads I Win, Tails I Win: Why Smart Investors Fail and How to Tilt the Odds in Your Favor…
"As Pogo used to say, 'We have met the enemy and he is us.' In this delightfully written book, full of wonderful anecdotes, Spencer Jakab shows us how to win the investment game by avoiding the stupid choices that even 'smart' investors make."
—BURTON G. MALKIEL, author of A RANDOM WALK DOWN WALL STREET
 
"Treat this like a lengthy dialogue with a kind, funny, and very wise friend who takes you through all the key principles of how not to lose money, and does it in wonderfully simple language without ever getting bogged down in numbers or jargon."
—JOHN AUTHERS, chief investment columnist at FINANCIAL TIMES
 
"Jakab has written a very clear guide to managing your money in a very clear, witty, and easy-to-read style. This is the book you should read and then give a copy to your kids and friends."
 —JOHN MAULDIN, chairman of MAULDIN ECONOMICS
 
"Jakab provides readers with a road map of the numerous investing mine fields they'll encounter on their way to financial independence. By avoiding them, readers can win by not losing. Read it and reap."
—MEL LINDAUER, author of THE BOGLEHEADS' GUIDE TO INVESTING and THE BOGLEHEADS' GUIDE TO RETIREMENT PLANNING
 
"Spencer Jakab has distilled investing down to its most important parts, wonderfully explaining why so many investors go astray and how you can learn from their folly. Spencer's columns amaze me for their ability to pack a punch in just a few paragraphs, saving readers from unnecessary jargon and fluff. He's topped himself with this book."
—MORGAN HOUSEL, columnist at THE MOTLEY FOOL
 
"This engaging and hugely insightful book helps individual investors understand how the markets really work and how they should think about their investments. Jakab takes a seemingly complex topic and makes it accessible to investors of all shapes and sizes."
—BEN CARLSON, author of A WEALTH OF COMMON SENSE

"Jakab is one of the smartest financial journalists I have come across in my three decades in this business.  He is the rare bird who can combine expert financial knowledge in a package that is consumable by the masses. While he knows his Wall Street alphas and betas backwards and forwards, Heads I Win, Tails I Win is never Greek to those on Main Street."
—JOHN BUCKINGHAM, publisher, The Prudent Speculator, chief investment officer, AFAM Capital

"The book gives a deep and realistic insight into how investing really works… while most people can't fix the appliances in their home, they are now required to be part time money managers of their retirement investments through their 401k or IRA plans. Unfortunately, most people woefully lack the financial education to do so. His book makes a dent in that knowledge deficit, at least for those who read it." 
—SIMON CONSTABLE, Forbes

"Jakab has plenty of sensible advice—especially for the novice, who is unlikely to be able to select securities or even to pick people who have that skill. He laments that people who would never presume to fix their own refrigerator have the burden of managing their money."
—ROGER LOWENSTEIN, Fortune Magazine

"Jakab's efforts to acquaint readers with the basic realities of the market and to provide an insider's view of how to approach money management will be comprehensible to even the most intimidated reader. Energetic and engaging, this is required reading for anyone who'd like to retire ahead of the game."   
—PUBLISHER'S WEEKLY

"Jakab has crafted a cool-headed guide for those who are of necessity the part-time financial managers of their own retirement accounts… Heads I Win, Tails I Win provides a plain-spoken and accessible starting point for busy part-timers anxious to improve their odds. If you're one of those people for whom investing is more art than science, this book is for you. Even if you think it's more science than art, it's also worth reading, if only to learn how the other half thinks." 
–BARRON'S MAGAZINE

"About once a decade a fun-to-read book comes out with good practical advice for investors. This book is it. It gets across the important points that investors need to know without being dry or dull. It is destined to become an investment classic along the lines of A Random Walk Down Wall Street."
—JAMES ANGEL, Ph.D., professor of finance, Georgetown University
Portfolio, 9780399563201, 288pp.
Publication Date: July 12, 2016
About the Author
SPENCER JAKAB writes for and edits the "Heard on the Street" col­umn for The Wall Street Journal and previously wrote its daily investing column, "Ahead of the Tape." He has also written about investing for the Financial Times, Barron's, and Dow Jones News­wires. Prior to becoming a journalist, he was a top-rated stock analyst covering emerging markets at Credit Suisse. This is his first book.