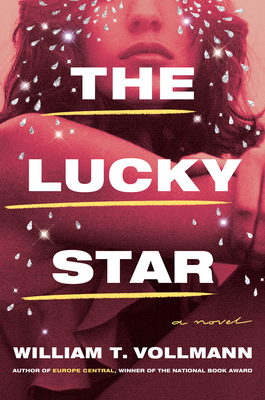 The Lucky Star
A Novel
Hardcover

* Individual store prices may vary.
Other Editions of This Title:
Library Binding, Large Print (6/24/2020)
Paperback (2/1/2022)
Description
The National Book Award winning author returns to his original fictional territory--the lives of the dispossessed in San Francisco--with a parable about the limitations of desire and life at the margins of society

In such earlier works of fiction as The Rainbow Stories and The Royal Family, William T. Vollmann wrote of pimps, prostitutes, addicts and homeless dreamers in San Francisco's Tenderloin district. In this new novel, Vollmann returns there with a story that centers around a woman with magical powers whom everyone loves, and who has to love them all back.

After being initiated into a coven of island witches, Neva begins to fulfill her fate in a Tenderloin dive bar. Her worshippers include Richard, the introverted, alcoholic, occasionally omniscient narrator; a profane, aggressive transgender sex worker named Shantelle; the brisk but motherly barmaid Francine; and the former Frank, who has renamed herself after her idol Judy Garland. When Judy starts to love Neva too much, Judy's retired policeman boyfriend embarks on a mission of exposure and destruction.

Crafted out of language by turns spiritual and sexually graphic, The Lucky Star aches with compassion as it explores celebrity culture, gender identity, incest, Christian sacrifice and, most of all, the quotidian and sometimes faltering heroism of marginalized people who in the face of humiliation and outright violence seek to love in their own way, and stand up for who they are.
Praise For The Lucky Star: A Novel…
Praise for The Lucky Star:

"[A] glorious ode to community . . . in everything [Vollmann] writes, he is concerned with the ways people strive to be better than the world that contains them . . . [The Lucky Star] develops a powerful sense of human life and its elemental pleasures." —Los Angeles Times 

"[A] documentary accounting of life on the margins, riffing on such themes as bigotry, idolatry, gender fluidity, vulnerability, consent, resilience and love . . . The Lucky Star is gilded with the signature Vollmann brew of erudition, irony, mysticism and banality . . . Vollmann's prose can be evocative and deliciously incisive." —The New York Times Book Review 

"Vollmann takes us back to the San Francisco of his early fiction, to the haunts of those who will live and die on the city's margins . . . For all the contemporaneity in the telling, there is (as always) a certain moral quality to Vollmann's work. In this one: there is no one on earth, no one, who would not benefit from a little more love and a lot less contempt." —The Millions, "Most Anticipated 2020"

"This big, underwater-lit novel returns Vollmann's work to the dive bars and gender-fluid clubs of San Francisco . . . Vollmann admirably captures the pull of vulnerability and invention, how sex can be, in the right space, a powerful way to know one's self, and ultimately, how much each of his characters here needs a space to be themselves." —Lit Hub, "Most Anticipated 2020"

"In the first few years of his career, William Vollmann created a paradigm shift in literary fiction; that is, he changed what was possible to do in that form.  He did so in many dimensions, giving him a reputation for epic excess.  One forgets that he also has the skills of a miniaturist.  The French poet Le Comte de Lautréamont would have called The Lucky Star a pavé.  Vollmann said in the 1980s that he'd learned from Les Chants de Maldoror to get remarkable effects in very brief passages, by working the language as hard as can be, like a smith heating metal to a malleable temperature.  He hasn't forgotten how to do it; and you will see plenty of it here." —Madison Smartt Bell

"[A] provocatively playful novel . . . As Neva evolves from an innocent to an icon on par with Marlene Dietrich, at least in the eyes of the Y Bar circle, she guides and mentors their sexual self-discovery, helping define their boundaries and gain confidence . . . Vollmann's challenging novel is full of memorable moments." —Publishers Weekly

"Vollmann pours his signature fascination with outcasts, women's sexuality, violence, and injustice into this gargantuan, omnivorously explicit, ravening orgy of trauma and resilience. Rooted in interviews with women survivors, this is a molten amalgam of cynicism and compassion, horror and beauty." —Booklist
Viking, 9780399563522, 672pp.
Publication Date: February 18, 2020
About the Author
William T. Vollmann is the author of ten novels, including Whores for Gloria, The Royal Family,and Europe Central, which won the National Book Award. He has also written four collections of stories (including The Rainbow Stories and The Atlas, which won the PEN Center USA West Award for Fiction), a memoir, and eight works of nonfiction, including Rising Up and Rising Down and Imperial, both of which were finalists for the National Book Critics Circle Award. He is the recipient of a Whiting Award and the Strauss Living Award from the American Academy of Arts and Letters. He lives in California.