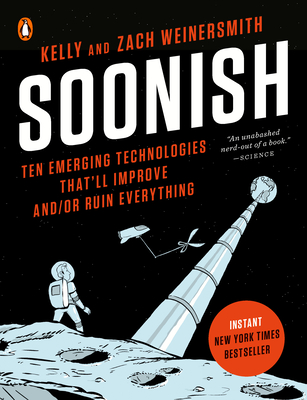 Soonish
Ten Emerging Technologies That'll Improve and/or Ruin Everything
Paperback

* Individual store prices may vary.
Other Editions of This Title:
Hardcover (10/17/2017)
MP3 CD (3/13/2018)
Description
The instant New York Times bestseller!

A Wall Street Journal Best Science Book of the Year!

A Popular Science Best Science Book of the Year! 

From a top scientist and the creator of the hugely popular web comic Saturday Morning Breakfast Cereal, a hilariously illustrated investigation into future technologies -- from how to fling a ship into deep space on the cheap to 3D organ printing
 
What will the world of tomorrow be like? How does progress happen? And why do we not have a lunar colony already? What is the hold-up?

In this smart and funny book, celebrated cartoonist Zach Weinersmith and noted researcher Dr. Kelly Weinersmith give us a snapshot of what's coming next -- from robot swarms to nuclear fusion powered-toasters. By weaving their own research, interviews with the scientists who are making these advances happen, and Zach's trademark comics, the Weinersmiths investigate why these technologies are needed, how they would work, and what is standing in their way.

New technologies are almost never the work of isolated geniuses with a neat idea. A given future technology may need any number of intermediate technologies to develop first, and many of these critical advances may appear to be irrelevant when they are first discovered. The journey to progress is full of strange detours and blind alleys that tell us so much about the human mind and the march of civilization.

To this end, Soonish investigates ten different emerging fields, from programmable matter to augmented reality, from space elevators to robotic construction, to show us the amazing world we will have, you know, soonish.

Soonish is the perfect gift for science lovers for the holidays!
Praise For Soonish: Ten Emerging Technologies That'll Improve and/or Ruin Everything…
"Kelly and Zach Weinersmith's SOONISH is an exceptional science book: it concerns itself with ten(ish) coming technologies that hold enormous, potentially world-changing promise (and peril), and it delves into each of those subjects with admirable depth, including all the caveats and unknowns, and still keeps the excitement intact."—Cory Doctorow, Boing-Boing

"A great book. [SOONISH] is wonderful to read."—Ira Flatow, Science Friday

"Soonish addresses heady scientific concepts in an accessible, readable way. . . . Part of the benefit of the book is that it doesn't promise we'll all be sipping printed cocktails on the moon in 2067. The Weinersmiths just lay out, clearly and with a wry sense of humor, exactly what it might take to get us there."—Tasha Robinson, NPR.org

"[A] wild glimpse into a future that may or may not involve space elevators and brain-computer interfaces and programmable matter. . . . [Kelly and Zach Weinersmith] sift through mountains of literature and pick the brains of the researchers at the forefront of things like bioprinting (like 3-D printing, only more bio) and augmented reality (like reality, only more augmented), turning a skeptical yet exuberant eye toward the technologies of tomorrow."—Matt Simon, Wired

"Beautiful."  —Forbes

"Fans of science, math, or medicine; gamers; and those who love the weird and wonderful will gravitate to [SOONISH]."—School Library Journal

"An entertaining look at future tech wizardry, from space tourism and asteroid mining to nuclear fusion power, matter replication, synthetic biology and direct brain-computer interfaces. . . . The text is very well-researched, with a casual, friendly style ("Tinkering with the language of life. What could go wrong?"), and color cartoons add a wry counterpoint to the narrative of a future that, as always, might be utopia or disaster."—Steven Poole, Wall Street Journal

"Curiosity is a beautiful thing, and Kelly and Zach Weinersmith have it in spades. Their coauthored SOONISH is an unabashed nerd-out of a book, zinging from outer space to DNA, hardly pausing for breath. . . . The gleeful geeking out makes for a great read—I couldn't help chuckling or outright cracking up a number of times—while surreptitiously teaching some really important science. It's a winning combination. The sheer breadth of topics covered is also amazing: Probably no other book in history has seriously described the science behind both tentacle construction robots and the human nasal cycle." —Colin McCormick, Science

"Space elevators, gold asteroids, and fusion-powered toasters - who knew science could be so much fun? And who knew fun could be so scientific? 'Soonish' is hilarious, provocative, and shamelessly informative." – Tim Harford, author of Messy and The Undercover Economist
 
"Basically, I think this book is a masterpiece, and something I wish I'd written myself." – Scott Aaronson, David J. Bruton Centennial Professor of Computer Science at the University of Texas at Austin and author of Quantum Computing Since Democritus
 
"Playful, yet deep." – Dr. George Church, Harvard University
 
"I love this book so much I 3D printed myself a second heart so I could love it more." – Dr. Phil Plait, astronomer, author, writer of the Bad Astronomy Blog
 
"Kelly and Zach promised me a crystal ball, but what I got is both more insightful and far more entertaining than staring into a dumb glass orb. Soonish will make you laugh and -- without you even realizing it -- give you insight into the most ambitious technological feats of our time. You should read this book, sooner than soonish." - Alexis Ohanian, Cofounder of Reddit

"[An] enthusiastic exploration of ten areas of potentially world-changing innovation. . . . Excellent."—Library Journal

"Predicting the future of scientific endeavor isn't easy, but this fun title from this husband-and-wife team gives readers plenty of amazing possibilities to think about. . . . The authors leaven even the most serious topics. . . . The Weinersmiths deliver a fascinating look at the most provocative and promising research going on today and how it could alter the way we work and live."—Publishers Weekly, starred review

"The world of emerging technologies is a fascinating place, though for the layperson, the specifics and implications of scientists' most groundbreaking research can be mind-boggling. . . . Thankfully, husband-and-wife team Kelly and Zach Weinersmith boil down some particularly juicy advances and present them in a compelling, accessible, and wryly funny way. . . . With infectious enthusiasm, the Weinersmiths serve up the perfect combination for curious, critical minds. Popular-science writing has rarely been so whip-smart, captivating, or hilarious (albeit occasionally terrifying)."—Booklist, starred review

"Astute. . . . [Kelly and Zach Weinersmith] deliver excellent descriptions of the science behind each [technological] wonder and the state of current research that may or may not bear fruit."—Kirkus
Penguin Books, 9780399563843, 368pp.
Publication Date: June 4, 2019
About the Author
Zach Weinersmith is the cartoonist behind the popular geek webcomic Saturday Morning Breakfast Cereal. His work has been featured in The Economist, The Wall Street Journal, Slate, Forbes, Science Friday, Boingboing, the Freakonomics Blog, the RadioLab blog, Entertainment Weekly, Mother Jones, CNN, Discovery Magazine, and more.
 
Dr. Kelly Weinersmith is Adjunct Faculty in the BioSciences Department at Rice University, where she studies parasites that manipulate the behavior of their hosts. In addition to being a respected researcher, she cohosts Science...Sort Of, which is one of the top 20 natural science podcasts. Kelly spoke at Smithsonian Magazine's "The Future is Here 2015," and her work has been featured in The Atlantic, Science, and Nature.
or
Not Currently Available for Direct Purchase