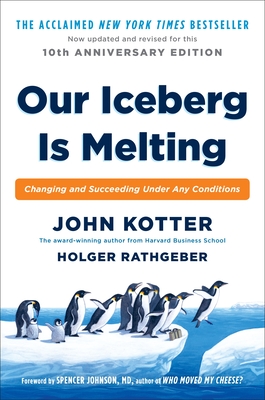 Our Iceberg Is Melting: Changing and Succeeding Under Any Conditions (Hardcover)
Changing and Succeeding Under Any Conditions
Portfolio, 9780399563911, 176pp.
Publication Date: January 5, 2016
Description
A new edition of the classic business parable that has sold more than a million copies since 2006.

Our Iceberg Is Melting is a simple fable about doing well in an ever-changing world. Based on the award-winning work of Harvard's John Kotter, it is a story that has been used to help thousands of people and organizations.
The fable is about a penguin colony in Antarctica. A group of beautiful emperor pen-guins live as they have for many years. Then one curious bird discovers a potentially devastating problem threatening their home--and pretty much no one listens to him. The characters in the story, Fred, Alice, Louis, Buddy, the Professor, and NoNo, are like people we recognize--even ourselves. Their tale is one of resistance to change and heroic action, seemingly intractable obstacles and the most clever tactics for dealing with those obstacles. It's a story that is occurring in different forms all around us today--but the penguins handle the very real challenges a great deal better than most of us.
Our Iceberg Is Melting
is based on pioneer-ing work that shows how Eight Steps produce needed change in any sort of group. It's a story that can be enjoyed by anyone while at the same time providing invaluable guidance for a world that just keeps moving faster and faster.
About the Author
John Kotter, Professor Emeritus at Harvard Business School, is the world's foremost leadership and change guru. He is the author of more than eleven bestselling books, which have been honored globally. Dr. Kotter is the founder of Kotter International, a change leadership company that helps organizations drive large-scale transformation to achieve dramatic results today and build change capability into the cul-ture for the future. For more information, please visit www.kotterinternational.com. Holger Rathgeber has spent most of his career in management roles with Fortune 500 compa-nies before collaborating with Dr. Kotter on various publishing projects, executive education programs, and advisory engagements. At Kotter International he is instrumental in helping complex global organizations transform themselves to become more innovative and agile, while building upon Dr. Kotter's principles and processes for organizational leadership and change.
Advertisement