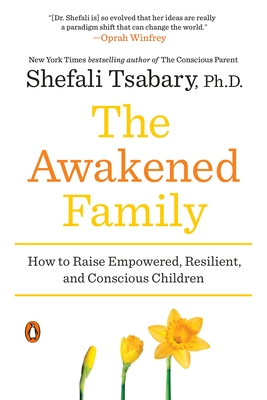 The Awakened Family
How to Raise Empowered, Resilient, and Conscious Children
Paperback

* Individual store prices may vary.
Other Editions of This Title:
Digital Audiobook (5/30/2016)
Hardcover (5/31/2016)
Description
FINALIST FOR THE BOOKS FOR A BETTER LIFE AWARD • NEW YORK TIMES BESTSELLER

"Parents . . . you will be wowed and awed by [Dr. Shefali]." —Oprah Winfrey

As seen on Oprah's SuperSoul Sunday, a radically transformative plan that shows parents how to raise children to be their best, truest selves, from the New York Times bestselling author of The Conscious Parent.

What if...?

What if I told you that you can put an end to all of your parenting struggles?

That you can learn to parent without fear or anxiety?

That you can end conflict with your children?

That you can create close and connected relationships within your family?

…Would you accept this invitation to a revolution in parenting? 

We all have the capacity to raise children who are highly resilient and emotionally connected. However, many of us are unable to because we are blinded by modern misconceptions of parenting and our own inner limitations. In The Awakened Family, I show you how you can cultivate a relationship with your children so they can thrive; moreover, you can be transformed to a state of greater calm, compassion and wisdom as well.

This book will take you on a journey to transcending your fears and illusions around parenting and help you become the parent you always wanted to be: fully present and conscious. It will arm you with practical, hands-on strategies and real-life examples from my experience as a parent and clinical psychologist that show the extraordinary power of being a conscious parent. 

Everyone in your family is ready to be awakened.

Will you take this journey with me?

—Shefali
Praise For The Awakened Family: How to Raise Empowered, Resilient, and Conscious Children…
Praise for The Awakened Family

"Stop struggling, parents. Here is the key to relaxing into your family and into your parenting. . . . [Tsabary] has a new book releasing us all from the stresses of 'making' the perfect child." —The Washington Post

"I want to give this book to everyone I know who is a parent, a grandparent, a child, a grown-up child . . . everyone. It's not only a primer for the kind of family life we all long for, it's also a guide to being human—to living with more ease, more love, more joy." —Elizabeth Lesser, cofounder of Omega Institute and author of Broken Open and Marrow
 
"Shefali Tsabary shines the light of wisdom on the most enlightened aspect of parenting: discovering a child's individual personhood and purpose, and nurturing the path to its fulfillment." —Michael Bernard Beckwith, author of Life Visioning

"Best-selling author and speaker Tsabary combines the spirit of Thich Nhat Hahn's 1975 classic, Miracle of Mindfulness, with an intensive family therapy session—and the result is a transforming read for any parent." —Booklist, starred review

"Useful and encouraging . . . Tsabary's message is an antidote to recent trends such as for 'helicopter parenting,' teaching respect for children as people in their own right and urging parents to let them thrive." —Publishers Weekly, starred review

"I loved The Awakened Family . . . [Tsabary] explains why we need to trust in our children's potential and argues that the best parenting lies in being quiet and open." —Bookpage

Praise for The Conscious Parent
 
"CALLING ALL PARENTS! I just read the most profound book on parenting I've ever encountered—The Conscious Parent. . . Parents . . . you will be wowed and awed by her." —Oprah Winfrey
 
"Shefali Tsabary's invaluable book shows how the challenges of parenting can become a great opportunity for spiritual awakening. Becoming a fully conscious parent is the greatest gift you can give to your child." —Eckhart Tolle, author of The Power of Now and A New Earth
 
"In this book, Dr. Shefali Tsabary describes the importance of compassion in simple, secular terms, discussing how we can learn to develop it from our relationship with our children." —His Holiness the Dalai Lama
 
"The Conscious Parent is a spiritual vision of how to care for a child's body and soul. This book is practical and full of love and hope for both parents and children." —Michael Gurian, author of The Wonder of Boys and The Wonder of Girls
Penguin Books, 9780399563973, 368pp.
Publication Date: May 30, 2017
About the Author
Shefali Tsabary, Ph.D., received her doctorate in clinical psychology from Columbia University. Specializing in the integration of Western psychology and Eastern philosophy, Dr. Shefali brings together the best of both worlds for her clients. She is an expert in family dynamics and personal development and runs a private practice in New York City. Dr. Shefali has written three books, including the award-winning New York Times bestselling book The Conscious Parent. Dr. Shefali is also a keynote speaker who has presented at TEDx, Kellogg Business School, the Dalai Lama Center for Peace and Education, and other conferences and workshops around the world. She's been featured on Oprah Winfrey's SuperSoul Sunday and Oprah's Lifeclass.