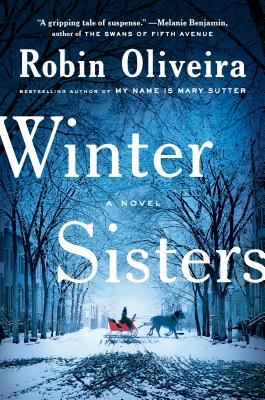 Winter Sisters
Hardcover

* Individual store prices may vary.
Other Editions of This Title:
Digital Audiobook (2/26/2018)
Paperback (2/5/2019)
Library Binding, Large Print (2/27/2018)
Description
"Stunning. . . Oliveira writes with feeling."
—The New York Times Book Review

"[An] engrossing story. . . that feels utterly timely."
—People, "The Best New Books"

New York, 1879: An epic blizzard descends on Albany, devastating the city. When the snow finally settles, two newly orphaned girls are missing. Determined not to give up hope, Dr. Mary Sutter, a former Civil War surgeon, searches for the two sisters. When what happened to them is finally revealed, Dr. Sutter must fight the most powerful of Albany's citizens, risking personal and public danger as she seeks to protect the fragile, putting at risk loves and lives in her quest to right unimaginable wrongs.

As contemporary as it is historic, Winter Sisters is part gripping thriller, part family saga, and ultimately a story of trauma and resilience that explores the tremendous good and unspeakable evil of which humans are capable.
Praise For Winter Sisters…
"Engrossing . . . a meaty historical novel that sensitively addresses issues—among them gender equality, the rights of minors, corruption and child abuse—that plague us even today."
—The Seattle Times

"We recommend Winter Sisters. . . . Even though it's set in a time over 100 years ago . . . you'll see a lot of references to the things women are still fighting for (and against) today."
—HelloGiggles

"Oliveira crafts a complex, multifaceted historical novel that is both a captivating story and a commentary on the laws that have, for far too long, oppressed and endangered women. . . . Entertaining at times, deeply political at others; a perfect example of a historical novel that also illuminates present-day issues."
—Kirkus Reviews (starred review)

"Oliveira's beautiful, expertly researched novel showcases the lives of women overcoming societal constraints and living fearlessly."
—Publishers Weekly

"Oliveira is as gently direct with her traumatized characters as Mary is with her patients. The story shines in depicting Albany's diverse geography and society, and the era's antifemale bias feels downright infuriating . . . a multifaceted and affecting portrait of courage."
—Booklist

"Oliveira blends mystery, historical detail, and courtroom drama in a compelling story that will please…historical fiction fans."
—Library Journal

"The real charm of Winter Sisters is the story of family, love, and perseverance, and the commentary on how women were and still are treated in society. . . . Populated with strong female characters and an oft-lyrical prose, this is a definite must read."
—The Historical Novels Review

"Robin Oliveira has a remarkable gift for bringing the past to life. In Winter Sisters, she matches a bold, vivid story with a rare sensitivity to the natural world in all its serene beauty and deadly force. This is a compelling novel that will keep you up all night."
—Lauren Belfer, New York Times bestselling author of City of Light, A Fierce Radiance, and And After the Fire

"Equal parts exquisitely detailed historical drama and riveting literary thriller, Winter Sisters deftly explores the brutal costs of child exploitation, while elegantly demonstrating the healing power of true compassion and profound sisterly devotion."
—Kimberly McCreight, New York Times bestselling author of Reconstructing Amelia and Where They Found Her 

"After two young sisters vanish in a snowstorm, the whys and hows of their disappearance quickly become a compelling and increasingly complex mystery. Robin Oliveira renders nineteenth-century Albany, New York, with exactitude and vividness, but her novel's ultimate concerns are timeless—suffering and healing, the loyalty to family versus loyalty to justice. I've long been a fan of Robin Oliveira's work, and Winter Sisters only increases my admiration."
—Ron Rash, New York Times bestselling author of Serena

"Raw beauty and devastation, both; this is true of the forces of nature and the foibles of men that propel the plot of Winter Sisters toward its stunning climax. But as always in Robin Oliveira's novels, it's the women who provide the heartbeat and the moral compass in this gripping tale of suspense set in Albany, New York during the Gilded Age. This is a book as thrilling as it is poetic."
—Melanie Benjamin, New York Times bestselling author of The Swans of Fifth Avenue

"Winter Sisters is a dazzling and evocative mystery that brings history to life on the page. Robin Oliveira has created an exquisitely layered story that explores the intricacies of an American town haunted by the violence of the Civil War and the shifting tensions between women's claim for equality and the societal forces that resist change. Suspenseful and beautifully written, shot through with wisdom and grace, this is a book you will stay up late for—a book you will read and love and share."
—Dawn Tripp, bestselling author of Georgia

"A haunting tale of terror and enduring love, Winter Sisters is tense and vivid. It kept me immersed to the last page."
—Nancy Horan, New York Times bestselling author of Loving Frank and Under the Wide and Starry Sky

"Winter Sisters commands the reader's attention. Both a missing-person thriller and a courtroom drama that appeals powerfully to the heart, this novel shows a society on the brink of change at the end of the nineteenth century. While blizzard and floods ravage Albany, New York, on the domestic front, equally strong forces are changing the lives of the women who live there, who through their talent and bravery are creating new paths and raising the next generation of girls to be even more resilient than themselves."
—Sena Jeter Naslund, bestselling author of Ahab's Wife; Four Spirits; and Abundance, A Novel of Marie Antoinette

"A true tour de force, Winter Sisters is the best period thriller I've read since The Alienist. Robin Oliveira is a novelist working at the height of her powers. Beautifully written, compelling, sensual and cinematic, I couldn't put it down."
—Thomas Christopher Greene, author of The Headmaster's Wife and If I Forget You

"Winter Sisters is a brilliant literary triptych: part tender family saga, part feminist narrative, part wild mystery. Only the author who introduced us to the unforgettable and tenacious Mary Sutter could spin a tale so captivating and empowering, of winter devastation followed, we can only hope, by the renewing bloom of spring. Winter Sisters had me cheering, cursing, gasping, and sneaking off to read whenever time permitted. An absolutely enthralling read."
—Julie Barton, New York Times bestselling author of Dog Medicine
Viking, 9780399564253, 416pp.
Publication Date: February 27, 2018
About the Author
Robin Oliveira is the New York Times bestselling author of My Name Is Mary Sutter and I Always Loved You. She holds a BA in Russian and studied at the Pushkin Language Institute in Moscow. She received an MFA in writing from Vermont College of Fine Arts and is also a registered nurse, specializing in critical care. She lives in Seattle, Washington.
or
Not Currently Available for Direct Purchase