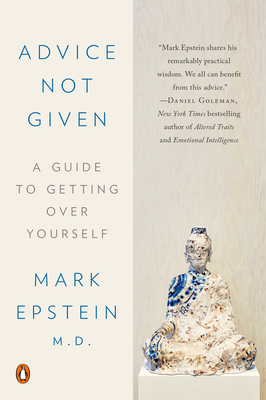 Advice Not Given
A Guide to Getting Over Yourself
Paperback

* Individual store prices may vary.
Other Editions of This Title:
Digital Audiobook (1/15/2018)
Hardcover (1/16/2018)
Description
"Most people will never find a great psychiatrist or a great Buddhist teacher, but Mark Epstein is both, and the wisdom he imparts in Advice Not Given is an act of generosity and compassion. The book is a tonic for the ailments of our time."—Ann Patchett, New York Times bestselling author of Commonwealth 

Our ego, and its accompanying sense of nagging self-doubt as we work to be bigger, better, smarter, and more in control, is one affliction we all share. But while our ego is at once our biggest obstacle, it can also be our greatest hope. We can be at its mercy or we can learn to work with it. With great insight, and in a deeply personal style, renowned psychiatrist and author Dr. Mark Epstein offers a how-to guide that refuses a quick fix.  In Advice Not Given,  he reveals how Buddhism and Western psychotherapy, two traditions that developed in entirely different times and places, both identify the ego as the limiting factor in our well-being, and both come to the same conclusion: When we give the ego free rein, we suffer; but when it learns to let go, we are free.
Praise For Advice Not Given: A Guide to Getting Over Yourself…
"Most people will never find a great psychiatrist or a great Buddhist teacher, but Mark Epstein is both, and the wisdom he imparts in Advice Not Given is an act of generosity and compassion. The book is a tonic for the ailments of our time."—Ann Patchett, New York Times bestselling author of Commonwealth

"Mark Epstein's Advice Not Given continues his important, fascinating work in exceptionally lucid language. It also offers its readers a collection of fables, vignettes, and personal revelations with the true capacity to rearrange one's perspective, even change one's life. I suspect many of these offerings will stay with me for the long haul, for which I'm very grateful."—Maggie Nelson, New York Times bestselling author of The Argonauts

"Epstein's book of practical suggestions will leave readers educated, inspired, and equipped with new tools for psychological health." – Publisher's Weekly, starred review

"Epstein writes with lightness and reverence. There's a sense of equanimity and deep trust in the experience of life that's palpable. If you've always wanted to develop a relationship with a kind and reassuring psychiatrist, one who knows your every thought and still accepts you, Advice Not Given will give you a taste of that sort of relationship. You'll feel a sense of ease and an acceptance of yourself, and for what did and didn't happen—and for what was and wasn't said." – PsychologyToday.com, "The Clarity"

"In Advice Not Given Mark Epstein shares his remarkably practical wisdom, borne of a brilliant interchange between the fundamentals of Buddhism and the insights of psychotherapy. We all can benefit from this advice, given here freely."—Daniel Goleman, New York Times bestselling author of Altered Traits and Emotional Intelligence

"There are psychologists influenced by Buddhism and Buddhists influenced by psychology, and then there is Mark Epstein, whose deep and humane reflections on healing and self-understanding weave these two great disciplines into a lovely and nuanced whole. As in his other books, only this time more personally and more passionately, Epstein in Advice Not Given offers the reader a rare intelligence and honesty. A pleasure to read and contemplate!" —Norman Fischer, poet, Zen priest, author of What is Zen? Plain Talk for a Beginner's Mind

"An integrative pioneer who has done more than anyone to bridge Buddhism with Western psychotherapy, Mark Epstein has now given us a fine distillation of his work,  exemplified by revealing insights from his life and practice. Written in spare and elegant prose, Advice Not Given urges us toward the discoveries and unexpected sources of consolation that each tradition offers. A memorable experience." —George Makari, author of Soul Machine: The Invention of the Modern Mind   
 
"Advice Not Given is a beautiful reminder of what matters; intimate, moving, insightful, tender and tough. It invites me to a wiser mind and an open heart." —Jack Kornfield, author of A Path With Heart

"In times of strife, with a nation divided, and the dire consequences of a warming world sweeping over our lives, Mark Epstein is always there to provide us with a roadmap for a journey of transformation, a pilgrim's path where the goal is not a place but a state of mind, not a destination but an all embracing state of peace, salvation and liberation. He is America's physician of the psyche, healer of the mind, avatar of the heart."—Wade Davis, author of The Serpent and the Rainbow

"Mark Epstein's Advice Not Given is a truly wonderful book—it held me in its intelligent, kind, and lucid grip all the way through, and gave me back to the world at the end a refreshing bit more over myself. I can see Buddha and Freud smiling to each other, pleased about what a gracious insight their partnership in mentoring Dr. Mark had enabled him to bring about and offer to us all in such a work. I cannot recommend this work highly enough to anyone who wants to take better notice of what makes human life so exquisitely worthwhile. A true treasure of a guide to being real."—Robert A. F. Thurman, Jey Tsong Khapa Professor of Buddhism at Columbia University, and author of Man of Peace: The Illustrated Life Story of the Dalai Lama of Tibet

"Extraordinary. Mark Epstein does a remarkable job in bringing together the traditions of Buddhism and psychotherapy into an immensely useful book for our time."—Roshi Joan Halifax, Abbot of Upaya Zen Center, and author of Being with Dying: Cultivating Compassion and Fearlessness in the Presence of Death

"Mark Epstein interweaves psychotherapy and Buddhism in ways that help readers further their own personal growth and practice. At once down to earth, caring, suggestive, a sharing of years of work in the front lines of his own person and helping others."—Michael Eigen, author of Feeling Matters, Faith, and The Psychoanalytic Mystic

 
"For those looking to explore the idea of a Buddhist psychology in greater depth, Epstein has been writing on the topic since his first book was published in 1995. Advice Not Given is one of his best to date and a perfect place to start." — Psychologytoday.com
Penguin Books, 9780399564345, 224pp.
Publication Date: January 15, 2019
About the Author
Mark Epstein, M.D., is a psychiatrist in private practice in New York City and the author of a number of books about the interface of Buddhism and psychotherapy, including The Trauma of Everyday Life, Thoughts without a Thinker and Going to Pieces without Falling Apart. He received his undergraduate and medical degrees from Harvard University.