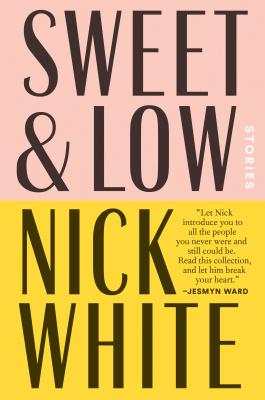 Sweet and Low
Stories
Hardcover

* Individual store prices may vary.
Description
NAMED ONE OF THE MOST ANTICIPATED BOOKS OF SUMMER 2018 BY O Magazine, Entertainment Weekly, New York Post, The Millions, Southern Living, POPSUGAR, The Wall Street Journal, Chicago Review of Books

Praised by the Washington Post as "Tennessee Williams . . . transposed to the twenty-first-century South," Nick White returns with a stunning short-story collection that tackles issues of masculinity, identity, and place, with a sharp eye for social commentary and a singular handling of character.

At first glance, the stories in Sweet and Low seem grounded in the everyday: they paint pictures of idyllic Southern landscapes, characters fulfilling their roles as students, wives, boyfriends, sons. But they are not what they seem. In these stories, Nick White deconstructs the core qualities of Southern fiction, exposing deeply flawed and fascinating characters--promiscuous academics, aging podcasters, woodpecker assassins, and lawnmower enthusiasts, among others--all on wildly compelling quests. From finding an elusive bear to locating a prized timepiece to making love on the grave of an iconic writer, each story is a thrilling adventure with unexpected turns. White's honest and provocative prose will jolt readers awake with its urgency.
Praise For Sweet and Low: Stories…
Praise for Sweet and Low:

"Nick White's Sweet and Low made me work. It subverted this reader's expectations again and again, leading me down improbable Southern roads, down novel, half-hidden paths that were strange and familiar all at once. At each story's end, I found myself in a surprising moment, his characters springing wholly from the page, achingly real.  I wanted to separate myself from his people, to qualify his southerners, his lovers, his fighters, his abusers, his outcasts and victims. I wanted to judge them, but in the end, I found myself immersed in the narrative with them, all of us gasping, frustratingly flawed and human, achingly real. Read this collection, and let Nick introduce you to all the people you never were and still could be. Read this collection, and let him break your heart."
—Jesmyn Ward, author of National Book Award winners Salvage the Bones and Sing, Unburied, Sing

"The Wild Turkey-soaked stories in White's collection are as sumptuous and darkly shimmering as the Mississippi, along which many of them are set….the expansiveness here astounds." 
—Michelle Hart, O Magazine 

"White's brilliant first story collection peels back the curtain on masculinity and identity in the Deep South. [His] stirring stories probe the inextricable ways people's identities are bound to and shaped by their environments, and what happens when they attempt to rise above. This is an atmospheric and expertly crafted collection."
—Publishers Weekly (starred review)

"White's incisive exploration of the South…is beautifully tempered with sincerity and irony."
—LA Review of Books

"Sweet and Low is a masterpiece collection, and White is a virtuoso of voice. The poignant, dry wit of these stories--imagine if Faulkner wrote an episode of "The Golden Girls"--will have you falling in love and cackling. But it's the reckoning honesty within each tale that will truly melt your spine. Prepare for all your feelings to be snatched and then returned to you, purer and wiser. This is a book you can't help but clutch to your chest."
—Alissa Nutting, author of Made for Love and Tampa

"Mississippian Nick White gathers in his stories the stereotypical places and faces and aspects of the South-juke joints, whiskey-logged writers, Gatlinburg tourists, a summertime heat 'so thick it has texture and personality'-and tosses out the sap in favor of unvarnished characters set against a brooding, beautiful region."
—Garden and Gun

"Nick White captures the essence of the struggles of humanity. Death, resentment, and anger are set loose throughout these stories, but White gives readers a chance to spend time with his characters in a way that evokes empathy instead of despair."
—Aaron Coats, Chicago Review of Books

"Quirky and queer in all the right ways."
—Book Riot

"Nick White is a genius at engaging and exploring what I see as the central theme in the best literary fiction: the great "Who the hell am I?" His characters are always deeply in pursuit of self, and no matter what their surface differences might be from the reader, they will enchant you and touch you and may even change you. Sweet & Low is a brilliant collection of stories, and a truly important one."
—Robert Olen Butler, author of the Pulitzer prize-winning A Good Scent from a Strange Mountain
 
"The stories in Nick White's amazing collection, Sweet and Low, achieve this utterly brilliant feat of being distinctly Southern while also, somehow, continually exploding our understanding of the South. These are such open-hearted stories, every line an act of grace, populated with characters who become beautiful in their flaws. Few writers could achieve this kind of generosity, this kind of love for the stories that they tell, and Nick White is, thank god, one of those writers."
—Kevin Wilson, author of Perfect Little World

"The alchemy in this collection is anything but ordinary. These fantastic short stories from Nick White introduce surprising, memorable, and ultimately human characters whose journeys play out on familiar Southern landscapes and in White's thrillingly executed prose."
—Caroline Rogers, Southern Living

"An author on the rise, White displays impressive range in this rewarding collection."
—BookPage

"Fine, evocative writing, informed by the kinds of love that will touch readers' hearts."
—Booklist 

"[A] fine exemplar of lower-class yearning,... Work that bears the promise of good things to come."
—Kirkus


Praise for How to Survive A Summer:

"Clear and moving, revealing White's talent in evoking the complexities of the rural South."
—Publishers Weekly

"Packed with story and drama … If Tennessee Williams's 'Suddenly Last Summer' could be transposed to the 21st-century South, where queer liberation co-exists alongside the stubborn remains of fire and brimstone, it might read something like this juicy, moving hot mess of a novel." 
—Tim Murphy, The Washington Post

"White's book looks squarely at these movements and these communities ruled by ignorance and fear, and approaches them with a level of nuance often missing from work by writers or pundits who either have never lived in such communities, or who escaped them at the first chance they were given. Yet what makes White's novel feel so urgent and so fresh, is the startling compassion he evinces for the place on which it centers, the effort that is made to give breadth and humanity to a part of the world both he and his book's narrator are from, and by which both of them were unavoidably shaped."
—Rolling Stone 

"White's debut, in the spirit of the lush and multi-tiered storytelling of a writer like Alice Munro, and the Southern decay of William Faulkner, also has all the schlock of a B-horror movie … in a true Southern fashion, the pathways of blame are long and twisted and trauma stretches back generations." 
—Nathan Scott McNamara, LA Review of Books
Blue Rider Press, 9780399573651, 304pp.
Publication Date: June 5, 2018
About the Author
Nick White is the author of the novel How to Survive a Summer. His fiction and essays have appeared in The Kenyon Review, Guernica, The Literary Review, LitHub, and elsewhere. He teaches creative writing at The Ohio State University.